While the season invites warm sunshine and outdoor adventures, it's equally vital to ensure that your home remains a sanctuary free from potential health and safety hazards.
Whether you are a homeowner, renter or contemplating a real estate venture, understanding the risks, and knowing what to look out for is essential.
Jeff Crane is the CEO of Central Indiana HomeTeam Inspection Service. They specialize in home safety and defects for people who are ready to buy or sell a home.
RELATED: Conditions at northeast side apartment complex create health hazards, but residents struggle for relief
What to look out for
"One of the things for personal safety that I would suggest is getting a carbon monoxide detector. Decks are pretty popular in homes as well with patios. You have to make sure that those are maintained," said Crane.
"Boards can break, structures can fail and railings can be loose. Those are some of the basics."
Crane said that indoor air quality in a building or home is important. Home and business owners need to keep their air filters changed once a month depending on the type of filter it is.
Some allow owners to check and replace them every three to six months.
"Especially in the spring and early summer when tree pollen is everywhere. It also helps out with pet dander or people who may have allergies," said Crane.
These are the health hazards Central Indiana HomeTeam suggests people look out for this summer:
Home health hazards: Inspect for mold
Check areas with high moisture levels such as bathrooms, basements, and attics regularly for signs of mold. If found, mold should be removed immediately, as it can cause respiratory issues.
Test for radon
Radon is a colorless, odorless gas that can seep into homes and cause lung cancer. Test kits are available at most hardware stores, and if levels are high, mitigation systems can be installed.
Home health hazards: Ensure proper ventilation
Proper ventilation is essential for good indoor air quality. Check that all vents are unobstructed, and change air filters regularly.
Check for electrical hazards
Look out for frayed wires, overloaded outlets, and outdated electrical systems that can cause fires. Hire a licensed electrician to perform any necessary repairs.
"Mold is everywhere. In fact, a lot of people toss around the word mold loosely. We try to explain that until it goes to a lab, we can't call it mold. It could be organic growth, or it could be a fungus or mildew," said Crane.
RELATED: Program prepares previously incarcerated youth for environmental management jobs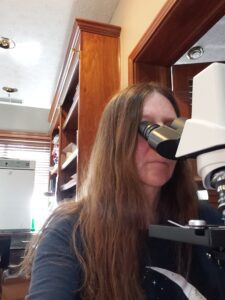 Diana Catt has been a microbiologist for over 30 years and has been the owner of Mold Diagnostics for almost 20 years.
Mold Diagnostics collects air quality samples in homes or businesses where mold is suspected. They are then diagnosed in a lab and home and/or business owners are sent recommendations based on results.
She mainly services all of Indianapolis and the surrounding counties.
"My husband had to have a kidney transplant. He had medication that suppressed his immune system, so I wanted to make sure we didn't have anything in our home. It was hard to find somebody to come check," said Catt.
How to stay safe
"I had a friend who said, 'Well, you're a biologist. You should just do it yourself,' and I didn't think that was a bad idea. Then I started doing it for other people part time until it consumed my life," said Catt.
After inspecting her home, she said so many people wanted to have their homes tested.
She said mold can come from common water damage.
Four of the common molds that she finds around the state are penicillin, chaetomium, aspergillus and stachybotrys, most commonly known as toxic mold.
"One way you can tell if you may have mold is if you have allergy symptoms inside the home that seem to disappear when you leave for a while," said Catt.
"Take care of your crawlspaces and basements. That's where I find it most of the time."
Contact staff writer Jade Jackson at 317-607-5792 or by email JadeJ@IndyRecorder.com. Follow her on Twitter @IAMJADEJACKSON