It has been over a year since the Encyclopedia of Indianapolis launched digitally, and now it features a religion timeline, which includes a timeline of the establishment of prominent African American congregations and their involvement in Indianapolis' culture.
The Encyclopedia of Indianapolis, which launched November 2021, has more than 2,000 entries available and more than 118,000 people have viewed it from across the world, according to Indianapolis Public Library.
"We at the Encyclopedia just want to bring all of these things that we think that citizens of Indianapolis should know about their city and help them understand how the past shapes the present," said Elizabeth Van Allen, the managing editor for the digital Encyclopedia of Indianapolis.
While the timeline is not exclusive to Black churches in the city, it details a lot of historical events, figures and buildings centered around Indianapolis' Black religious communities.
The timeline displays the city's oldest church history, such as the establishment of Bethel African Methodist Episcopal (A.M.E.) Church in 1836 and the establishment of Second Baptist Church — which today is Purpose of Life Ministries — in 1846.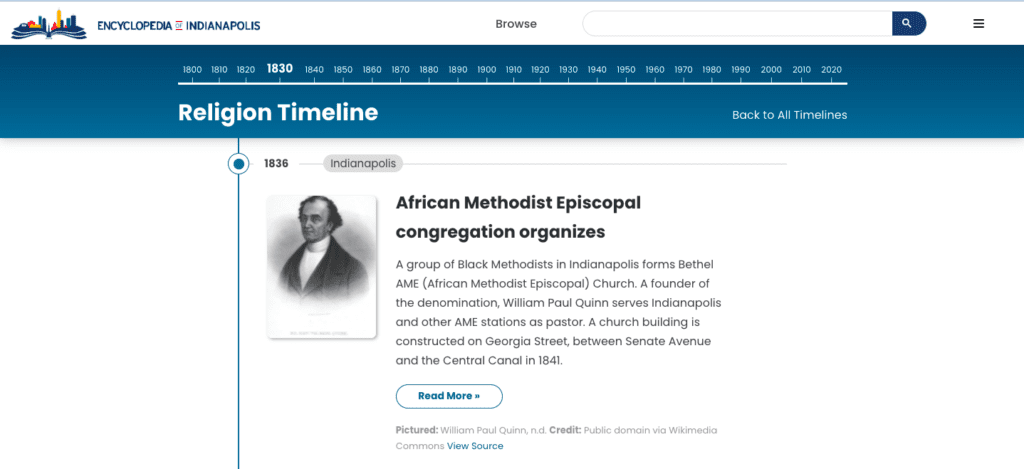 The timeline also identifies important religious figures such as Willis R. Revels, former pastor of Bethel A.M.E., and Jennifer Baskerville-Burrows, the first Black woman elected as an Episcopal diocesan bishop in the city.
Recently, the encyclopedia added a new redlining feature that allows users to explore how redlining impacted the neighborhoods people live in and visualize how the past continuously shapes the present.
Receiving data from different sources, including the Indianapolis Recorder archives, helped with creating entries and finding other topics that need to be added.
"We don't see any of these things as finished," Van Allen said.
The encyclopedia will publish 50 new entries by the end of December, including an African American timeline.
The African American timeline will display some of the contributions Indianapolis' Black community has had on the city's landscape. While separate from the religion timeline, Van Allen said there will be a lot of overlap between the two timelines because of how important religion is to the Black community.
"African American religious groups are so very important to the development of the city and impact civic culture altogether," she said.
The encyclopedia, as well as the timelines, are updated continuously, and Van Allen invites churches, historians and other organizations to contribute to the timeline.
If you want to submit a suggestion, visit the encyclopedia's suggestion page, and if you would like to write an entry for the timeline email Van Allen at evanallen@indypl.org.
Contact religion reporter Abriana Herron at 317-924-5243. Follow her on Twitter @Abri_onyai. Herron is a Report for America corps member and writes about the role of Black churches in the community.