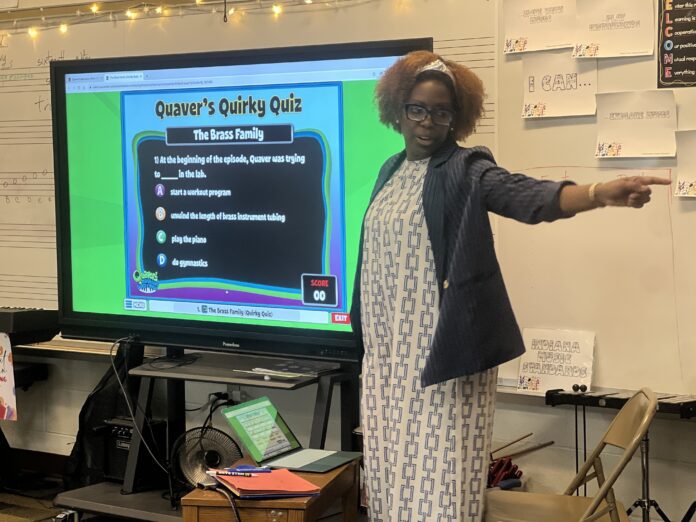 ---
---
In Latino culture, different phrases are still used today that diminish and continue to marginalize the Black community and Latinos with Black features.
The Spanish phrase "mejorar la raza," improve the race, is a concept used to imply that you should marry or have children with a lighter skinned person.
"I heard that as I was growing up a lot, and that's a sign of being racist. Even in your family, you hear that phrase: 'You need to marry a white person or a lighter skinned person in order for your children to have better hair or nicer features,'" said Yohana Lazarte-Cortes, Global Prep Academy music teacher.
"You are who you are, and everybody should be proud of their roots and backgrounds. Otherwise, I wouldn't be here."
Born and raised in Cuba, Lazarte-Cortes came to America in 2015.
She had to deconstruct a lot of those colorist notions. This is because she is often mistaken for being African American or Caribbean.
Hues of Heritage: Colorism
"If you don't love yourself, if you don't know who you are, you will start to say that you are not good enough or pretty enough. It starts with you, your self-confidence and your self-esteem," said Lazarte-Cortes.
When she was younger, she would long to marry someone white or lighter skinned.
She felt the pressure to do so from society.
"Being told to date somebody who has more European features is how I always heard it, dating somebody who is lighter skinned and has a thinner nose," said Jose Castillo Jimenez, who is Dominican and Venezuelan.
"It makes me feel like I can't date somebody that looks like me or my family because we need to improve it or make it better. I heard that a lot growing up. To me, it's racism."
Jimenez said he would hear questionable comments from family members whenever he brought someone home who was different.
"I don't think that they realize that it's a racist joke or that it comes from racist origins because they laugh it off like it's nothing serious, but when you think about colonization, it's ingrained in the culture," said Jimenez.
He said within Latino culture there is a huge colorism issue.
When traveling to different Latin countries, he would be called little Black boy. People would assume he was African American and could not speak Spanish.
With other familiar terms in Latin culture like "pelo malo," bad hair, Angela Brito de Rodriguez also had to face colorism growing up with her natural hair.
Hues of Heritage: Afro-Latinos affected by racism
"These types of terms were used to encourage me to relax my hair. When I went to college and wanted to embrace my natural hair, it was a huge uproar in my family because of the concern about what it was going to mean for me personally," said Rodriguez.
Her family worried that she would face discrimination.
However, unlearning these fears and recognizing them as racist rhetoric resulted in her family members later embracing their natural hair too.
Rodriguez said the discrimination she experienced from her family that came from having full lips, a wide nose and darker skin was them attempting to protect her against the way they believed society could view her.
"I remember growing up hearing that I needed to make sure I have a white spouse. It was going to help my kids have less kinky hair, and more fair skin, and a thinner nose," said Rodriguez.
"My family on both sides is pretty racially-mixed because of being Dominican. I remember hearing stories about when I was born. Some of the elders in my family were really pressed to come see me and do something to my nose because they wanted to make sure it wasn't wide."
This type of divide affected how she interacted with her peers at school as well. In America, she went to a predominantly Black school.
Rodriguez said it was exciting to see representation of beauty in Blackness amongst her African American classmates and teachers, especially when they wore braids in their hair.
Dismantling racist systems
She credits a lot of Black women with helping her embrace and celebrate what often was not celebrated within her own culture when she went off to college.
However, school was not always a good experience for Rodriguez.
"I was in fifth grade; we had just moved to a new school in a new neighborhood, and we didn't know where the hair salons were. After school my mom took me to my aunt, and the next day, I came to school with my hair blown out straight," said Rodriguez.
"A lot of the young Black girls were like, 'Oh, she thinks she better than us.' Even from the other side, I was a guest at a birthday party being asked by grown men where was I from.
When I said I can speak Spanish, they wrote words on a card to try to test me to see if I was a true Hispanic Latina."
Acknowledging the history of colorism within Latin culture is how Rodriguez, Jiminez and Lazarte-Cortes progressed forward. Speaking about representation for darker skinned Latinos is how they dismantle systems put in place to oppress those who look like them.
---
Contact staff writer Jade Jackson at (317) 762-7853 or by email JadeJ@IndyRecorder.com. Follow her on Twitter @IAMJADEJACKSON.