Multimedia and visual artist Ess McKee has been creating art in Indianapolis for more than 20 years.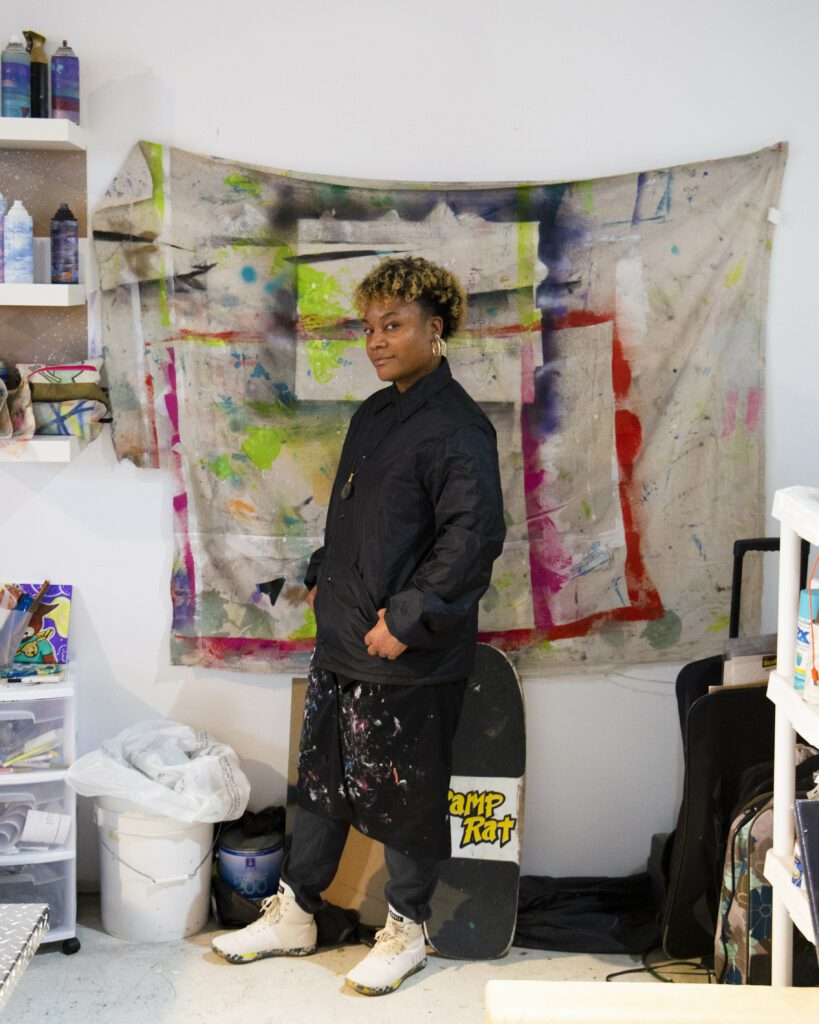 McKee was born and raised in Arizona and came to Indiana to study graphic design at Ball State University. Since then she's put down roots in Indianapolis, establishing herself as an artist at the Harrison Center, a member of the Eighteen Art Collective and having work in Newfields.
"I've always been into the arts," McKee said. "When I was in high school I decided I did want to go into commercial arts, which grew into graphic design, so that's always been my foundation."
Even though she started out in graphic design, McKee said her desire to create art started with the graffiti and artworks found in subways or on the streets. Marrying her precision skills as a graphic designer and the freedom of graffiti and street art, McKee began developing her own style.
"I kind of just mixed the two — the design aspect, my love for typography with like, just the rawness of graffiti and those different styles," she said. "I want people to be able to see and understand what it is and still get the feel for what I'm trying to go for."
Working with various mediums such as textiles, skateboards, 3D elements, acrylic paint, murals and digital art can be liberating, and McKee said the only projects she plans out in advance are commissions. A lot of her work is based on a particular mood, feeling or whatever she "feels pulled to in the moment."
Outside of creating her own works, the rest of McKee's life also seems to revolve around art as she's also an adjunct faculty at IUPUI's Herron School of Art, a K-8 art teacher, a resident artist at the Harrison Center and a member of the Eighteen Art Collective. Visual arts and arts education is where McKee said primarily resides these days.
McKee's work featured in the "We. The Culture" exhibit at Newfields is a textile piece, she said. Entitled "The Beautiful," the work features an American flag, dye and paint inspired by the idea of "America The Beautiful." McKee said this work is a companion piece to another work entitled "Black America in Distress" that was created following the fatal shooting of Philando Castile in Minneapolis in 2017.
"'The Beautiful' was like a way for all of us to look at ourselves and examine what it means to be American and what America means for different people," she said. "Because my definition of America is gonna be different than someone that was born with different privileges and maybe even a different skin color."
Having her work in an institution like Newfields has been a whirlwind, McKee said, but it feels good to be a part of history in the making. McKee said she just hopes this kind of momentum for Black art and artists doesn't stop after the exhibit closes.
"It speaks volumes that we were able to get to this point," McKee said. "It's been an awesome experience. It's also been very much a learning experience, but I appreciate the opportunity. I'm glad we're all here and I hope that it opens doors for others after us."
Over the few years since the Black Lives mural that was painted on Indiana Avenue, McKee said the relationships between members of the collective have blossomed and they've learned how to come together as a unit beyond the mural to try to create something lasting.
Part of that lasting impact is done the collective's Young Artists Program, which is a free three-month program for artists grades 6-8. Young artists are matched with members of the collective for mentoring, workshops and development of community, cultural and artistic awareness.
"It was really awesome to see the young people even blossom in their own artistic growth," she said. "It was just fun to try to impart some type of knowledge into some youth that want to grow and want to use it for something of their own."
Going forward, McKee said the collective has a few shows coming up, including Art & Soul at Gallery 924. In March, McKee will speak and lead a workshop at High School Day at Newfields and at Ivy Tech in addition to a show with the Eighteen Art Collective at the Honeywell Center in Wabash.
Contact staff writer Chloe McGowan at 317-762-7848. Follow her on Twitter @chloe_mcgowanxx.