Ready, set, read! The Indianapolis Public Library's annual summer reading program has officially begun.
The 2023 summer reading program, open to kids, teens and adults, officially kicks off June 5 and ends July 29. The program, which encourages readers of all ages to explore a variety of stories and earn prizes over the summer, aims to combat the '"summer slide" that students often experience in between school years, said Monica Taboada, branch manager for the Haughville Branch.
"It's really important to have the kids reading and learning all summer; making sure that when they go back to school, they're able to achieve and succeed in school," Taboada said. "We want to make sure that kids not only are reading, they're having fun and learning that they can come to the library and learn, and it can be a fun experience for them."
This year, IndyPL's summer reading program takes a ride through outer space with the theme "Blast Off to Camp Read S'more," allowing participating readers to expand their creative palettes by picking up a new book — either for fun or to learn something new.
The rules of the program are simple, Taboada said. The first day to log reading time is June 5 and the last day to log is July 29. Prize quantities are limited but can be collected at any IndyPL branch up until August 5. Minutes can be tracked through the Beanstack app allowing a single household to track multiple readers — instructions on how to do so can be found at indypl.beanstack.org/reader365. Minutes are not transferable between participants and a maximum of 20 hours will be awarded to each reader.
"We just want to encourage the kids to do as much reading as possible," Taboada said. 
As always, the program is open to children, teens and adults. The children's program features physical prizes at the 1-, 5-, 10-, 15- and 20-hour levels while the adult program includes tickets to be entered into a prize bundle drawing at the end of the program, Chris Hogsett, branch manager for Pike, said. 
Prizes range from passes to the Children's Museum haunted house, free pizza from Lou Malnati's Pizzeria and tickets to an Indians game or IUPUI basketball game. Grand prizes include Nintendo Switches, LEGO sets, Target Gift Cards and one of two $529 College Choice CD savings accounts.
"They also include snacks and fun toys, and we will also have (a) toddler and baby safe toys prize box for that age group," Hogsett said. "Participants also have the potential to receive two free books when they get to 20 hours. As far as participating, we have a community reading goal for all of Marion County for 16 million minutes, and readers who participate are eligible for grand prizes."
The program extends to every IndyPL Branch and strongly encourages readers to travel around to visit them, Hogsett said. Branches will offer passports to participating readers and give out individualized branch stamps for each discovery event kids participate in throughout the summer. Both Hogsett and Taboada said scheduled summer Discovery programing includes animal shows, robotics, space snacks, music and more.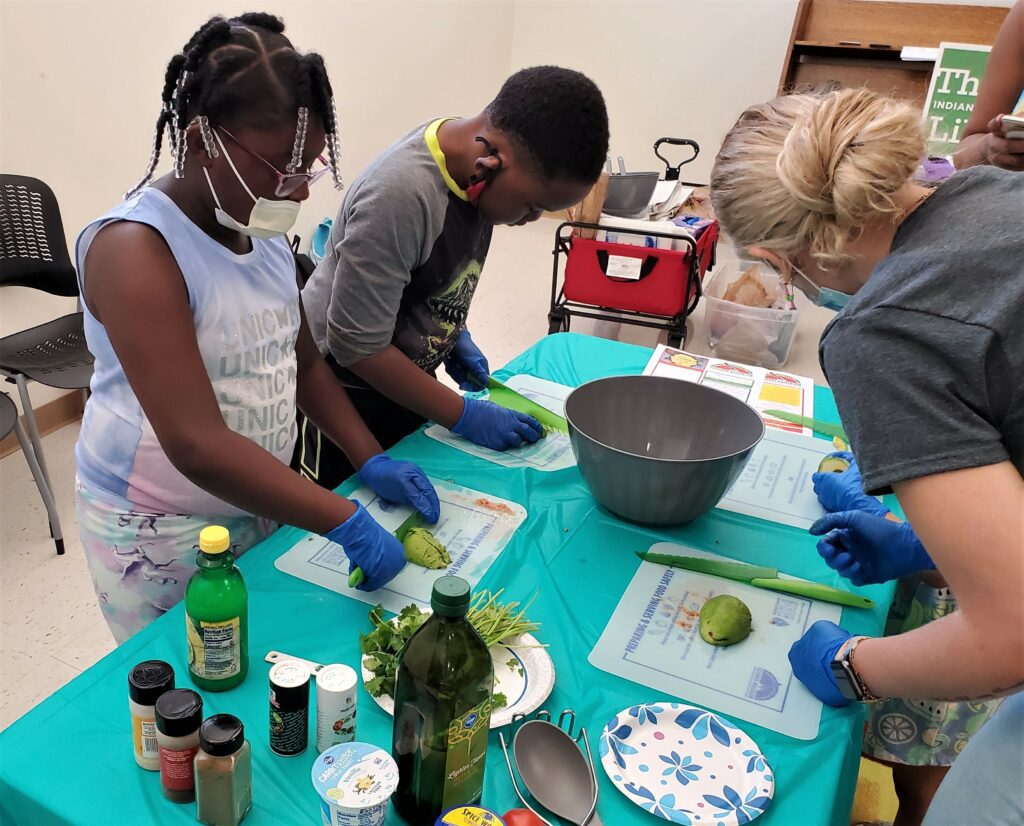 As a librarian, Hogsett said he knows it is crucial to keep kids from falling behind on their reading skills when they are not in the classroom. He said the summer reading program is not only a great way to get kids excited about reading — because sometimes the right book can change someone's life — but also keep their literacy skills fresh for when they return to the classroom.
"One of the things that we do is we help participate in that education process by having these kinds of events so that they're incentivized to keep reading," he said. "Eventually, we want kids just to read for pleasure, but you know, kids are kids. They need some incentive, and sometimes even we as adults, need to keep reading."
Joe Troyer, District Library Coordinator for Indianapolis Public Schools, said the summer reading program is a good match for IPS students as the idea and motivation behind it aligns with IPS' own learning objectives. He said summer school students are automatically enrolled in the program, but they encourage other students to participate as well and read at least 30 minutes per day.
"We've gotten pretty good at English/Language Arts instruction and targeting skills, but when students self-select their reading and are reading a lot of minutes, especially about the same subject, all the research tells us that vocabulary and background knowledge build upon each other when they do that," Troyer said. "That really moves the needle for literacy outcomes — not to mention the quality of a child's life when they have access to stories that they engage with and that they can relate with — is a huge piece of that puzzle and it's super appropriate for the summer."
In an unstructured environment — or outside the classroom — students tend to select stories they are interested in, that feature characters who look like them or share the same lived experiences as they have, which then encourages them to continue turning pages and build a love of reading and learning, Troyer said. 
Having an accessible program such as IndyPL's only helps to foster that process, Troyer said. Libraries give kids a safe place to go and spend time over the summer, Hogsett added. Outside of providing a quiet environment, internet access and materials to help with schoolwork, he said they are able to find their next great reading adventure.
"There's all kinds of great things that happen when kids drive their own reading, especially during summer," Troyer said.
IndyPL will host a celebration kickoff for the program alongside the library's 150th-anniversary celebrations, which will include entertainment and refreshments. Timing for the celebrations varies by branch, and additional information about the children and adult summer reading programs can be found at indypl.org.
Contact staff writer Chloe McGowan at 317-762-7848 or chloegm@indyrecorder.com. Follow her on Twitter @chloe_mcgowanxx.