Social justice activist Kevin Richardson aims to spread a message of hope during the 2022 Fall Fest and Slammin' Rhymes Challenge XVI.
Hosted by the Indianapolis Public Library's African American History Committee, Richardson, one of the Central Park Five, will give the keynote speech at the festival Nov. 19.
Richardson was one of five teenage boys wrongfully convicted of sexually assaulting a female jogger in Central Park in April 1989. It wasn't until 2002, after the actual perpetrator confessed and DNA evidence exonerated them, that the convictions were overturned. Upon his release, Richardson had served 5 1/2 of his 10-year sentence.
"I was 14 years old at the time originally, and to have all that weight on my shoulders, you know, people have asked, 'How did you do it?'" Richardson said in a phone interview. "And quite honestly, I'd say, 'I just did it.' It was just instilled in me to be strong."
Growing up in New York, Richardson said that kind of mindset — strength and courage — was something that had to be learned early on, especially for young men of color like himself.
"I had to learn how to be strong at that time, and really push through people actually literally hating us just because of what they thought — that we committed these crimes," he said. "So it was definitely challenging during the '80s and '90s, to overcome this obstacle."
Now, Richardson dedicates his time to being a social justice activist, advocating for criminal justice reform and fighting for those who have also been wrongfully convicted.
In 2002, shortly after his conviction was overturned, Richardson said he began working alongside The Innocence Project — a nonprofit organization that works to free the innocent, prevent wrongful convictions and create fair, compassionate and equitable systems of justice for everyone, according to its website.
"We've always been close and sharing the same common bone as others that don't have the privilege to be heard or seen," he said. "I use my platform to raise awareness and bring the light to injustices that are still happening amongst people of color, of course, but it's happening to women and children, it's happening everywhere."
Richardson said he would participate in a fireside chat-style discussion at the library on Nov. 18 and give a keynote speech followed by a Q&A during Fall Fest on Nov. 19. Rather than talking about his experience with wrongful conviction — a story many are already familiar with — Richardson said his talk would focus on his life after.
"Life after death," he said. "Because at that time, nobody thought that we — the five of us — would even arrive from that situation, so we always say 'life after death.'"
One thing Richardson said he hopes to encourage in others is to keep pushing forward. With two daughters of his own, he said hope drives him to keep going and be that inspiration for others.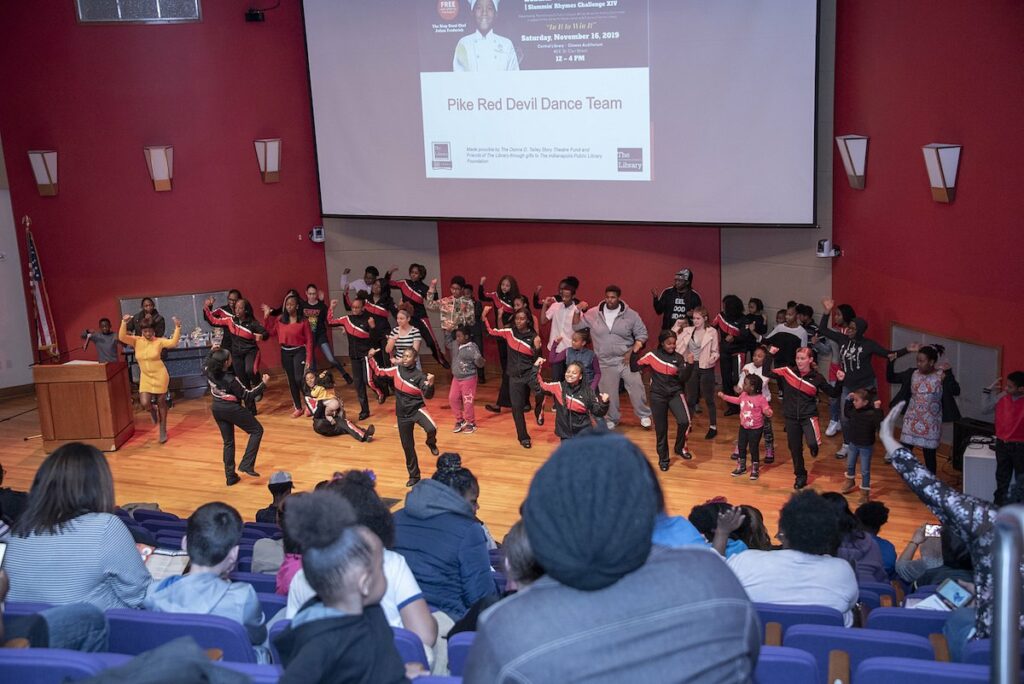 "My mother always told me to keep my head up," Richardson said. "Even in the darkest times when I was going from precinct to precinct and paparazzi were taking pictures and flashing in my face, my mother always said, 'Keep your head up because you didn't do anything wrong.'"
In addition to Richardson's talk, the festival will include a poetry contest, rappers and spoken word artists ranging from grads 6-12 and performances from winning entries to this year's Slammin' Rhymes Challenge.
Indianapolis Breakdancer Pep-C, Headbangers Kickboxing Academy, Deckademics DJ School and Natural Measures Trampoline Super Sessions will also give performances in addition to a poetry reading from Eric Saunders, the Green Eyed Bandit.
"Local students need an opportunity and a venue to express themselves by sharing their written words," Cordia Watkins, event organizer and circulation manager at the Indianapolis Public Library, said in a statement. "With this presentation, they get a chance to be heard by the public which can assist with teaching them the art and fundamentals of oral speaking, presentation, and reading skills while building their confidence and character."
Fall Fest will take place on Nov. 19 from noon to 4 p.m. at Central Library, 40 E. St. Clair St., and is free to attend. For more information visit indypl.org/programs-events/fall-fest.
Contact staff writer Chloe McGowan at 317-762-7848 or chloegm@indyrecorder.com. Follow her on Twitter @chloe_mcgowanxx.