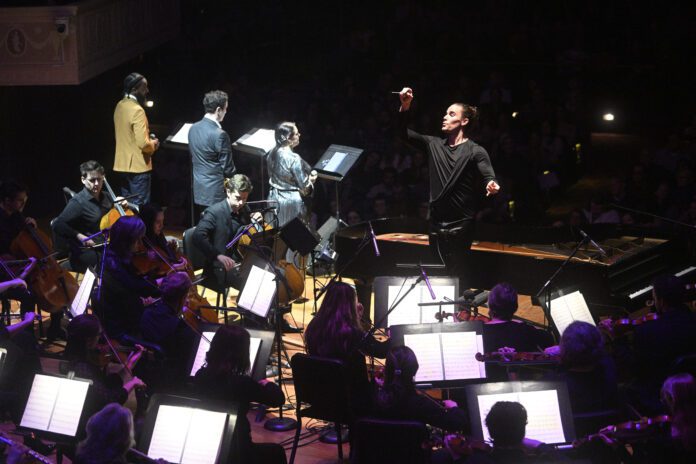 The Indianapolis Symphony Orchestra's latest musical fusion concert tells a story within a story.
ISO welcomes guest composer, director and producer Steve Hackman for another installment of its "Uncharted Series" on Nov. 8 at Hilbert Circle Theater. Featuring the music of American rapper Kendrick Lamar and Russian composer Igor Stravinsky, the performance places the classical ballet "Petrouchka" as the backdrop for Lamar's fourth studio album "DAMN."
"Any conductor or artistic director, I think, has a certain curatorial responsibility to present the music that they think is essential for our time, and that audiences should be exposed to," Hackman told the Recorder. "Stravinsky and Kendrick Lamar … I think, in their respective genre, have produced some of the most stunningly original work."
Lamar and Stravinsky are very different musical artists, but Hackman said they both have produced unique original work with similar themes. The idea of a "story within a story" appears in the form of a puppet show in "Petrouchka" and as an alternate world kick-started by a gunshot in "DAMN," Hackman said.
Hackman said he has worked on around 15 musical fusion productions, many of which have premiered with ISO, but this is the first one where both artists' music is on the same level of complexity.
"Kendrick Lamar's music is just so rich and substantive, you know, the underlying musical score is just complex … it's kaleidoscopic, and that's Stravinsky," Hackman said. "There's so many twists and turns that the music takes in Kendrick Lamars' 'DAMN' — just seemingly disparate samples that are juxtaposed with one another, and Stravinsky's music does that same thing where it takes an unexpected left turn."
Although ISO does a "Pops and Film Series," the "Uncharted Series" is truly unlike anything the orchestra does for the rest of its season. Edward Parsons, vice president of creative operations, said the series aims to provide people with new musical experiences by drawing audiences in with music of familiar artists and leaving them with an appreciation for classical and orchestral music as well.
"What I hope that they get out of the show is a deeper appreciation of orchestral music and how it doesn't have to be old and stodgy, but it can be fun and exciting," Parsons said. "Orchestral music and classical music can touch your soul in a way that few other media can — from the power of a symphony orchestra — especially with the introduction through pop artists that they really love."
Looking ahead to the rest of the Indianapolis Symphony Orchestra's season, a few of their upcoming shows include "An Evening with Liz Calloway," Nov. 10-11, as part of its "Pops Series," the "AES Indiana Yuletide Celebration," Dec. 1-23, Handel's "Messiah," Dec. 21, and "Toy Story in Concert," Jan. 6-7, as part of ISO's "Film Series."  
"Uncharted Kendrick Lamar X Stravinsky" premieres at the Hilbert Circle Theatre, 45 Monument Circle, Nov. 8 at 7:30 p.m. For more information, visit indianapolissymphony.org.
Contact staff writer Chloe McGowan at 317-762-7848. Follow her on Twitter @chloe_mcgowanx