Curtis Bigsbee, vice president of the Indianapolis Public Library's Board of Trustees, announced his resignation March 14.
The Marion County Board of Commissioners appointed Bigsbee to IndyPL's board in 2020. He was serving in his second term, which wasn't up for renewal until 2025. According to a press release, Bigsbee's resignation was "necessitated by his relocation to a residence outside of Marion County."
The resignation was made on March 10 and announced four days later.
Members of municipal boards are legally required to be Marion County residents.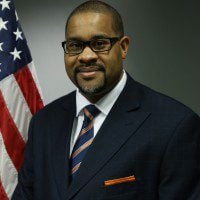 "It has been an honor and pleasure serving the patrons of Marion County, and most importantly all the spectacular staff of IndyPL," Bigsbee said in a letter to the Marion County Board of Commissioners.
In the letter, Bigsbee said he has hope that the Commissioners will "find an appropriate new member who is dedicated to the purpose of IndyPL's Strategic Plan, someone who will not waver or be intimidated by a few voices that seem to overpower the silent majority."
Bigsbee's resignation comes a little more than a week after the City-County Council voted to appoint Dr. Eugene White to the board. In the ongoing fallout of the failed CEO search, community members and library workers have repeatedly attended library board meetings, calling for Bigsbee, Raymond Biederman and board president Hope Tribble to resign. 
Bigsbee was the only board member to abstain from voting to offer the CEO position to Dr. Gabriel Morley — whose previous position as library director for New Orleans Public Library raised concerns about his performance and behavior — for reasons he did not explain. He is the second board member to resign following TD Robinson's resignation, which was announced in January.
"Curtis has been a tremendous advocate for IndyPL during his three years on the board," Tribble said in a statement. "He cares deeply about the Library's staff and patrons and his commitment to supporting positive changes within IndyPL on their behalf was reflected in every decision he made as a trustee. His leadership will be missed."
Bigsbee was one of three board members appointed by the Marion County Board of Commissioners, alongside Biederman and Dr. Patricia Payne. The timeline for the county commissioner to fill the vacancy is not yet known.
"I may be moving outside of Marion County," Bigsbee said in the letter, "but my heart and interests will always remain with serving the public."
Bigbsee will not have to resign from other municipal positions due to the relocation, according to a spokesperson for the City-County Council. Bigsbee was appointed to the Emergency Services Agency Board by the City-County Council in January. Appointees to that board must work in Marion County, not necessarily reside, according to the spokesperson.
Environmental Reporter Jayden Kennett contributed to this report.
Contact staff writer Chloe McGowan at 317-762-7848 or chloegm@indyrecorder.com. Follow her on Twitter @chloe_mcgowanxx.