"What do we want? Justice! When do we want it? Now! If we don't get it? Shut it down!"
Familiar protest slogans were voiced by a sea of children walking along Dr. Andrew J Brown Avenue last Friday.
Most of the children held signs bigger than them, but they proudly displayed their work, with many signs paying homage to Juneteenth.
RELATED: PHOTOS – 4th annual Community Peace Walk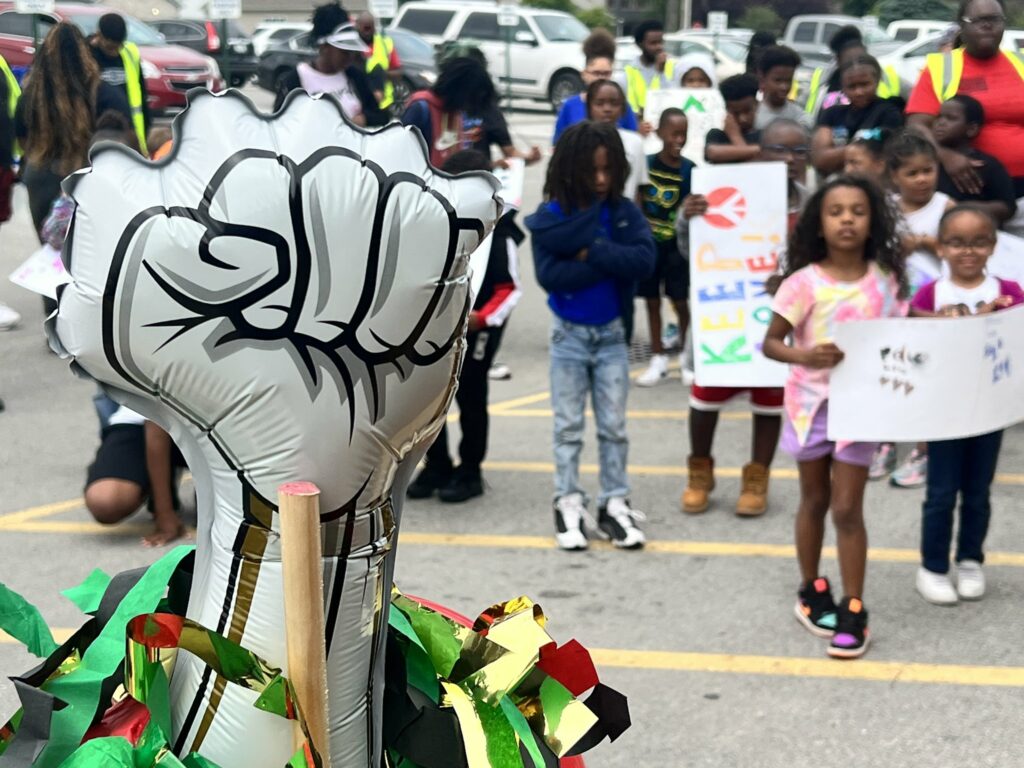 Their little legs walked across the Martindale-Brightwood pavement in the annual Community Peace Walk put on by Edna Martin Christian Center and KIPP Indy Public Schools.
"The students wanted to be able to protest, so we created this space so they would have somewhere where they could advocate for themselves and speak about what's happening in their community," said Ashley Moore, youth program director for the Edna Martin Christian Center.
The children participating in the march are the center's current summer camp students.
The event is a celebration of young Black voices speaking on issues that are important to them.
Community Peace Walk origins
They started the peace walk in response to George Floyd's murder in 2020.
"The students wanted to be able to experience what the protests downtown were like. We started the walk, and then every time we get to a certain place, we allow them the opportunity to talk about their community," said Moore.
Students from pre-K through high school participate in the walk.
---
"It's not okay to experience racial hate, or judgment, or violence. It's sad sometimes. I know one way to keep your mental health straight is to think about what you can do instead of what you can't do about it," said 11-year-old Dallas Keno-Donigan, who wanted to encourage the crowd.
"We get to express how we feel without anything going wrong. Last year, I spoke about how the neighborhood violence was affecting us. I wanted to get it out there that it isn't right how the gun violence in my neighborhood was bad," said 14-year-old Harlem Durleson.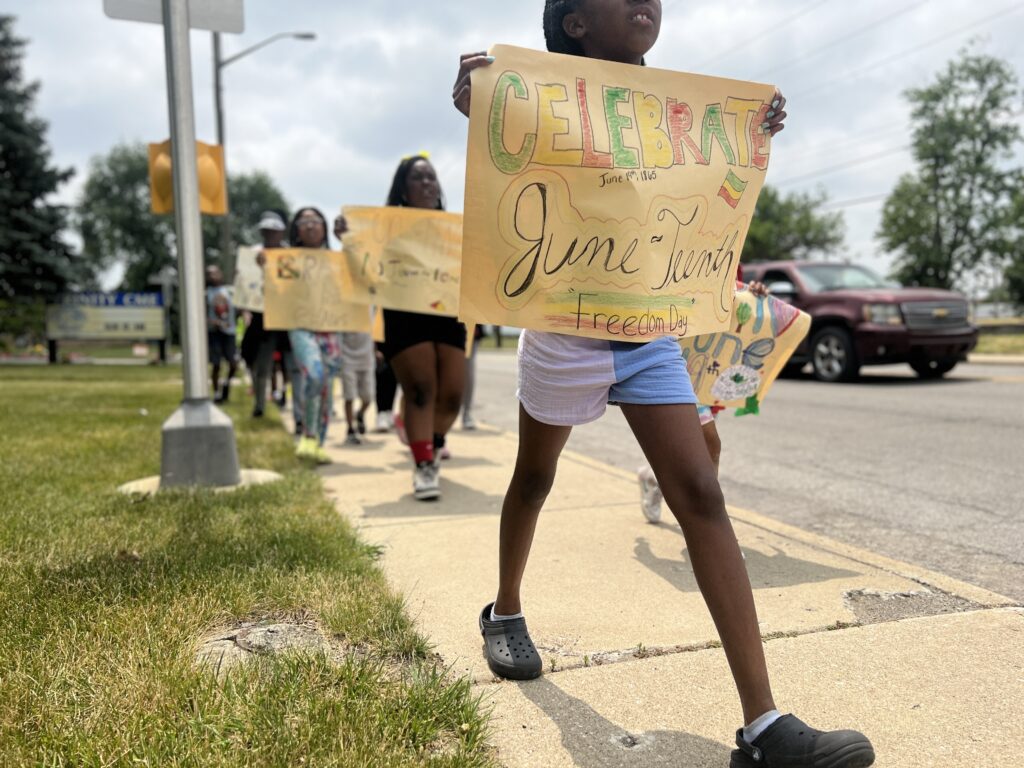 ---
Community members help along peace walk route
The youth walk down 22nd Street to Andrew J Brown Avenue. From there, they stop at Brightwood Community Center where other children join in the walk.
They then walk to the intersection between 25th Street and Andrew J Brown Avenue in front of Douglas Park and circle back around to the Edna Martin Christian Center.
Community members line their route to give the children water bottles that keep them hydrated.
"It's such a proud moment for the neighborhoods to come together and celebrate our kids and their potential as future leaders. They are who our communities need," said Andy Seibert, executive director for KIPP Indy Public Schools.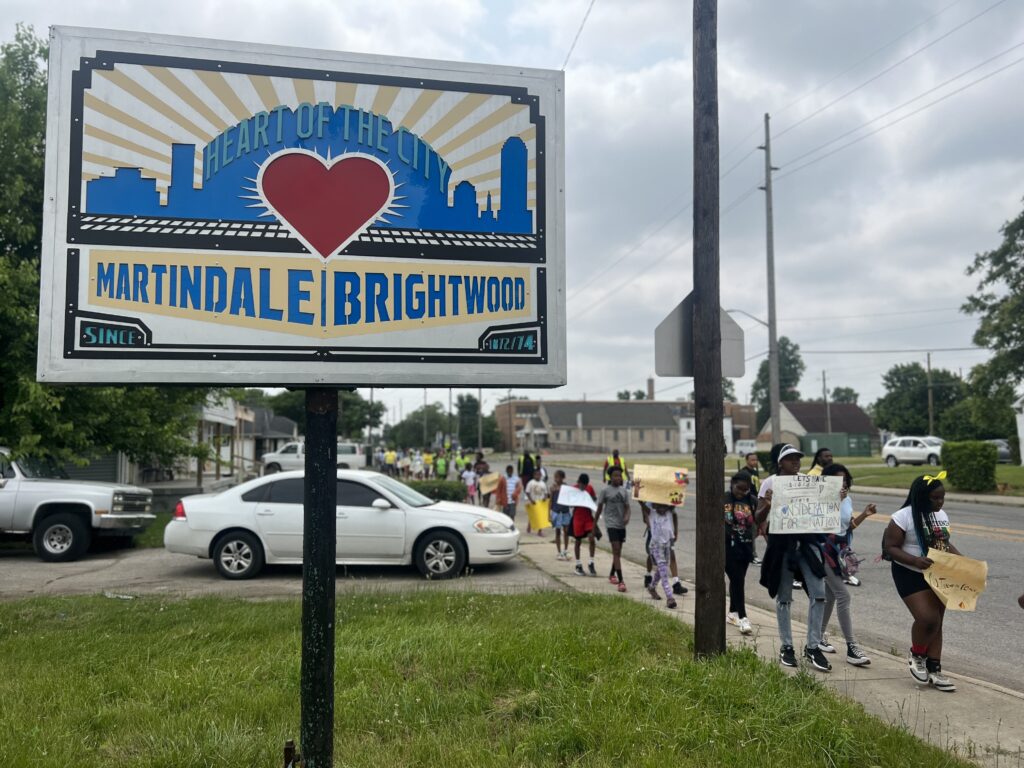 He said he is thankful for all of the residential leaders who call Martindale-Brightwood home.
The leaders' collaboration on the walk strengthens the fabric of the neighborhood.
"We have the privilege to be a part of the schools that are deeply rooted in Martindale-Brightwood. It has this incredible, rich history. One of the biggest assets in our community is our youth. This day was created to amplify our kids' leadership and voice," said Seibert.
Contact staff writer Jade Jackson at 317-607-5792 or by email JadeJ@IndyRecorder.com. Follow her on Twitter @IAMJADEJACKSON