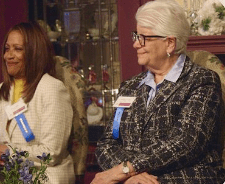 The 2023-2024 schedule for the Marilyn K. Glick Women's Enrichment Series, 'The Only Woman in the Room,' has been unveiled by the Indianapolis Propylaeum.
Education is a cornerstone of the Propylaeum's identity. The Marilyn K. Glick Women's Enrichment Series swiftly established itself as a viral initiative upon its inception in 2016, featuring Eva Kor as its inaugural speaker.  
RELATED: The new force at Newfields: Dr. Colette Pierce Burnette
The forthcoming 2023-2024 lineup includes:
Sept. 21, 2023: Dr. Colette Pierce Burnette, CEO and president of Newfields
Nov. 30, 2023: 'Women in Construction' panel with Amanda Wilson, vice president of Capital Planning and Facilities at Ivy Rech Community College; Chelsea Thompson, vice president of Development at Browning; Mishell Cox, CEO of Cox Roofing
April 25, 2024: Kathryn Bertine, professional cyclist, activist, author and documentarian
Ticket details can be found HERE. The series explores the concept that being the only woman in the room necessitates traits such as tenacity, intention, courage, resilience and fearlessness.
This season of the Marilyn K. Glick Women's Enrichment Series honors women who embody the above qualities, not only forging their own path but also paving the way for others to shine by utilizing their skills and talents.
Reflecting on her mother, Marianne Glick speaks of Marilyn K. Glick's values of lifelong learning, family, education, hard work and philanthropy, which the Women's Enrichment Series pays tribute to: "Fostering conversations that empower women from all walks of life is not just important; it's vital for the strength of our community."
At the heart of Indianapolis, the Propylaeum serves as both an integral and inspirational force. Established 135 years ago, its mission revolves around nurturing leadership, fellowship and the arts among women. The organization's founders derived the name from the Greek term propylaeum, meaning gateway, to symbolize its role in opening doors to culture within Indianapolis.
The Propylaeum has resided for a century in the Schmidt-Schaf Mansion ,at 1410 N. Delaware St., where it continues to be a welcoming space for women to express themselves, inspire leadership and uphold the tradition of women supporting one another. With a dedication to preserving its historic property, the Propylaeum extends its reach by offering diverse arts and cultural programs to the Indianapolis community. For further information about the Indianapolis Propylaeum, please visit their website: www.thepropylaeum.org.