Last Wednesday, Mayor Joe Hogsett was the first person to publicly comment at the City-County Council meeting. A sea of supporters, displaying signs that read, "End gun violence," cheered him on.
He spoke of his support of Proposal 156.
The proposal adopts gun safety measures. It takes effect and is enforceable only upon the removal or repeal of restrictions imposed by state or federal law.
RELATED: Hogsett announces next phase of anti-violence plan, calls for change in state law
"Reasonable minds can disagree on the correct gun safety policies for any community, but these policies were selected because they were supported by the vast, vast majority of the people who agree that they will make Indianapolis a safer city," said Mayor Hogsett in his opening statement.
Mayor Hogsett proposed the ordinance to address crime and gun violence within the city.
"I will continue to fight for the people of Indianapolis to have the right to craft their own laws on this critical issue. Until that happens, votes like these do send a powerful message about where Indianapolis stands," said Mayor Hogsett.
Proposal No. 156: gun control ordinance
Proposal 156 raises the legal age of purchase for a firearm to 21 in Marion County. It bans semiautomatic assault weapons and reverses the permitless carry law in place.
The proposal also prohibits concealed carry.
"It prohibits buying, selling, possessing, displaying, carrying, brandishing or discharging a semiautomatic assault weapon. It requires a handgun license to carry a handgun in Marion County," said Matt Giffin, corporation counsel for the city.
"These measures do not violate the Second Amendment right of law-abiding citizens to carry guns for self-defense. The only thing preventing Indianapolis from enforcing these gun safety policies is the General Assembly."
Mayor Hogsett claims he has gotten threats
He said that passing votes for these ordinances is hard. The "gun lobby" would do anything to make them difficult.
Since announcing these gun control measures, there has been a concerted effort to pressure him into withdrawing these proposals.
"Pressures from political perspectives, well that's to be expected, but also direct threats to me personally if I do not back down? I hope and I pray that none of you will experience those kind of threats and tactics," said Mayor Hogsett.
IMPD confirmed officers are investigating threats made to Mayor Hogsett.
"The IMPD takes all threats seriously and investigates them thoroughly. This remains an open and ongoing investigation," said the department's public affairs officer, Lt. Shane Foley.
Mayor Hogsett said he will not be threatened into turning his back on Indianapolis residents.
"I am not backing down," he said in last Wednesday's meeting before walking out.
IMPD stats and data on gun
In a presentation, IMPD Chief Randal Taylor discussed how current laws have put a burden on law enforcement. It has been harder for them to respond to gun incidents: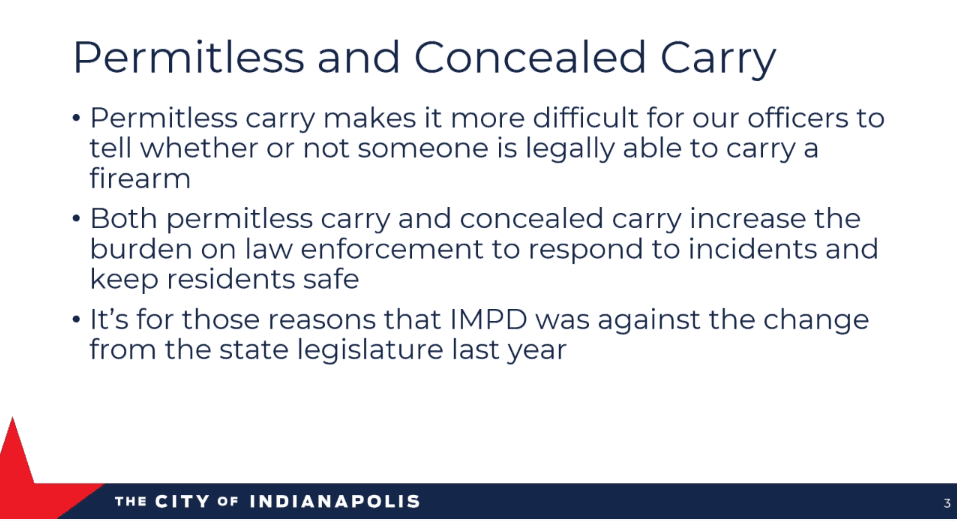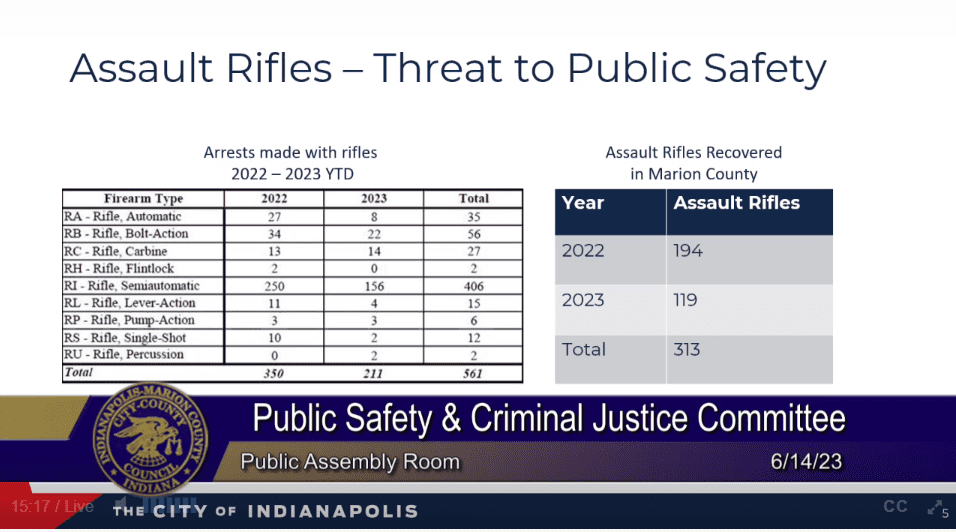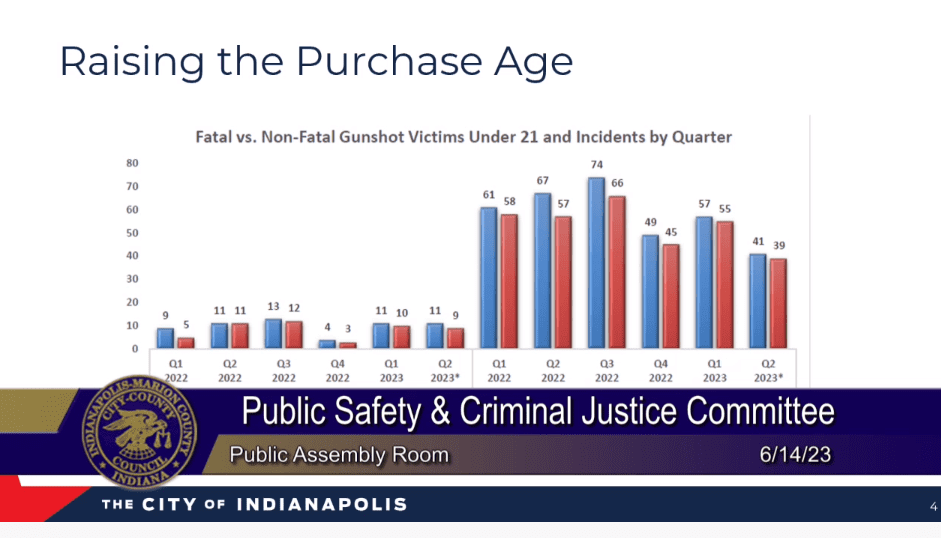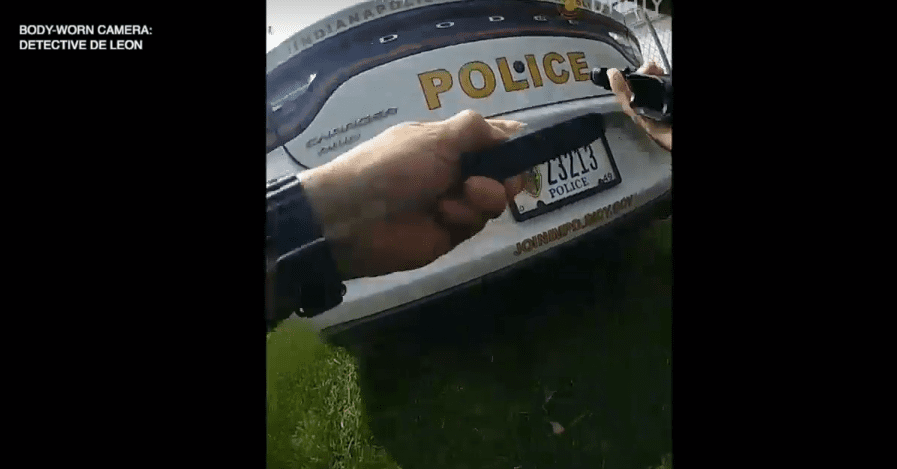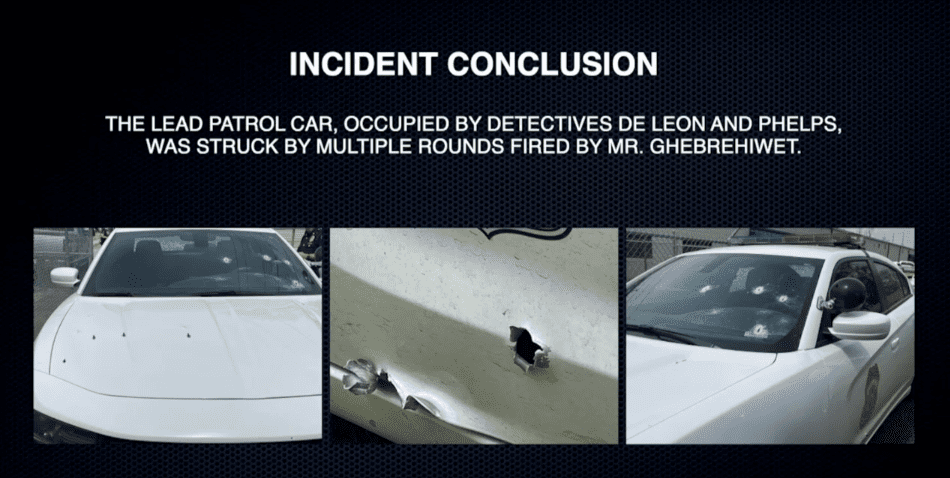 The proposal will "sit on the shelf"
The proposal passed through the full Council and along party lines with Democrats voting yes and Republicans voting no.
Giffin explains that the ordinance is conditional.
Due to the state's pre-emption law the ordinance will not have an immediate impact.
pre-emption prevents local jurisdictions from regulating almost everything concerning firearms.
It will essentially serve as a trigger law. The law would only go into effect if state law changed or if federal courts struck it down.
"Instead of trying to blame firearms, let's look at the people who are actually doing the wrongdoing and put them behind bars. Let's look at why the prosecutor isn't prosecuting. Why is he putting them back out in the community?" said Brian Mowery, R-District 25 and council minority leader.
---
"Indiana has had concealed carry for four years. The rise in crime has been within the last handful of years. Indianapolis has never been without crime, without murder and without homicide, but we're saying we're going to ban all of these things if the state law changes."
Joshua Bain, R-District 20, said the new proposal does not change anything for the city of Indianapolis.
"The FedEx shooting was mentioned earlier during the presentation which is in my district. Right there is a prime example of if this current law was enforced with the Red Flag Law, that shooting wouldn't have happened. You don't need this proposal to stop that from happening," said Bain.
"Instead, we have a woke agenda that's being pushed by a woke prosecutor with a false narrative of systemic injustices. I'm going to be very honest; I don't think government is in a position to really solve society's social and spiritual issues that face our city."
Gun-free zones
The WonderRoad Music Festival at Garfield Park on June 11 marked the debut of Indianapolis' new policy on gun-free zones.
Last month, the city announced that gun-free zones would involve the city helping private groups who lease public space for events enforce a gun-free policy.
Indianapolis is leveraging gun-free zones as a strategic means to exercise control over firearms within the city.
While Indianapolis is prohibited from declaring public spaces like Garfield Park gun-free, event organizers possess the authority to enforce such restrictions during their events.
Evolv Technology's weapons and detection systems, equipped with sensor technology and artificial intelligence, underwent their pilot test at the music festival.
Co-founder Anil Chitakra highlighted that the advanced technology is capable of screening up to 4,000 individuals per hour.
More law enforcement being present helped enforce gun-free zones.
Other strategies for addressing gun violence
Last Tuesday, the City-County council unanimously approved funding to hire special attorneys who will help investigate and prosecute federal gun crimes.
$225,000 will be allocated to hiring three Special Assistant United States Attorneys. Additional funding will go to the budget of the Office of Corporate Counsel.
IMPD Deputy Chief Kendale Adams highlighted that this new development would provide the police with an extra advantage.
"It adds to our ability to be able to pitch cases to the federal system and the state system because, as law enforcement, we need both systems. It's not one system or the other. We need both systems to really have an effect on making Indianapolis as safe as we can," said Adams.
According to city officials, it will take a few weeks before the attorneys assume their new positions.
Contact staff writer Jade Jackson at 317-607-5792 or by email JadeJ@IndyRecorder.com. Follow her on Twitter @IAMJADEJACKSON