The Indianapolis Recorder welcomed a new religion reporter to the team. Abriana Herron, who started in her role June 1, was hired through a partnership with Report for America, a national program that places journalists in local newsrooms to report on under-covered issues and communities.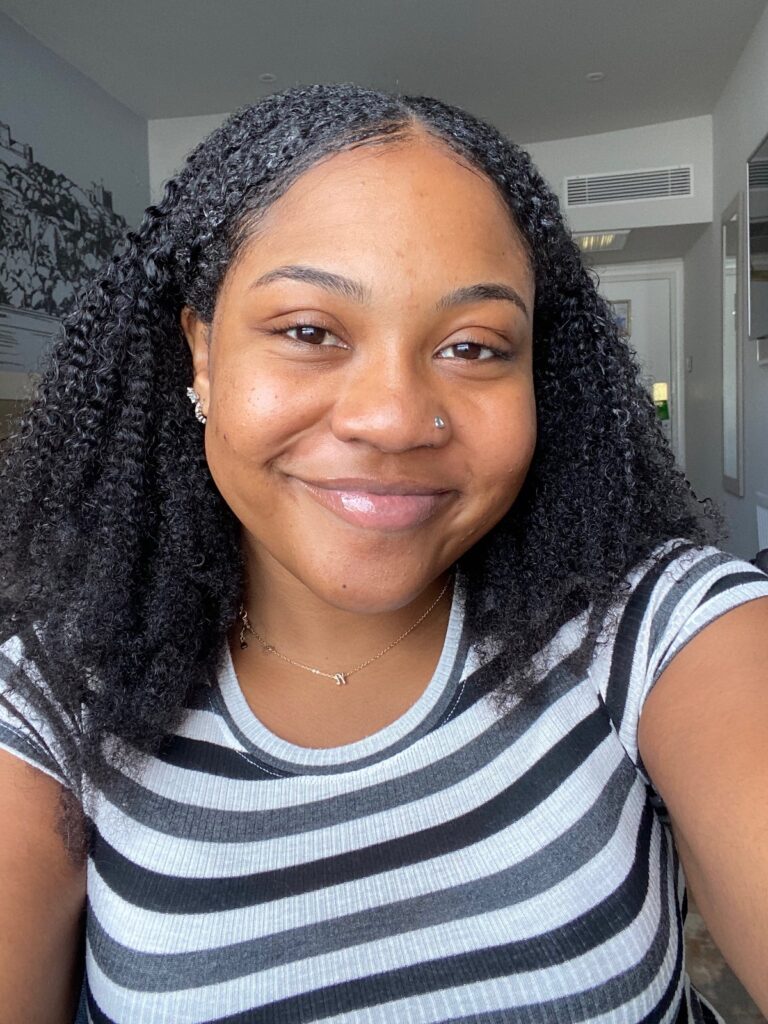 Herron answered some questions to help the Recorder's audience get to know her as she prepares to give much-needed coverage to the local church and religion scene.
What high school did you attend?
Pike High School (graduated in 2018).
What college did you attend?
Indiana University Bloomington (graduated in 2022).
Do you have siblings?
Yes, I have three lovely siblings: Amaya, 17; Ky'Andre, 11; and Ayden, 6. As the oldest sibling, I am usually on the receiving end of their brutally honest jokes and playful banter, but it makes spending time with them even more enjoyable.
You studied abroad for a semester. Tell us where you went and about your experience.
I studied at The University of Kent in Canterbury, England, a small college town about an hour east of London by train. I was there for close to four months, made a lot of great friends from around the world, ate some pretty bland food and saw some of the most beautiful architecture in the world. I cherish the experience, the good and the bad.
It sounds cliche, but how did that experience change your life?
Those few months in the U.K. changed my life in more ways than I am even aware of right now. I have a slight British accent when I say the words "no" and "lovely." My view of the world shrank as I realized racism is truly a global issue. I am still trying to come to terms with a lot of the things I went through while I was across the pond, but I know the experience will travel with me throughout the rest of my life and professional career.
How did living in another country impact your views on America?
You learn that a lot of people do not like America. It made me see some of the flaws in American society and really question the way that America operates.
What's your favorite way to relax?
I absolutely love to read whenever I get the chance to. For me, reading is an escape from reality. To try to relax before I go to bed, I like to watch ASMR.
What has being a college student during a global pandemic taught you about life?
It taught me to persevere through any obstacle that comes in the way of obtaining a goal. The global pandemic did not stop me from studying abroad and graduating college because I did not let it stop me.
Is there anyone famous in your family?
Yes, I have two famous family members. An older cousin of mine, Damon Watts, used to be a professional football player for the Indianapolis Colts. My cool and collected Uncle Poncho plays the bass guitar for The Blackberry Jam, a well-known band here in Indy.
You were an intern during the summer of 2021. How does it feel to now be a full-time reporter?
I am excited to be working with the Recorder again. Being back at the Recorder and working as a full-time religion reporter feels like a dream come true. Journalism is an extremely competitive and challenging field in terms of finding opportunities to professionally write after graduation, and I feel blessed to be starting my professional career with the Recorder.
You'll cover the religion beat for the Recorder. This is an important beat to the Black community, and we're happy to have you take on this role. What is your vision for this beat?
Religion is powerful because it brings people together, and I see this beat as an opportunity to display the power of our community. I want people to see and understand the importance of religion as well as the religious diversity within the Black community here in Indy. Over time, this beat will evolve into something better than I could ever envision myself, and I hope to share this evolution of this with the Recorder audience.
You were hired at the Recorder through a partnership with Report for America, an organization that is dedicated to making local news a priority. How does it feel to know that you're a part of not just a historical, Black-owned newspaper, but also an organization like Report for America?
I feel like I won the lottery. I am not only getting started on my professional writing career, but I get to do so in my hometown community while also being a part of a nationwide group. Local journalism is important to the community it serves, and I am happy to be working with two organizations that see the value in local journalism.