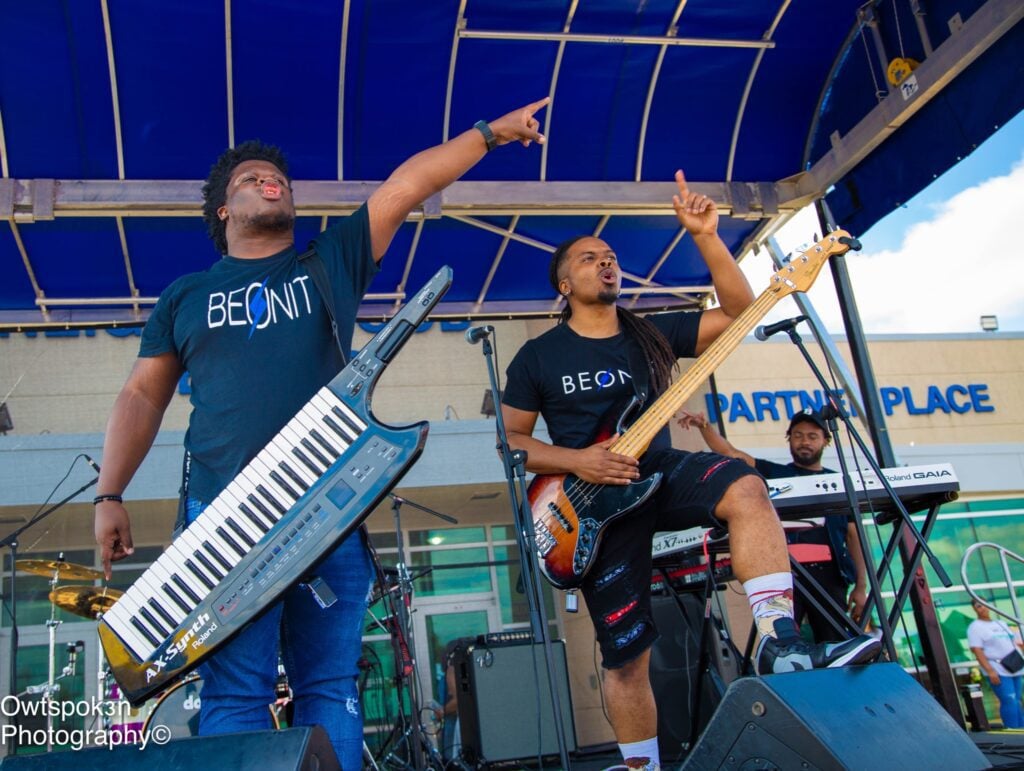 The second annual Melanin in May Festival rounds out the month with a full day of Black excellence ranging from art and music to food and wellness for the community.
Created and hosted by Dominic Dorsey of Naptown and DONT SLEEP, the highly anticipated event returns to the Community Alliance of the Far Eastside (CAFE) on May 27. The large-scale spring festival aims to celebrate "every shade of excellence for those who flaunt their melanin with no apology," Dorsey said.
"These are people who are friends and neighbors and family members that are out here performing," he said. "It's like a big family reunion environment you really need to take part in. There's no words that can truly describe it. You have to be there to experience for yourself."
Melanin in May is one of four annual community-wide festivals — which include Black Owned Business Block Party in the summer, Blacktoberfest in the fall and Black Business Bazaar in the winter. The festival itself is free to attend, as Dorsey said he wants the proceeds to go directly back to the community it is uplifting.
"It's about centering Black joy as a form of resistance. It's about promoting Black-owned businesses. It's about celebrating the arts," he said. "These are things that I don't necessarily feel like people should pay to have access to, especially when there's not venues or avenues for them to do it on a regular basis."
One of the crowd favorites of the Melanin in May Fest is the Food Truck Battle Royale, which Dorsey said is a juried competition to crown the best Black-owned food trucks in Indy. This year, the competition will see nine local food trucks of varying specialties — including two vegan trucks, a taco truck, home cooking and soul food, plus last year's champion, ChefTLC — compete for the championship belt.
The competition will be judged by Indy's own culinary artists who have seen national acclaim, such as Chef Natasha Lucky Anderson, Candace Boyd Simmons, Chef Oya Woodruff, Dr. Ariel Smith and Big Den, Den Dennis Junior.
"These people are titans in the food industry in terms of Indianapolis — and probably beyond," Dorsey said. "They're going to be lending their palate to judge on execution, taste, presentation, and based on their judging recommendations, that's who's going to get the belt."
Although the judges will declare a winner the day of the event, guests of the festival will have a chance to vote for a People's Choice.
Beyond the food competition, a designated food court area will be home to dozens of food trucks — such as Guys Cooking Creation, J & J A Taste Of Home Catering & Food Truck, Juice with Jos, Peace of Earth, Plaid and Pearls Coffee and Shy Girl Sweets — allowing festivalgoers to get a taste of all the wonderful flavors Indy's Black eateries have to offer.
Spoken word artist Tony Styxx and radio/TV personality Erica "Ms. EKlass" Pierce will cohost the Black Onyx Management SoundStage, which features a full lineup of music — including DJ Mary Jane, The Brothers Footman, Allison Victoria and Native Son. There will also be several visual and mixed media artists onsite creating art live.
"We want to draw attention to those performers and give them an opportunity in front of a crowd to headline a festival," he said. "We see the elevation in opportunities to have more eyes on the product and get more people aware of the talent that exists in our visual arts community."
Between live performances and art demonstrations, festivalgoers will also have the opportunity to shop from more than 125 Black-owned business vendors in the PMPHASE Vendor Marketplace.
New this year, Dorsey said Melanin in May will offer the IU Health and Wellness Village, where guests can stop by for COVID-19 vaccination boosters and blood pressure checks. There will also be instructional demonstrations, such as adult self-defense and health exercises, in addition to doulas who will discuss breastfeeding, safe sleep and SIDS awareness, car seat installation and more.
Since May is mental health awareness month, Dorsey said they have partnered with Minority Recovery Collective, a local organization sponsoring Black and brown individuals recovering from mental health issues and recovery.
"We can get together, we can have fun, but there's an opportunity for us to be educated; there's an opportunity for us to take our health and wellness seriously," Dorsey said. "So, there's something that's there for everybody. But while they're there for one thing, they're gonna get a taste of everything else."
The 2023 Melanin in May Festival will take place May 27 from 11 a.m. to 5 p.m. at the Community Alliance of the Far Eastside, 8902 E. 38th St. A full list of vendors, artists and performers as well as more information about parking information, volunteer opportunities and sponsors can be found at melanininmay.com.
Contact staff writer Chloe McGowan at 317-762-7848 or chloegm@indyrecorder.com. Follow her on Twitter @chloe_mcgowanxx.