The first thing new Indiana basketball head coach Mike Woodson told Trayce Jackson-Davis after the all-conference forward said he'd stay in Bloomington for another season: "You're a captain."
Jackson-Davis, Indiana's best player as a junior who's averaged 16 points and nearly nine rebounds in two seasons, has taken the job seriously. He texts his teammates to make sure they're on time, tells them he's someone they can talk to if they're not comfortable going to Woodson.
No one will be more valuable of an asset for Woodson as the first-year coach tries to guide a proud Indiana program back to steadier waters. The Hoosiers haven't been to an NCAA Tournament since 2016, when former coach Tom Crean took them to the Sweet 16. Archie Miller made one postseason appearance — the NIT in 2019 — during his four-year stint in Bloomington.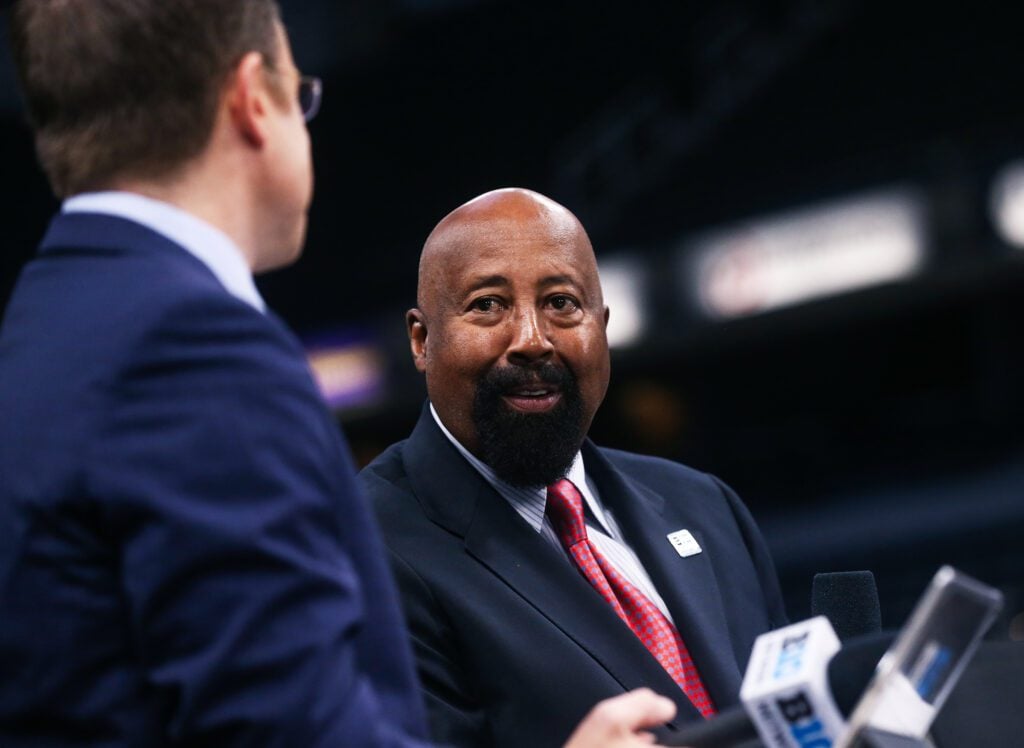 Woodson's first order of business is instilling confidence in a team that, as he sees it, doesn't have a superstar.
"We have a dominant player in Trayce and then a bunch of supporting cast," he said at Big Ten basketball media days Oct. 7 in Indianapolis.
If the Hoosiers can find the upside to their offense, it's a team that could look drastically different from what fans became accustomed to under the old regime. It could be fun, fast-paced, efficient — all under the supervision of 63-year-old Woodson, the 1980 conference player of the year at Indiana who spent almost 25 years in the NBA coaching ranks.
B1G women's preview: Gearlds has her 'head above water' at Purdue after chaotic offseason
A good measuring stick for Woodson's first season will be how well senior guard Rob Phinisee plays. Phinisee hasn't been a prolific scorer in three seasons, but Woodson wonders if the last coaching staff discouraged him from shooting.
"My problem with Rob is I just gotta get him to shoot more," Woodson said.
Phinisee could shift to being more of a sixth man off the bench this season after Indiana added transfer point guard Xavier Johnson, who was in the starting lineup for the Hoosiers' two games in the Bahamas in August. Phinisee still had 19 assists off the bench.
But even Johnson could use some confidence going into this season. He transferred from Pittsburgh, a bottom feeder in the Atlantic Coast Conference. Johnson became the first player in program history with more than 750 career points and 300 assists.
"I'm just trying to get him to be a better point guard and get his teammates involved in terms of running our offense," Woodson said.
Indiana's offense was anemic at times under Miller, never finishing in the top half of the Big Ten in efficiency. Woodson's offense is more free-flowing, according to Jackson-Davis, who has typically shouldered the weight of the Hoosiers' offense.
Another transfer, Miller Kopp from Northwestern, is a versatile scorer at 6-foot-7 who shot nearly 40% from the field, including 32% from behind the arc. The Hoosiers will also have four-star shooting guard Tamar Bates, who committed to the program shortly after Woodson was hired in March.
This team is going to run, Woodson said, maybe more than they've ever run in their lives. They're going to shoot 3's because in the pros, where Woodson developed his coaching chops, that's what almost every player can do.
"I'm trying to instill in all of these players that they have a chance to play and make a difference on our ballclub," he said. "That's the only way I think we can win at a high level."
Contact staff writer Tyler Fenwick at 317-762-7853 or tylerf@indyrecorder.com. Follow him on Twitter @Ty_Fenwick.