Local artist Kyng Rhodes spent the last month painting a 75-foot mural for the 2023 PHS Philadelphia Flower Show.
The Philadelphia Flower Show, presented by the Pennsylvania Horticultural Society, is the nation's largest and longest running horticulture event, and this year, Newfields will be a featured exhibitor, said Philly Flower Show creative director Seth Pearsoll. 
Rhodes, a member of the Eighteen Art Collective, said Newfields commissioned him to craft a mural as part of their garden display.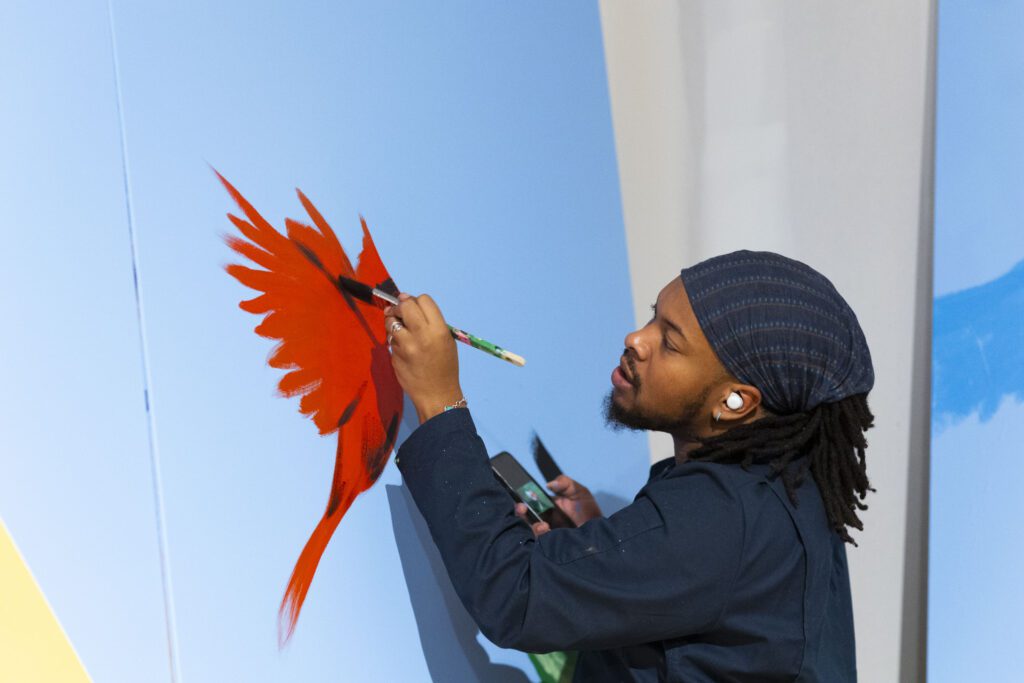 "I'm going to be honest, there was a moment where I had to just step back and I really was proud of myself," he said. "It's just one of those moments that we all have where you're a little nervous going into it because I felt like the odds were kind of stacked against me (with) the amount of time that I had to do it; the work that they chose."
Pearsoll said the show takes place over nine days at the Pennsylvania Convention Center in downtown Philadelphia and features extravagant floral and landscape designs, art installations, sculptures and more from locally, regionally and internationally curated submissions. 
"This year, I would expect a lot of colorful displays full of bold juxtapositions," Pearsoll said. "Like interesting flower combinations, a little eccentric, a little daring, maybe a little over the top in the best way possible."
Pearsoll said he recently walked through Newfields' display and said it was "going to be an absolute jaw dropper."
Newfields, formerly known as the Indianapolis Museum of Art, is located in the Virginia B. Fairbanks Art and Nature Park, at 4000 N. Michigan Road and is home to modern and contemporary art as well as exhibitions from Indianapolis-based artists.
Newfields has had its eyes on the Philadelphia Flower Show ever since the institution rebranded and incorporated its 52-acre botanical gardens, Rhodes said, but this was the first year they were selected as a guest exhibitor.
Rhodes said Newfields reached out to him back in December 2022 after seeing his work with the Eighteen Art Collective and the paintings he did for "We. The Culture." He said Newfields CEO Colette Pierce Burnette wanted to incorporate art with nature at the Philly Flower Show as a way to introduce themselves to a larger audience.
However, Rhodes said he isn't a muralist — at least he wasn't until now.
With a little more than a month to complete the mural, which spans 18 4-foot by 8-foot panels, Rhodes said he was given creative freedom to tell the story of Newfields with the inclusion of native plants and wildlife. Though he ended up doing some of his own research to craft the mural, Rhodes said his trademark flora, fauna and botanical art borders shine through.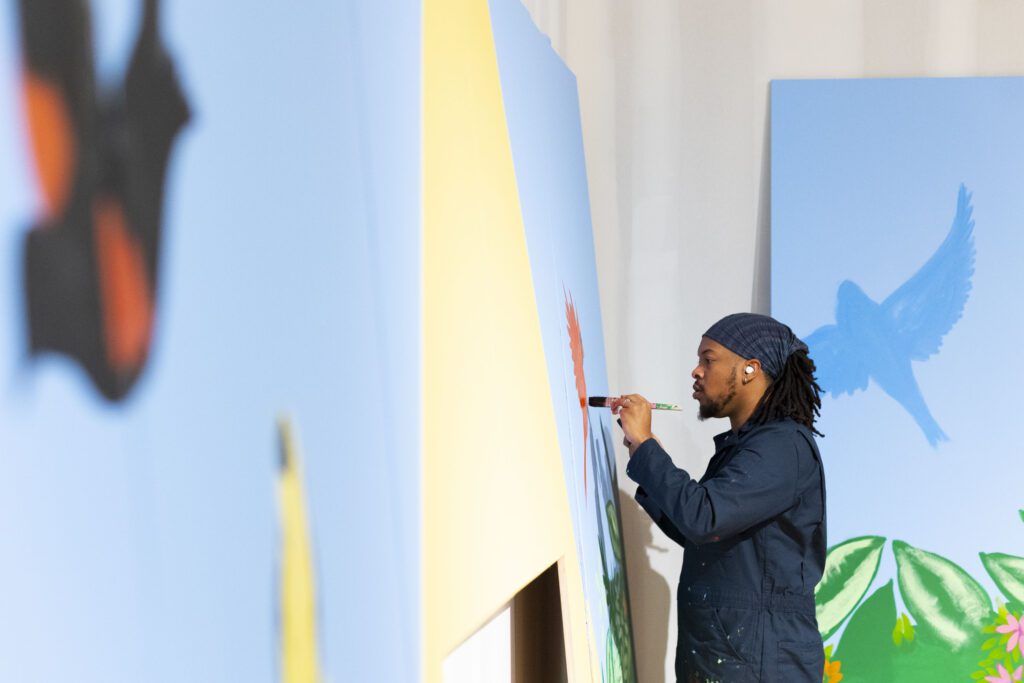 "On the mural, there's a great blue heron that is splashing water onto the garden," he said. "And … kind of sets off a ripple effect that sends other birds in the garden into flight carrying flowers around the garden that will drop seeds, allowing flowers that 'weren't allowed to grow' in certain parts of the garden to bloom, which creates a more diverse and beautiful garden."
Entitled "Newfound Fields," Rhodes said the mural is symbolic of the relationship Newfields has with its artists and the community going forward as it continues to work on building back trust with its board and unrepresented artists, such as LGBTQ, disabled and artists of color, Rhodes said.
With all of the native flowers, birds and ultraviolet colors incorporated onto it, the mural Rhodes created doesn't stray far from the theme of "Garden Electric" of this year's flower show. Pearsoll said the theme was chosen following two years of pandemic friendly outdoor events with calmer and more relaxing themes.
"We wanted to remind people that gardens and flowers didn't just have to be kind of calming and tranquil, they could be celebratory, they could be bold, they could be full of moments where they're sort of coming alive," Pearsoll said. "The Garden Electric is about that specific moment when you see something so beautiful — perhaps so rich or fragrant whatever it may be — that it can literally shock you or jolt you or move you."
Rhodes said the mural was sent to Philadelphia a week before the show to be set up, but he will be joining for the first few days of the show, which opens on March 4. Alongside the mural and horticulture, Rhodes said Newfields hired Blockhouse Studios to project LUME-like projections onto the inside of the mural.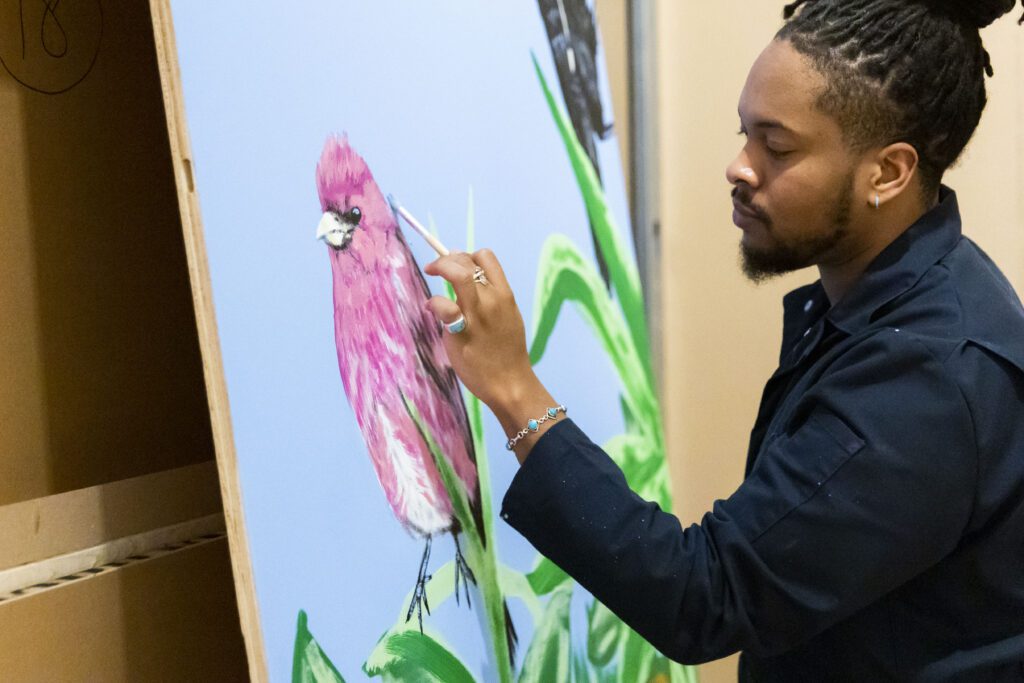 Rhodes said Newfields told him they didn't have enough time to prepare and grow all of the flowers they would have liked to in time for the show. But Johnathan Wright, the Ruth Lilly Director of The Garden and Fairbanks Park at Newfields, said his mural would be a large component of their display. 
"Essentially, it feels like nine-year-old me is looking at me now and is like 'we came to the rescue for the museum,'" Rhodes said. "For the fine art museum of my city, I came in and helped them so they could display and be a part of the show the way they want it. It's an incredible feeling."
PHS Philadelphia Flower Show takes place March 4-12 at the Pennsylvania Convention Center, 1101 Arch Street, in Philadelphia, PA. Tickets range from $20-$43.50 and can be purchased at phsonline.org/the-flower-show.
Contact staff writer Chloe McGowan at 317-762-7848 or chloegm@indyrecorder.com. Follow her on Twitter @chloe_mcgowanxx.