It is a simple phrase with a profound meaning: Nap or Nothing.
Etched across clothing inside a storefront on Massachusetts Avenue, owner of the streetwear brand Antonio Maxie said the slogan instills pride within people from Indianapolis.
"'Nap' is short for Naptown, which is the nickname for the city. 'Or Nothing' is about repping to the fullest: Repping your backyard and being proud of where you're from," said Maxie. "It's important for everybody to let people know where you come from and what made you or built you."
Nap or Nothing has been around for nearly a decade.
Nap or Nothing: The beginning
Despite the brand's release of hundreds of different colors and designs, Maxie said he never planned on owning and operating a clothing brand.
Originally a musician, Maxie's fashion concept arose when he wanted to make a couple of extra bucks performing at shows.
"So, I started putting logos on merch with phrases from my songs and phrases that I say with my friends. It kind of just kept growing, and growing, and growing," said Maxie.
Maxie said a friend of his opened a clothing store inside Lafayette Square Mall, and the shop ultimately fell into his lap.
The brick and mortar for Nap or Nothing at Lafayette Square Mall launched in 2015. Because the mall is now temporarily closed due to a redevelopment project, the store transferred to online sales before moving to Mass Ave.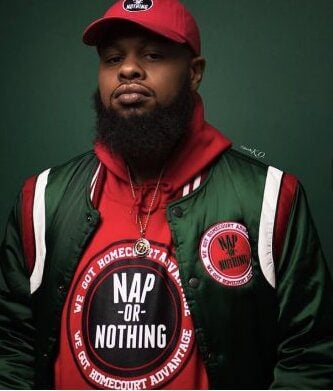 Nap or Nothing creator and founder, Antonio Maxie
Nap or Nothing Now
From local artists to athletes and everyday people, all his customers rock the brand. Nap or Nothing has always shared space with other Indianapolis streetwear brands.
The organization GangGang culture partnered with Nap or Nothing to open multiple locations around the city in 2023.
"I feel blessed, I feel honored. I feel like I keep putting the work in and doing my due diligence to provide Indianapolis with quality representation," said Maxie.
The recognition Nap or Nothing has gained over the years has been cool according to Maxie, but he's even more excited that he can help other people achieve their goals and dreams by incorporating pride into the city.
"I don't look at it like it's a 'me' thing. It's a 'we' thing. When the doors open for me, they open for others as well. My opportunity is their opportunity. They just have to capitalize as they see fit," said Maxie.
Nap or Nothing's goal is to have biweekly drops for products.
It's a black owned business established in the high traffic area on Massachusetts Avenue in Indianapolis.
Contact staff writer Jade Jackson at 317-607-5792 or by email JadeJ@IndyRecorder.com. Follow her on Twitter @IAMJADEJACKSON