Christmas has come and gone, which means it's almost time to ring in the new year.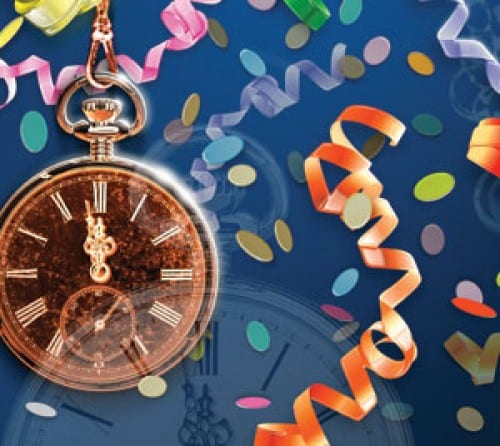 As you prepare to gather with family, friends and loved ones before the year ends, we've put together a list of some family- and kid-friendly activities as well as a few adult events around Indianapolis to celebrate the beginning of 2023.
Family-Friendly Events
Countdown to Noon
Where: Sunburst Atrium, Children's Museum of Indianapolis, 3000 N. Meridian St.
When: Dec. 31, 10 a.m. to 2 p.m.
Cost: Included with price of admission, free for members
Families are invited to dance into the new year with a museum-wide New Year's Eve celebration including activities, confetti and live music.
Family New Year's Eve
Where: Indiana State Museum, 650 W. Washington St.
When: Dec. 31, 6-9 p.m.
Cost: $18
Come enjoy all three levels of the Indiana State Museum for New Year's Eve, with glittering tattoos, music and a dance party. The museum will feature activity stations in the galleries, a photo booth, face painting and rides on the snowfall express. Round out the evening with a balloon drop and an alcohol-free countdown to 2023.
Noon Year's Eve Skate Parties
Where: Skateland, 3902 N. Glen Arm Road
When: Dec. 31, noon to 2:30 p.m., 3-5 p.m., 6-9 p.m.
Cost: $15
Skateland will host three NYE parties for families and kids featuring skating, music, food and more. Admission includes skate rental, a noisemaker, party hat and an apple cider toast.
21+ Events
Punch Bowl Social New Year's Eve Celebration
Where: Punch Bowl Social, 120 S. Meridian St.
When: Dec. 31, 9 p.m. to 1:30 a.m.
Cost: $10 cover
Leave the kids at home for this one as Punch Bowl Social goes 21+ from 9 p.m. to close. Featuring live music, food and craft cocktails, ring in 2023 with games and activities, such as a photobooth, and more.
punchbowlsocial.com/location/indianapolis
DJ Geno Pop Up
Where: Harper's Bar and Grill, 4202 W. 56th St.
When: Dec. 31, 8 p.m. to 3 a.m.
Cost: Tickets start at $15
Promising three parties in one event, the DJ Geno pop-up will feature a VIP Steppers Room with The Beat Indy and DJ Smooov, music from Damon Karl, Kelsi Marie, Skype, Twelve and TheeAllyE in addition to music by DJ Gemini in the main room, hosted by DJ Geno. A free buffet will be available on a first-come, first-served basis.
facebook.com/harpersbarandgrill
Bukks New Year's Eve Extravaganza
Where: The Bitwell Event Center, 950 S. White River Parkway West Drive
When: Dec. 31, 8 p.m. to 2 a.m.
Cost: Tickets start at $100
Presented by the Kappa Alpha Psi Fraternity Inc. alumni chapter, Bukks NYE Extravaganza will feature a cash bar, appetizers and live entertainment from local R & B and soul artist Alaina Renae. Plus, guests can enjoy the dance floor with DJ KCeaser leading up to a champagne toast to ring in the new year.
Contact staff writer Chloe McGowan at 317-762-7848 or chloegm@indyrecorder.com. Follow her on Twitter @chloe_mcgowanxx.