The Northeast Indianapolis Corridor wants the community to join them in the fight against violence this summer. They unveiled plans for the 2023 Community Love Fest. The festival will feature their signature events promoting a safe start to summer and expressing love through community engagement.  
Community Love Fest takes place June 8-June 11. It brings together those who advocate for the community's safety and well-being by addressing the issue of violence.  
The goal is for local leaders, organizations and concerned citizens to collectively work toward building a safer and more peaceful environment.  
RELATED: Mayor Hogsett debuts #IChoosePeace Campaign
"We are coming together to, first and foremost, highlight the fact that enough is enough. We know that we can say it, but it's through action we demonstrate what it means to love our community," said Ashley Gurvitz of the United Northeast Community Development Corporation.  
Northeast Indianapolis Corridor
Kurt Moore with STR8Up Mentoring is helping to host the Dust Bowl basketball tournament that is a part of the fest.  
He said the Dust Bowl has been around for decades and meant a lot when they were young kids growing up in the community.
"The only thing that can conquer the hate that we're dealing with right now with all of the crime and violence is love," said Moore.
Shardae Hoskins with the Office of Public Health & Safety said the 46218-neighborhood corridor has been heavily impacted by gun violence.  
Hoskins is a part of the Indy Peace Fellowship and said the organization will be a part of the events and lineup for the fest.
"We plan to model what it looks like to choose peace. We all are peacemakers if we take the initiative. This weekend we will have a heavy emphasis on checking on your people," said Hoskins.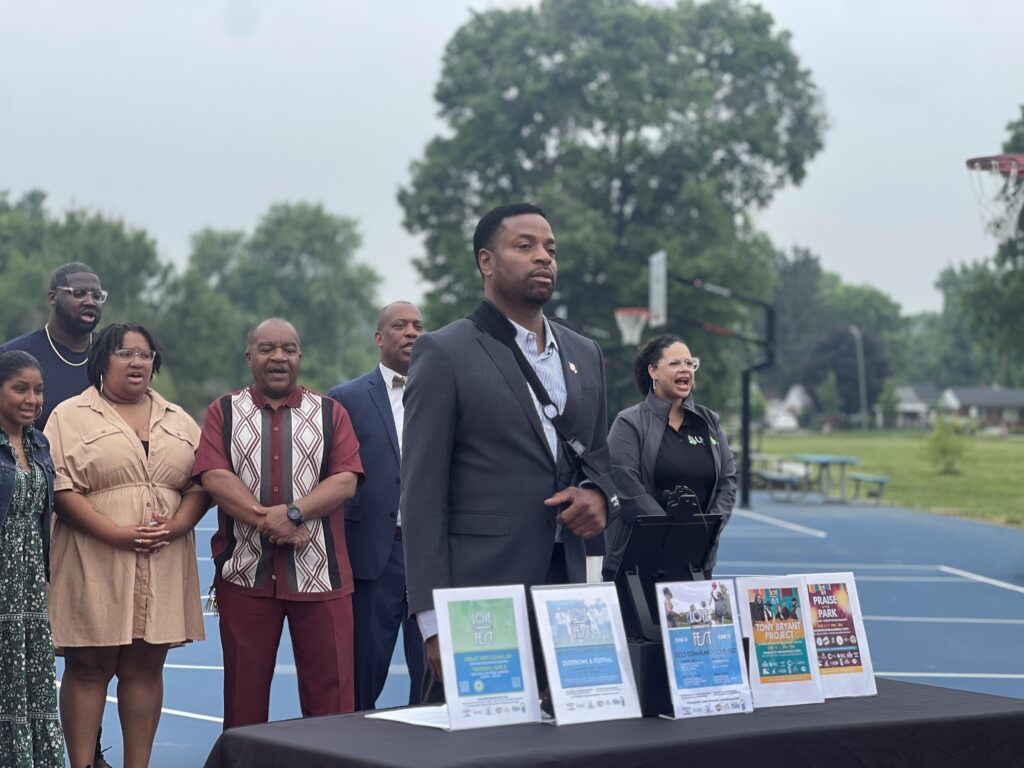 Community Love Fest lineup
Thursday, June 8 – Community clean up with Keep Indianapolis Beautiful, Inc. East 34th and Keystone from 5:00 p.m. to 7:00 p.m.
Friday, June 9 – Party with a Purpose. Details to be determined from 7:00 p.m. to 10:00 p.m.
Saturday, June 10 – Dust Bowl basketball tournament & Festival at Washington Park courts (3300 Officer David S. Moore Memorial Pkwy) from 9:00 a.m. to 7:00 p.m. featuring community resources, live music, business vendors and food trucks.
Sunday, June 11 – Praise in the Park is a collaborative event between local churches at Washington Park (3300 Officer David S. Moore Memorial Pkwy) courts from 1:00 p.m. to 3:00 p.m. Bring your own lawn chairs. There will be some outside seating.
Get your tickets HERE. 
Contact staff writer Jade Jackson at 317-607-5792 or by email JadeJ@IndyRecorder.com. Follow her on Twitter @IAMJADEJACKSON