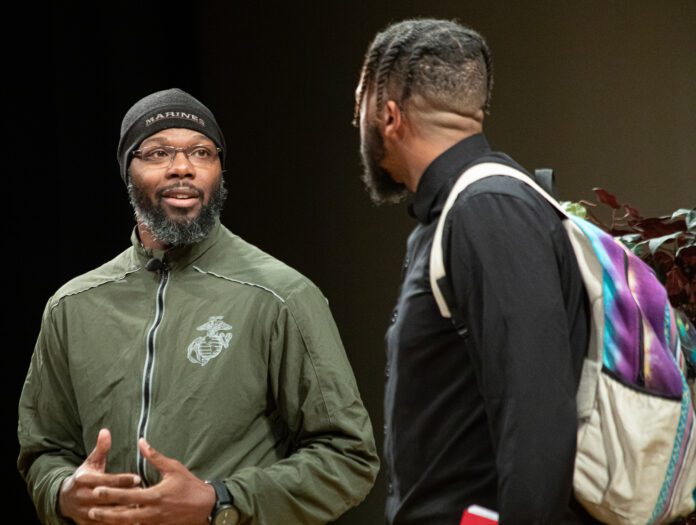 OnyxFest, Indiana's annual live theater festival dedicated to showcasing Black stories by Black playwrights, returns the first two weekends of November.
Sponsored by the Africana Repertory Theatre of IUPUI (A.R.T.I.) in partnership with IndyFringe, the fall theater festival focuses on producing plays by Black playwrights that have never been produced before. The festival takes place over two weekends, Nov. 3-5 and Nov. 10-12, with five one-act plays by local and national playwrights.
This year's festival lineup includes two plays by Indianapolis-based playwrights, "5 Moods of Black Anguish," by Josiah McCruiston, and "Babe," by Delores Thornton. The other three plays at this year's festival are written by national playwrights and include "Right Behind You," by Deborah Patrick, "Tigonie," by Levi Frazier Jr., and "The Heart of a Man," by Ardre Orie.
Ticketing for Onyx Fest will look a little different this year, as the festival has added three new audience accommodations — such as a discount for attendees who purchase tickets for groups of 10 or more and an OnyxFest Pass, which is good for all five performances.
Lastly, one of the new features will allow sponsorship dollars to fund complimentary tickets for IPS students and Central Indiana school districts to "better acquaint young people with live theater."
"It is critical to A.R.T.I. to sustain the consistent growth of OnyxFest we have experienced from year to year," Vernon A. Williams, director of OnyxFest and member of the Africana Repertory Theatre of IUPUI (A.R.T.I.), said in a statement. "We want to explore creative methods to reach that audience we have not yet accessed. Group sales, season pass discounts and comps for Central Indiana students will help us move forward in that direction."
OnyxFest takes place at the IndyFringe Basile Theatre Nov. 3-5 and the Crispus Attucks Auditorium Nov. 10-12. Tickets are $15 and can be purchased at indyfringe.org/onyxfest. For more information, visit onyxfest.com or contact onyxfestindy@gmail.com or Vernon A. Williams at 317-274-8710.
Contact staff writer Chloe McGowan at 317-762-7848 or chloegm@indyrecorder.com. Follow her on Twitter @chloe_mcgowanxx.