With the ability to play melodies, harmonies and bass, the organ piano is an essential companion to Black churches' worship service.
"I cannot imagine attending a church service without an organist or pianist," Teresa Lee-Robinson said. "When the service first starts, the music is playing. It helps promote the Gospel."
Lee-Robinson's long silver nails clicked on the organ piano keys when she played in Zion Hill's empty sanctuary. When she paused from playing, she recalled some of her early memories as an organist.
At 8, Lee-Robinson started taking piano lessons, and after years of practice, she gained the confidence to take her talent to the next level. At, 16, she became the organist Zion Hill Missionary Baptist Church needed.
Occasionally, her hands and fingers would cramp up and bleed, so her father, Pastor David Lee of Zion Hill, prayed and anointed her hands. Some nights she would jump out of bed, race downstairs to the piano and play the chords she heard in her dream in order to remember them.
She has played for the church for 47 years. These days, she mainly plays piano for the church. However, playing the organ has a special place in her heart.
The instrument was created more than 2,000 years ago, and while there have been technical developments, the operations remain unchanged, according to Britannica. By moving pressurized air through the organ's pipes, it creates rich, elongated chords, well known to many churchgoers.
The type of organ piano commonly played in Black churches is the Hammond organ, which was created in 1935 as a cheaper alternative to the pipe organ.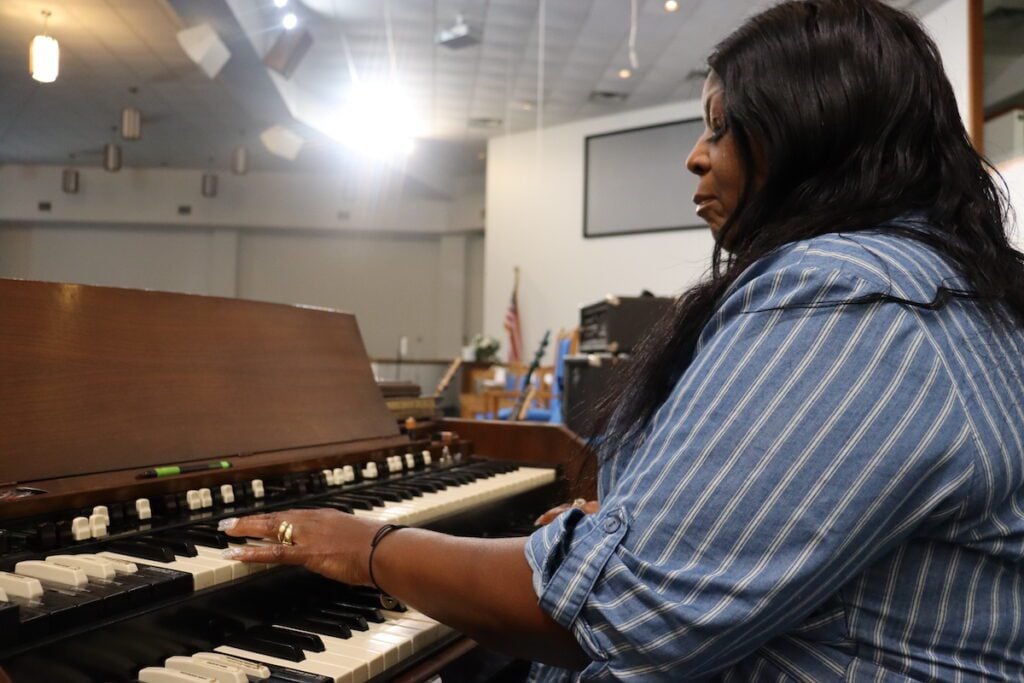 Organist Michael Dixon Sr. said the musical component the organ brings can intensify the service by connecting to the members of the church.
"It enhances the service because we are so in tune to music," he said. "The organ just gives a more full connection to the church. It reaches the heart."
Listening to cassette tapes and records, Dixon taught himself how to play the piano at 16. He later received mentorship from multiple artists, including his former music teacher, Professor Nathaniel Truedell.
"The gift — not knowing at the time — was already in me," he said.
His first performance as an organist — he was a drummer for many years — was with Broad Ripple High School's Contemporary Choir in 1990, which put Dixon in a position to later play for many audiences across the nation.
One thing that took him by surprise was when his son, Michael Dixon Jr., began learning how to play the piano.
"I never saw that coming," Dixon Sr. said. "He learned pretty fast. He's a phenomenal musician now. There are some things that I learn from him now."
Similar to his dad, the younger Dixon was a drummer for most of his life, but when he learned how to play the piano, he never looked back.
"It's literally all God," he said. "I asked and prayed for this."
In 2015, he would lock himself in his room with a keyboard and watch YouTube videos about playing the piano. For two years he would teach himself how to play, and his hard work paid off when he was asked to play the organ at New Direction Church in 2017.
Now, the 23-year-old continues to play the organ piano and even prefers it over the drums.
"When I'm playing, I'm telling my testimony," he said.
Contact religion reporter Abriana Herron at 317-924-5243. Follow her on Twitter @Abri_onyai. Herron is a Report for America corps member and writes about the role of Black churches in the community.