Indianapolis native MaCie' Moore will join Princeton in Africa for a year-long fellowship in Kenya later this year.
Beginning in August, Moore will travel to Nairobi, Kenya, to work under the International Livestock Research Institute (ILRI) through the Princeton in Africa Fellowship. The IU Bloomington graduate said she left her position as community engagement leader at Engaging Solutions — a company founded by her mother, Venita J. Moore — earlier this year to fulfill her passions of working abroad to aid underserved communities.
"I'm super passionate about that, not just underserved communities in Indiana, or Indianapolis, or even in the United States but thinking about our marginalized and underserved communities and populations across the globe," Moore said. "So, thinking about how I can be impactful, and thinking about my background in sustainability and environmental justice to resilience, and how oftentimes our communities that are most impacted by climate change, and natural disasters, and issues in lack of resources for food poverty in agriculture look like me."
Princeton in Africa is an independent affiliate of Princeton University founded in 1999 and spearheaded by university staff, faculty and alumni. The program receives support and resources from the school to send graduates from any U.S. accredited university to countries in Africa to make "significant contributions to Africa's well-being" and "cultivate meaningful relationships with communities in Africa," according to its website.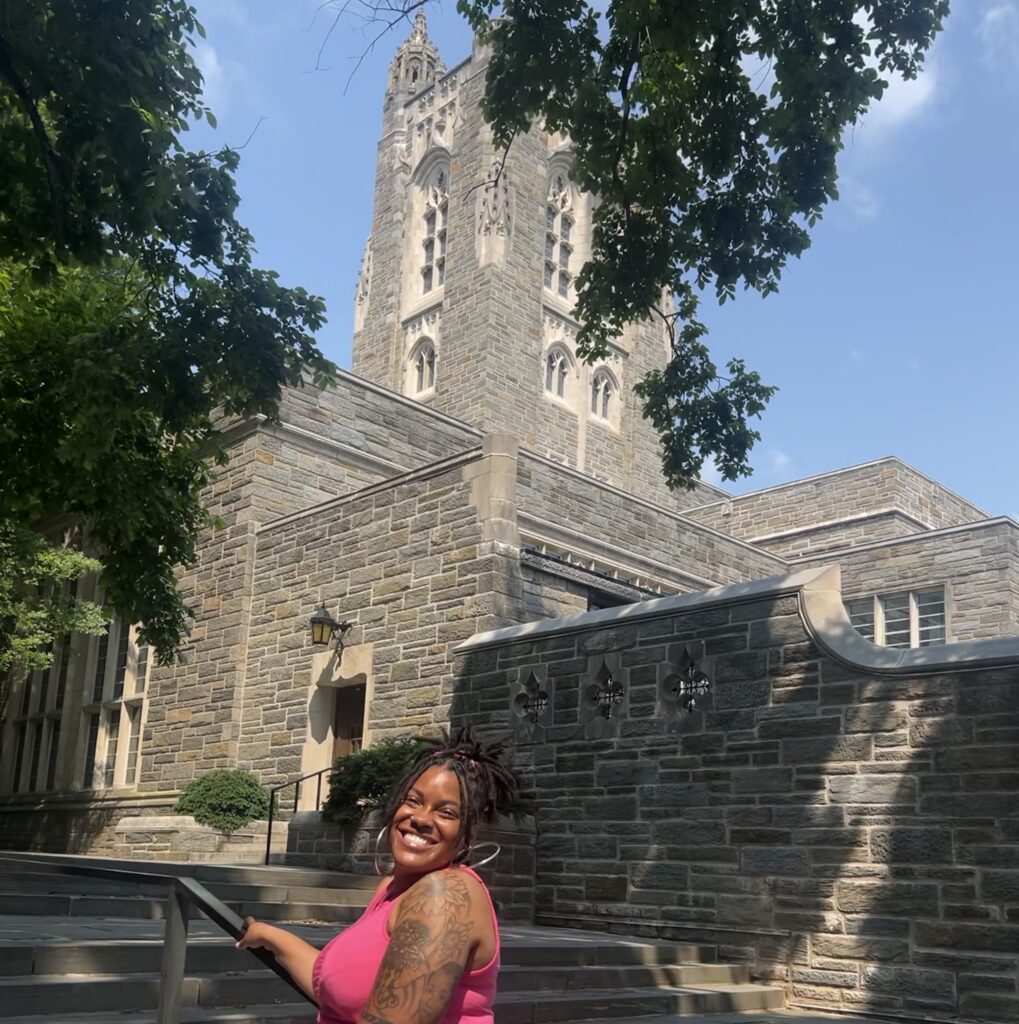 The program is a "once in a lifetime opportunity," and Moore said only 10% of applicants are selected as fellows each year. One of Moore's professors of African Studies told her about the program when she was in school, and it piqued her interest. Moore went straight from undergrad to grad school with hopes of working abroad or joining the Peace Corps after graduation; however, her plans were put on hold after her grandmother fell ill.
"I think it 100% feels surreal," Moore said. "I always try to not have imposter (syndrome), like, 'You deserve to be in this place. You are highly capable; they saw value in you.' And I think one thing that's super powerful for me at least, when I got accepted to the program, their current CEO — she's amazing, she's a woman of color, she's Nigerian — and she made me feel welcome."
The application process was a long and arduous one, Moore said. She submitted her application in October 2022 and did not hear if she was selected for the interview process until December. Even after passing her interviews with PIAF and being selected by her choice organization from the candidate pool, Moore said she did not find out she was selected until April 2023.
But once she received her selection email, Moore said she had only two days to respond.
"I believe that when God shows you what your purpose is you can choose to listen or not listen, right?" Moore said. "But every time you don't listen, things get harder and more challenging … I took time to really pray about it and ask for guidance and support to reveal what His purpose for my life was."
Prior to joining the Princeton in Africa Fellowship, Moore said she had several opportunities to work abroad, including working in Ghana through Kelly School of Business International business consulting program Globase Ghana, where she worked consulting TroTro tractor, a start-up tractor sharing company in Ghana. Moore also worked with Building Tomorrow, an organization that builds schools in Uganda, as the fundraising and events intern annual Indy Burger Battle fundraising campaign.
Once she lands in Nairobi, Kenya, Moore will begin working as the business planning and analytics assistant under the COO of ILRI. ILRI, which is an international agricultural research institute within the CGIAR, works to "improve food security and reduce poverty through research for better and more sustainable use of livestock."
Beyond the work of the fellowship, Moore said she hopes to use this time to fully immerse herself and learn about the culture in Kenya, build lasting relationships and discover more about herself.
"One thing that I'm hoping to do is, of course, share my story and my time while abroad in a part of Princeton in Africa and encouraging more students of color to explore that route," Moore said. "I would love for them to know the possibilities of all that they can accomplish and what they can do."
The story has been updated to accurately reflect the work MaCie' Moore has done both abroad and with global organizations.
Contact staff writer Chloe McGowan at 317-762-7848 or chloegm@indyrecorder.com. Follow her on Twitter @chloe_mcgowanxx.