Austin Dean Ashford's "Black Book" left a mark on Indianapolis' theater community.
The Naptown African American Theatre Collective (NAATC) opened its inaugural season with Ashford's one-man show for one night only at the Phoenix Theatre Cultural Center on May 13. The sold-out show garnered such a positive and visceral response from the audience that Ashford promised to return to the Hoosier state soon.
Founded by LaKesha Lorene, NAATC is Indianapolis' first Black equity theater. Under the umbrella of the Actor's Equity Association, the collective strives to provide Black theater professionals in the city with full-time work, good working conditions, benefits and livable wages.
The NAATC's motto — "We don't follow the trends, we are the trends," — was perfectly embodied by their first show of the 2023-24 season, Ashford's "Black Book."
Ashford, who is a former speech and debate champion — having won 21 national championship titles and even having performed for Denzel Washington — earned a dual MFA in acting and playwriting from the University of Arkansas in 2019. He is currently pursuing a PhD in interdisciplinary fine arts at Texas Tech University and recently became a hip-hop cultural ambassador for the U.S. Embassy.
Directed by Dexter Singleton, "Black Book" was written in 2018 and is Ashford's second play. Just under two hours long, Ashford takes the stage as 13 different characters, including students and faculty, to tell an inspirational, emotional and incredibly powerful story.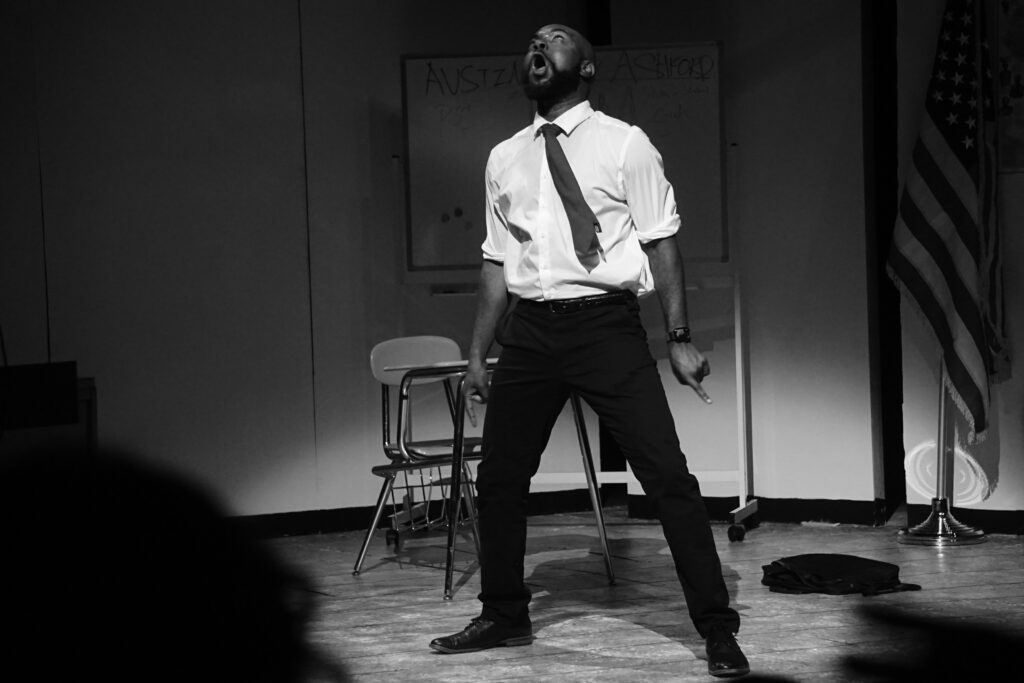 The audience is first introduced to a teacher named Austin Ashford — referred to as "Mr. Austin" by his students — a former speech and debate champion turned instructor (much like Ashford in real life) challenged with passing his knowledge and passion to a group of Black students who have been deemed as "at risk" to graduate from high school.
Ashford then introduces the students in the summer course he will be teaching, Daniel, Brandon, Jabari and Pierre, who has a speech impediment. Over the course of the show, we are also introduced to another student, Vernon Williams, whose desk sits empty in the middle of the classroom.
"Mr. Austin" seeks advice from his mentor "Lindsey" — based off Ashford's real-life teacher Tommie Lindsey — to aid him in his struggles to show his students how the right words could save their lives.
Ashford transitions seamlessly between characters, so much so, I almost forgot he was alone on the stage. Ashford embodies each character with unique mannerisms, tones and speech patterns, filling the space, making use of the elements around him to build the story and immersing the audience into a world of his making — or, well, a world created by set designer Fēi (styledbyfēi).
Taking place in the less than adequately funded Melvin B. Tolson High School, the windows of "Mr. Austin's" small classroom have bars over them, and the school is surrounded by barbed wire fences. The classroom itself contains a teacher's desk, a whiteboard and a beautiful mural that reads, "We are born for the throne." There is no air conditioning for the duration of the summer course.
Most of the students are reluctant to listen and learn about speech and debate. After all, they wonder, what good are words in a world where Black men and boys have a target on their backs? However, "Mr. Austin" refuses to give up on them, using various tools such as music, rap, writing exercises and real-life examples to ease them into understanding how their words have power.
With references to "Freedom Writers" and "Great Debaters," "Mr. Austin" is faced with an even deeper challenge — his students are reeling from the trauma of losing their best friend, Vernon, to gun violence inside their own school.
Still, he perseveres, teaching them about speech and debate but also preparing them for the real world with various lessons, such as how to tie a tie and how to carry themselves as the intelligent young men they are rather than the "monsters" the world would have them be.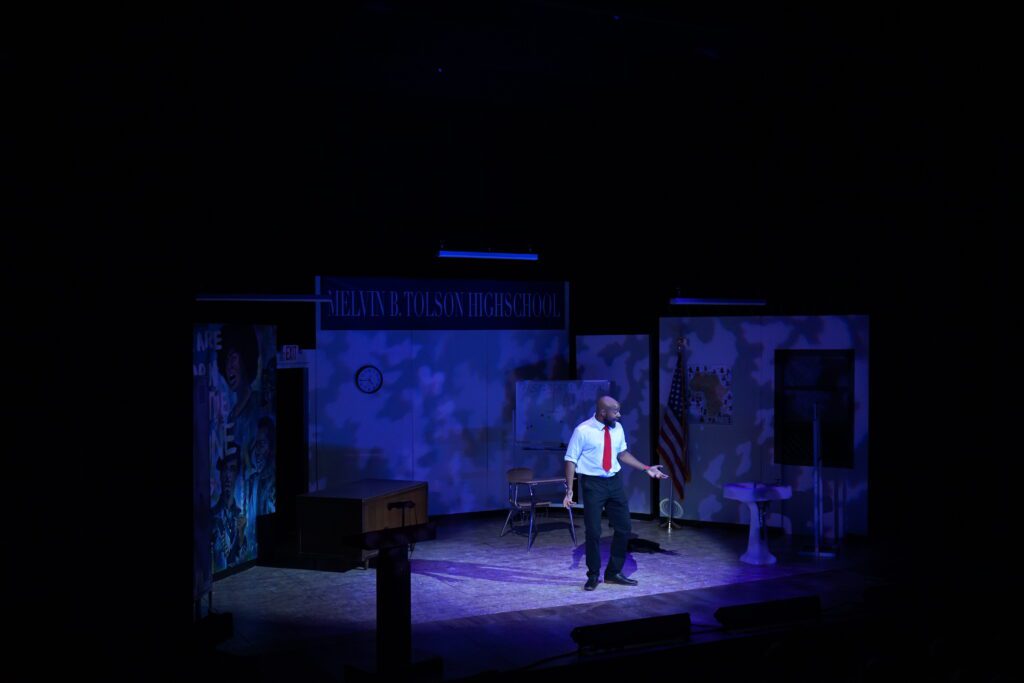 However, "Black Book" is as educational as it is informative and entertaining. Ashford discusses topics such as the history of HBCUs, William Lynch and Melvin B. Tolson with his class of four students (which eventually turns into three students) and the audience, who are all too absorbed in the creative presentation of this information and hanging on his every word.
At times, "Black Book" does not even seem like a one-man show, as Ashford turns the audience into his classroom, using call-and-response to engage viewers in the show. The use of background music creates a unique ambience on stage, a reprieve, if you will, until Ashford finds his breath again, subsequently stealing the audience's attention.
Each character's monologue is accompanied by its own lighting and mood changes. Designed by local lighting designer Tim Dick, stark serious moments were awash in cool blues and purples, drawing attention to the subject matter rather than the emotion. Other moments became warm, with a soft yellow spotlight or intense red hues, as Ashford raced through a speech so profound the hair on my arms rose. Even the silent moments were deafening.
However, "Mr. Austin's" class must eventually come to an end. As students prepare for the end of summer showcase, they are tasked with arguing for or against a chosen topic: "Should teachers have guns in school or not?"
"Black Book" is a play that makes you think. It may make you cry. And it will definitely make you angry. However, I think it will also give you hope. After all, where else, if not theater, can one use performance art to make a statement on the state of our world in a safe place?
The NAATC and Ashford may not realize the gift they have given Indianapolis with this performance. However, it is my opinion that together they have set a monumental precedence for theater in the city. I look forward to seeing what else they will present this season.
To reiterate what Lorene and Director of Community Engagement Strategy Latrice Young said at the show: "Get your tickets early. Once it's sold out, we can't help you."
Contact staff writer Chloe McGowan at 317-762-7848 or chloegm@indyrecorder.com. Follow her on Twitter @chloe_mcgowanxx.