Riley Children's Health officials said they have seen an increase in child gunshot victims come through their level I pediatric trauma center.
"We've received mild injuries, whether it's a grazing to the arm or leg, all the way to a deadly injury to the head, chest or abdomen," said Dr. Cory Showalter, regional medical director and interim chief with the division of pediatric emergency medicine for Riley Children's Health.
As of June 14, Riley Children's Health has treated 23 children for gunshot wounds caused by intentional and unintentional shooting incidents this year.
The four most recent shootings, involving an 8-year-old, 11-year-old, 12-year-old and 13-year-old in separate incidents over the span of one weekend, have not yet been classified.
Riley Children's Hospital is waiting until the police have completed their investigations into those cases to classify them.
Of the remaining 19 children affected by gun violence, 8 were unintentional gunshot wounds (GSW) and 11 were violent or intentional gunshot wounds.
Riley Children's Health has seen over 200 child gunshot victims in the last five years: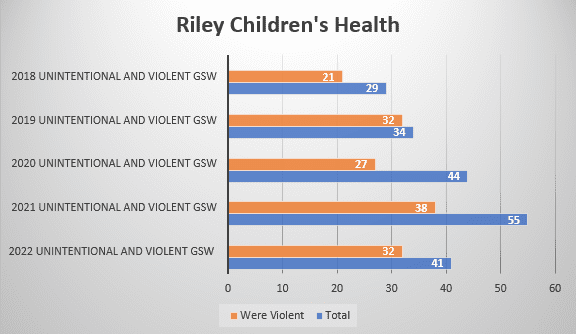 Violent and intentional gunshot wounds describe targeted shooting victims and victims affected by drive-by shootings who were not the intended target, such as children struck by bullets that go through homes.
Unintentional gunshot wounds occur when someone misuses a gun, such as another child or sibling, and the gun accidentally goes off.
If a parent or adult accidentally causes a gun to go off, such as while cleaning it, it can also result in an unintentional shooting.
Dr. Showalter said preparation for a weekend like the one where four children were shot involves having his team staffed, ready and trained.
"In addition to the physical injury that these patients would go through, if they were to survive the injury, the mental health aspect of the patient, and the family, and the community is enormous, including the team that takes care of the patient," said Showalter.
"When we see traumatic injuries like this, we have to make sure our team is healthy and taken care of too. It's a bad thing to see, you know? We check in with each other and the EMS team that brought the patient to us since they were at the scene with the family."
He said they have monthly meetings where they review all of their trauma cases, which include periodical check-ins with doctors.
---
Lasting impacts of gun violence on children
Dr. Amanda Broderick is a psychologist with the pediatric care center at Riley Children's Hospital. She has worked with children affected by gun violence.
"Most kids don't come into our center saying, 'Hey, I've experienced gun violence.' They usually come in because a parent, a teacher or an adult in their life has noticed changes in a child's behavior," said Broderick.
She said children who experience gun violence can encounter problems sleeping, nightmares, feel more on edge, lose their appetite, become withdrawn, lose interests in things they used to like to do, worry about losing a loved one, become less focused in class and display unpredictable behaviors.
"There are all sorts of ways a child's behavior can present trauma after experiencing gun violence. The most common diagnosis is PTSD, but we can also see kids with depression or different forms of anxiety."
Both Broderick and Showalter said there can be long-lasting effects for children who experience gun violence without any support or treatment.
"You can have children who have witnessed gun violence, whether it be in their home or their community. It can have a ripple effect that impacts more than just who may have been physically present during a shooting," said Broderick.
"When you see these incidents, it affects the whole city. You start to worry, is this a safe place? One message that we want to make sure is clear is everyone needs to be safe with how they handle guns at home; really educating your children if they're going to be around them," said Showalter.
Contact staff writer Jade Jackson at 317-607-5792 or by email JadeJ@IndyRecorder.com. Follow her on Twitter @IAMJADEJACKSON