Teens and young adults who identified as religious or spiritual reported their mental health to be better than their nonreligious counterparts, according to a study by Springtide Research Institute released in late 2022.
"Our data confirm that identifying as religious or spiritual, maintaining beliefs that guide daily life, engaging in various religious and spiritual practices, and participating in religious communities are all correlated with higher reported mental wellness among young people," the authors wrote.
Springtide is a nonprofit sociological research institute that "maintains the largest dataset on young people and spirituality in America" while also "amplifying young people's lived experiences through unbiased research and evidence-based actionable insights."
The institute received responses from 9,837 teens and young adults nationwide. Respondents ranged in age from 13-25. There were also 105 young people who participated in interviews about their mental health and faith.
The teens and young adults who identified as "very spiritual" were more likely to say they are "flourishing a lot" in terms of their mental and emotional well-being. About 36% of the "very spiritual" respondents said they were flourishing, compared to 19% who identified as "not spiritual." The study also found 57% of young people think their spiritual and/or religious practices positively impact their mental health.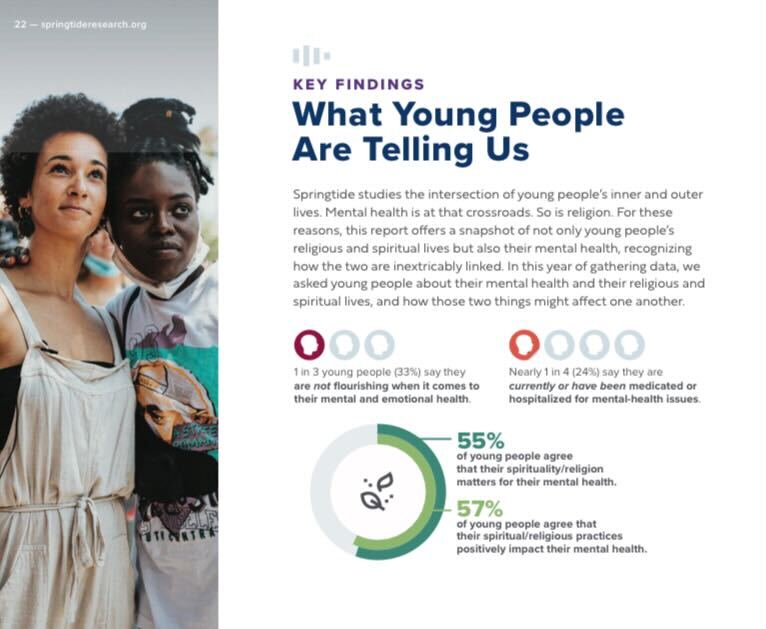 "There is no shortage of quality research on the mental health crisis among young people," Nabil Tueme, associate researcher at Springtide, said in a statement. "But Springtide's study is unique in its proactive and organizational approach to tackling the crisis. By targeting the structural factors that affect mental well-being, this study empowers leaders — trusted adults — to trigger enduring, substantive change for a better future for young people."
As pastors and religious leaders are at the forefront of creating solutions for community problems, Tueme said the research is intended to be a resource for religious leaders to better understand teens and young adults, both religious and nonreligious, and their mental health struggles.
"This study helps organizational leaders identify the common characteristics of communities that are mentally healthy for both religious and nonreligious young people," she said.
The study also found about 40% of respondents do not identify with a specific religious system — such as Protestant or Catholic — though they identify as religious or spiritual. That includes 24-year-old Imani Minor.
Minor, a nondenominational Christian survey respondent who attends Howard University, told the Recorder her faith in God had a significant positive impact on her mental health.
"My relationship with God just gives me hope," she said.
Minor said hope and faith in God helps with stress management as well as being gracious and patient with people.
She also said she used "unconventional" methods to strengthen her relationship with God, including drawing and poetry as a form of prayer.
While Minor thinks these methods help her mental health, she also believes it helps her see "the art in everything" and value "God as the creator."
David Scot Sandage, a psychiatric and mental health nurse practitioner in Indiana, said religious beliefs impact his patients' mental health because they have something to believe in.
"I think that people who do believe in a higher power … tend to have something to trust in," he said.
Sandage acknowledged that religion or spirituality cannot cure people who have severe mental health problems, but it is a resource that people can use in a time of need.
"Prayer alone doesn't stop schizophrenia, but prayer alone doesn't hurt," Sandage said.
Springtide Research Institute will release another study soon that looks at the intersections of race, religion and mental health in young people.
"In an increasingly racially and religiously diverse world, sampling purposively for Black religious and non-religious individuals is key to accurately understanding the state of religion and young people," Tueme said. "The findings of this study … will help organizational leaders better serve Black young people by understanding where, how, and why racial and religious identities intersect, even for the nonreligious."
Contact religion reporter Abriana Herron at 317-924-5243. Follow her on Twitter @Abri_onyai. Herron is a Report for America corps member and writes about the role of Black churches in the community.