Beef & Boards Dinner Theatre's production of "The Addams Family" is a little messy, kind of creepy and all kinds of fun.
"The Addams Family," which first opened on Broadway in 2010, is based on Charles Addams' cartoon characters that inspired the 1960's show and several live-action and animated films. Few things fluster the otherworldly Addams family. But Gomez Addams suddenly finds himself stuck after his daughter, Wednesday, confesses her plans to marry a seemingly "normal" boy he's never met and then begs him not to tell her mother, Morticia.
Things go from comically bad to comically worse as the Addams clan attempts to safely navigate a family dinner with Wednesday's "normal" fiancé and his parents.
Directed by Eddie Curry and choreographed by Ron Morgan, "The Addams Family" begins with the famous Addams family theme song accompanied by Lurch (Jeff Stockberger) mimicking the piano part. Audience members immediately jumped in to supply snaps in the right places before the scrim rose above the small stage and we were invited into the world of the macabre family for 2 1/2 hours.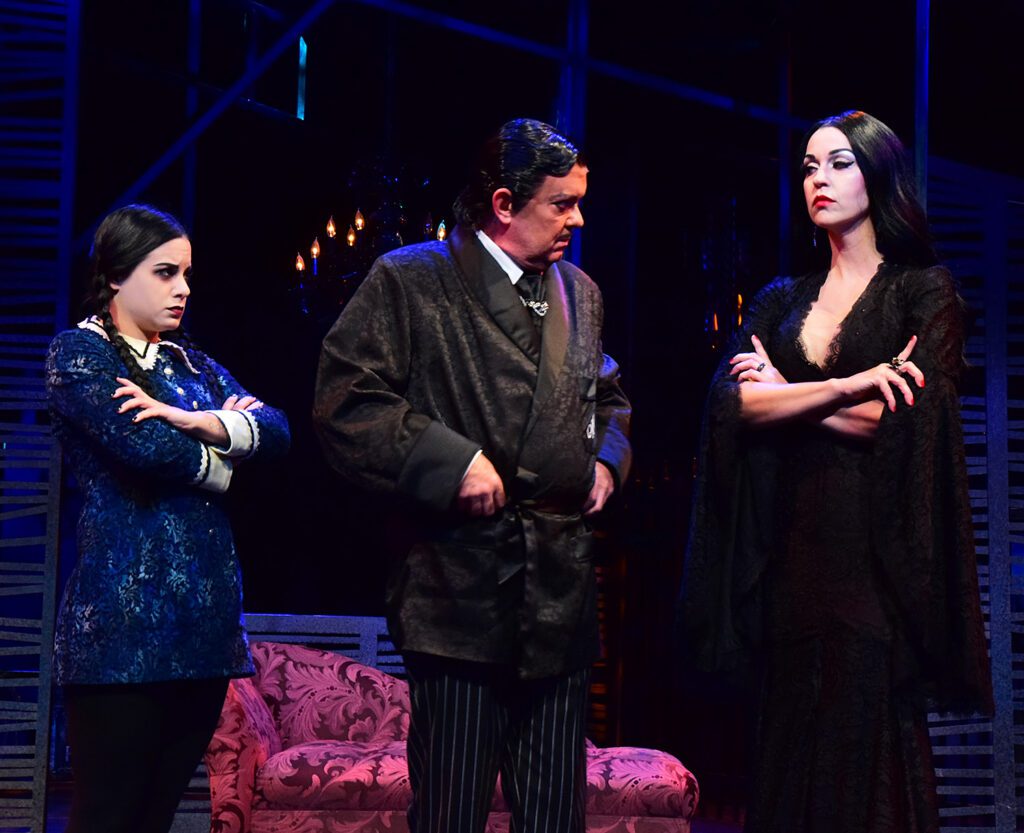 It's lighthearted and funny, as most shows begin. But as we dove deeper into the story and met the cast of unlikely but lovable characters, Wednesday Addams (Shelbi Berry) and her "normal" fiancé, Lucas Beineke (Ray Gleaves), quickly become the sole focus. They're young and nervous and obviously in love, and the only problem is no one knows what to do about it.
Gleaves' performance as Lucas stood out, for more reasons than one: His sweet baritone voice, goofy boy-next-door persona and stunning wide toothy smile had audience members enthralled with his every move and had Wednesday practically swooning (girl, we get it).
Gomez (Eddie Curry) and Morticia Addams (Jill Kelly Howe) had a few bizarre moments where they took extra time to draw viewers in, committing to their characters' woes as if they lived and breathed as Gomez and Morticia each day instead of only 8-11 p.m. on weekdays and Saturdays, etc.
Grandma (Amanda Butterbaugh), Pugsley Addams (Eli Neal) and Uncle Fester (Kurt Perry) are unlikely and unpredictable supporting characters who each make memorable standout performances on their own during the story. Butterbaugh's rendition of the kooky, old, witchy grandma was endearing and left me wanting more of her adorable little walk, laughter and head bobbles.
Whereas Neal is excitable and earnest in his singing, displaying brotherly concern over "losing" his sister in the only way an annoying little brother knows how: attempting to poison said sister.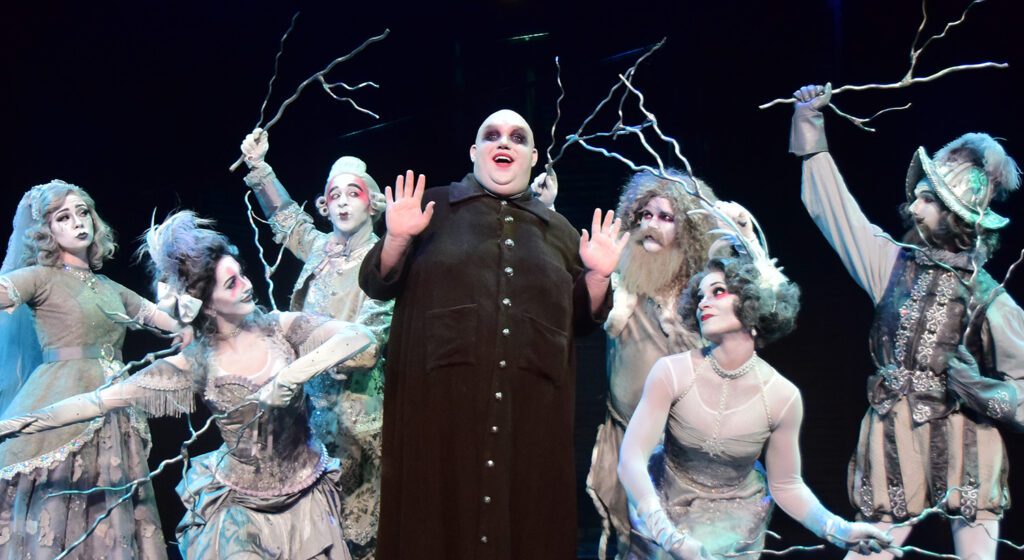 Perry, however, fully bodied the character Uncle Fester. Between the many fourth wall breaks, iconic monologues and the wholesome but hilarious solo about falling in love with the moon, Perry was easily the show stealer of the production; giving probably the best vocal and most entertaining performance of the night.
As a theater gal myself, I would be remiss if I didn't give chorus members the recognition they deserve. The ancestors (David Buergler, Philip Crawshaw, Cameron Hicks, Logan Hill, Amy Owens, Hallie Quinn and Sally Scharbrough) dazzled on stage in powdery white outfits and wigs of centuries past, busting out "Newsies"-esque choreography and stunning multipart harmonies. Moving throughout the show in a Greek chorus style hilarity, I couldn't take my eyes off of the ancestors, always wondering who kept hitting the high notes with flawless vibrato.
Although "The Addams Family" pushes its generous PG-13 rating to the limit — with some choice language, innuendos and repeated dark themes and references to sadism, death and the like — it's worth a trip to Beef & Boards with the family for an evening.
"The Addams Family" is showing at Beef & Boards, 9301 Michigan Road, through Nov. 30 weekdays and Saturday evenings at 8 p.m., Sunday evenings at 7 p.m., and select matinees at 1 p.m. A dinner buffet will be served prior to each show. Additional information is available at beefandboards.com.
Tickets range from $51-$76 and are available online or by calling the box office at 317-872-9664.
Contact staff writer Chloe McGowan at 317-924-5143 or chloegm@indyrecorder.com. Follow her on Twitter @chloe_mcgowanxx.