During Jada Radford's audition at Footlite Musicals, Director Dennis Jones said he knew "she was the one" for the role the moment she walked on stage.
"Her audition was fabulous," he said. "She's so good she doesn't know it. When she opened her mouth, it was like, 'Oh my gosh.'"
The 18-year-old had been in several school productions, but never in community theater. Now, she has a lead role in "The SpongeBob Musical," playing Sandy Cheeks.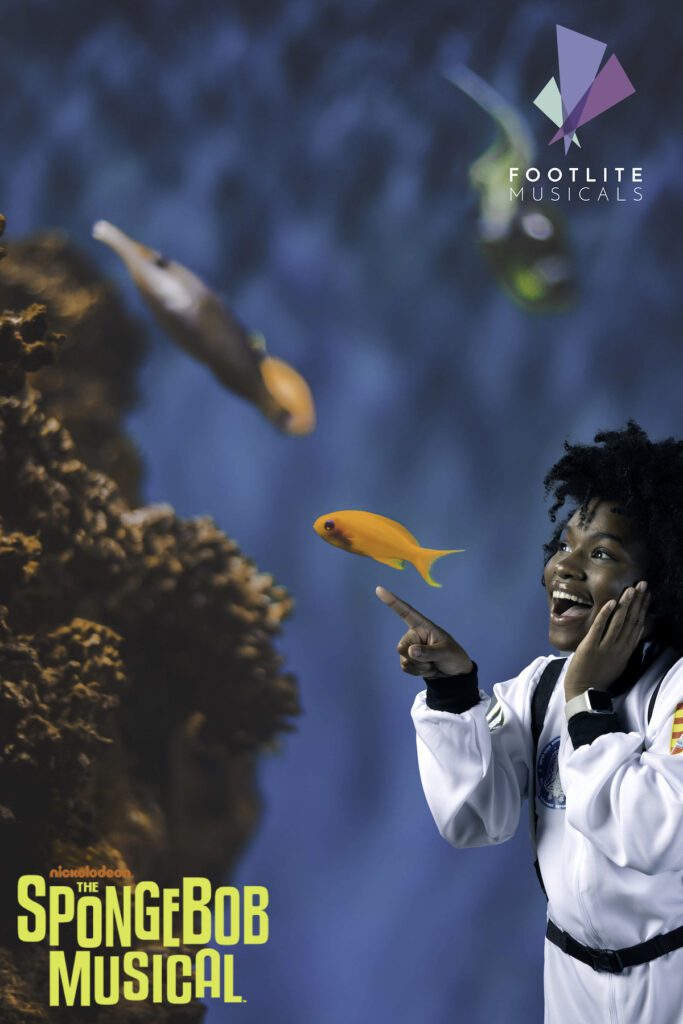 For more than six weeks, Footlite Musicals' directors, Jones and Ed Trout, along with cast members, have contributed much of their time — starting with the two-day auditions and now with the beginning of dress and technical rehearsals — in preparation for the debut show of the musical on Aug. 12. However, this show is years in the making.
Footlite Musicals applied with The SpongeBob Musical's Playhouse to produce the show at the end of 2019, but the production was halted because of the pandemic. Since 1955, Footlite Musicals — a nonprofit organization that takes teenagers, ages 13-18 and, in eight weeks, prepares them for a theater production — has presented some of Broadway's best-known musical productions seven times a year.
Now that the directors have the chance to put on the show, they want to make sure they "do it right," Jones said.
One underlying theme in the show is embracing differences, and with that, the directors wanted to make sure they illustrated the theme through diversifying the cast.
"Sometimes shows are not geared toward us, but we can gear it," said Jones, who is Black. "We want to include everyone in our shows, whether Black, brown or disabled."
The cast consists of six African American, two Asian and two Latino members and a costumer who is disabled, according to Jones. Radford is one of the Black cast members.
Radford was involved in school theater at Lawrence North High School, and in her last production, "Chicago," she played Roxie Hart. Playing the role of Sandy Cheeks in this production is her first experience with community theater.
"It's such a breath of fresh air to do something so fun," she said. "I'm very excited to see the characters come to life."
Radford will attend Marian University in the fall, where she will study biology. During her first year of college, she plans to take the first year off from performing arts to focus on her studies but will continue with theater in the future.
Jones is excited about the show because of the diverse cast, the fun storyline and giving people, both young and old, the opportunity to experience live theater after the pandemic.
"This show is just a fun family friendly show," Dennis Jones said. "If they have ever watched 'SpongeBob,' the characters are there but the story is different."
The last day to see the show is Aug. 21. Tickets are $15 to $25 online, and the shows will be at Hedback Theatre, 1847 N. Alabama St.
Jones hopes people will get involved with the theater through seeing the plays, volunteering or auditioning for the next play.
"I really want people that don't get a chance to come and see live theater, to come out and experience live theater and have fun," Jones said. "That would do my heart good."
Contact religion reporter Abriana Herron at 317-924-5243. Follow her on Twitter @Abri_onyai. Herron is a Report for America corps member and writes about the role of Black churches in the community.
"THE SPONGEBOB MUSICAL"
All shows will be at Hedback Theatre, 1847 N. Alabama St. Tickets cost between $15 to $25 per person.
List of showtimes:
• Aug. 12 — 7:30 p.m.
• Aug. 13 — 7:30 p.m.
• Aug. 14 — 2:30 p.m.
• Aug. 18 — 7:30 p.m.
• Aug. 19 — 7:30 p.m.
• Aug. 20 — 7:30 p.m.
• Aug. 21 — 2:30 p.m.