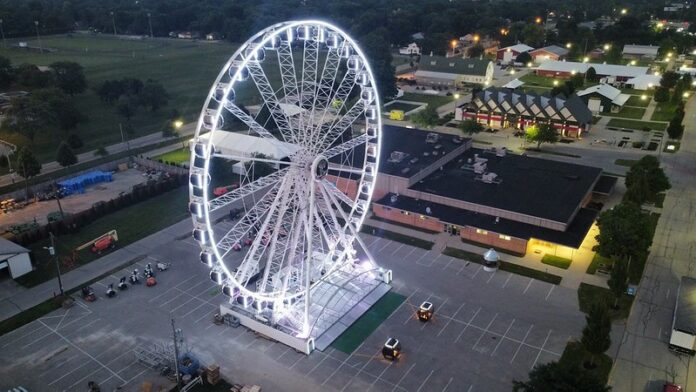 Whether you're looking to go out with family or friends this weekend, enjoy live music, visit a museum, art gallery or try out a new restaurant, the Indianapolis Recorder has you covered. We've put together an extensive list of just a few of the events and activities going on in and around Indianapolis in This Weekend in the Arts.
Unfortunately, we couldn't cover everything going on in one calendar. So, if there's something going on that we and other Hoosiers should know about this month, feel free to let us know! Send an email to newsroom@indyrecorder.com so we can include it in the next edition.
Friday, July 28
Indiana State Fair
Indiana State Fairgrounds, 1202 E. 38th St.
9 a.m. to 11 p.m. (Recurring through Aug. 20)
Tickets are $14, children 5 and under are free; parking is $10
The much-anticipated Indiana State Fair returns July 28, open Wednesday through Sunday, with a variety of local and regional food vendors, artists, events, games, performances and activities for all ages to enjoy. Tickets are on sale now.
indianastatefair.com/p/state-fair
"Love's Labor's Lost"
Riverside Park, 2441 N. White River Pkwy E. Dr.
7-10 p.m. (Recurring through July 29)
Tickets are $0-$25
Indianapolis Shakespeare Company presents its summer show "Love's Labor's Lost": A romantic comedy that explores love in all its forms — from shallow infatuation to deep enduring love.
"Sophisticated Ladies"
Beef and Boards Dinner Theatre, 9301 Michigan Road
8 p.m. (Recurring through Aug. 20)
Tickets are $51.50-$74.50
Celebrating the musical legacy of Duke Ellington, "Sophisticated Ladies" tells the story of the jazz musician from his early life at the Cotton Club to worldwide stardom. The show is rated G and features a $6 discount for children ages 3-15.
Saturday, July 29
Bottleworks Market
The Garage Food Hall, 906 Carrollton Ave.
11 a.m to 7 p.m.
Free
The annual Bottleworks Market will highlight 65 local and regional vendors, ranging from handmade goods, vintage items, clothing, art and more. The market will also feature a variety of food and drinks, including alcoholic options, for guests to enjoy as they shop.
Free, Friendly Saturday Outdoor Yoga, Meditation and Mindful Dialogue
Virginia B. Fairbanks Art & Nature Park, 1850 W. 38th St.
8:30-11:30 a.m.
Free
Hosted by Indy Community Yoga, stop by the 100 Acres at the Virginia B Fairbanks Art & Nature Park to join in on free, beginner friendly yoga followed by meditation and a mindfulness dialogue. Participants are encouraged to bring their own yoga mats, water and snacks.
Special Event: Tommy Davidson
Helium Comedy Club, 10 W. Georgia St.
7:30 p.m. and 10 p.m. (Recurring through July 30)
Tickets are $30.98
Best known as one of the original cast members of the hit show "In Living Color," Tommy Davidson is bringing his versatile range in stand-up, acting and music to the Helium stage for a handful of shows. 
Sunday, July 30
Mass. Ave. Mile Summer Festival
Massachusetts Avenue, Downtown Indianapolis 
11 a.m. to 5 p.m.
Free
The annual festival and sidewalk sale returns to Mass. Ave., allowing guests to walk and find summer treats up and down the Avenue. Mass. Ave. shop owners will team up with Bottleworks vendors, local artists and performers from Indy Fringe for an entire day of shopping, food and festivities.
Wellness Walk for Kings
Riverside Park, 2420 E. Riverside Drive
2-3:30 p.m.
Free; registration required
Presented by Naptown, this event is, quite literally, a walk in the park for Black men. Offering an opportunity for Black men in the community to get together and clear their heads with some light exercise and a breath of fresh air, registration includes a raffle entry for free therapy, personal training and tea + meditation services.
Please note: Admission and ticket prices listed are general and before taxes/fees.
Contact staff writer Chloe McGowan at 317-762-7848 or chloegm@indyrecorder.com. Follow her on Twitter @chloe_mcgowanxx.