If you find yourself at the beginning of the weekend, scrolling online and looking to enjoy some live music, visit a cool exhibit at a museum, try a new restaurant, go out with the family or simply relax with a self-care day, the Indianapolis Recorder has you covered. We've put together an extensive list of some of the things going on in and around Indianapolis this weekend in the arts. 
As excited as we are about presenting this list to you, we know we couldn't get everything. If there's something going on that we and other Hoosiers should know about, feel free to let us know so we can include it next week!
Friday, Sept. 30
"The Woman King"
Where: Studio Movie Grill, 3535 W. 86th St.
When: 5:30 p.m.
Cost: Free; registration required
The Chosen Generation Youth Ministry of Witherspoon in partnership with the Asante Art Institute of Indianapolis are presenting a private showing of the new film "The Woman King" in addition to guest speakers and a community Q&A.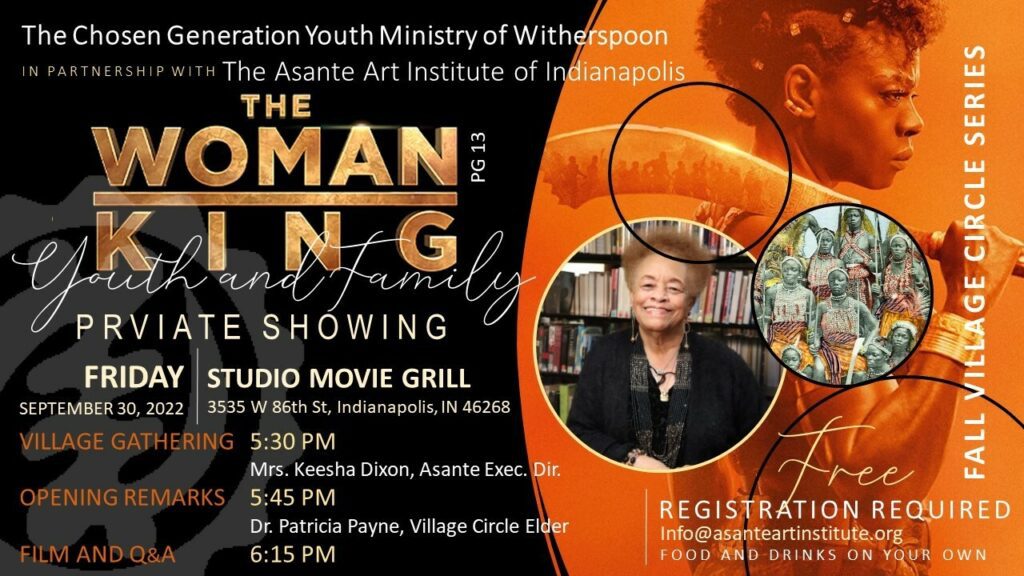 "We. The Culture: Works by The Eighteen Art Collective"
Where: Newfields, 4000 N. Michigan Road
When: Sept. 30 (recurring until Sept. 24, 2023), museum hours
Cost: Included with price of admission, tickets reserved online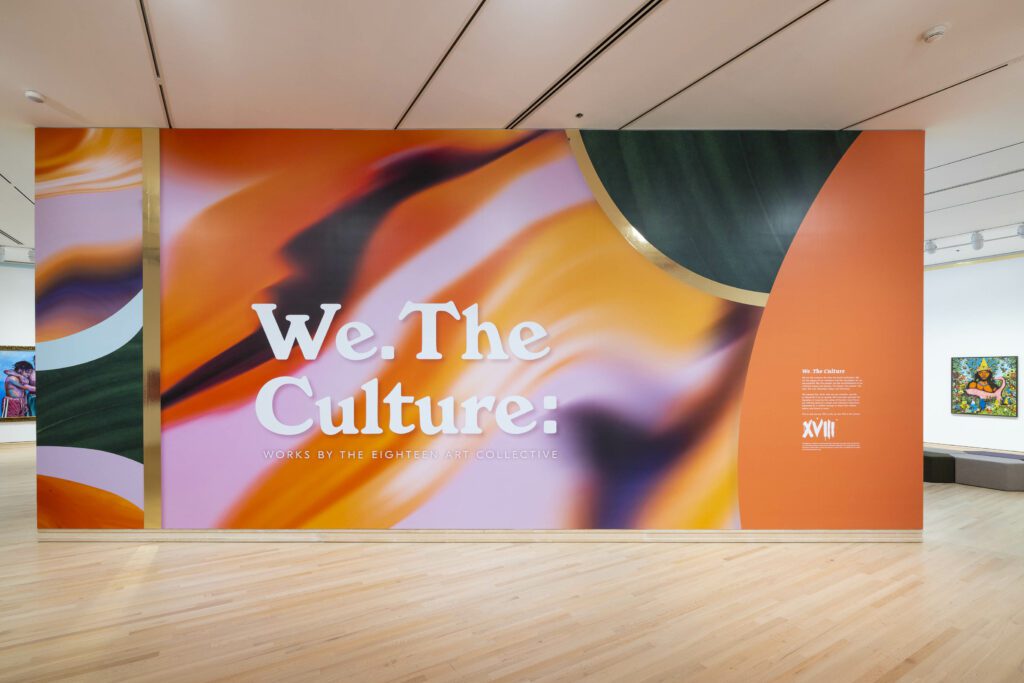 In the summer of 2020, 18 Indy-based Black artists were commissioned to paint a Black Lives Mural on historic Indiana Avenue following protests. From there, The Eighteen Art Collective — supported by GANGGANG — was born. The art of the collective, tackling topics of religion, identity, Black joy, hip-hop culture, history, nature and social justice, is now proudly on display in Newfields.
discovernewfields.org/wetheculture
Indy Jazz Fest
Where: McCallister Amphitheatre, Garfield Park, 2432 Conservatory Drive
When: Oct. 1-2, 2-10 p.m.
Cost: $10-$375
Celebrating more than 20 years in Indianapolis' arts and culture scene, the annual jazz festival returns for two days with [TF1] a variety of jazz music, including headliners Robert Glasper, Tank and the Bangas, Lalah Hathaway and Norman Brown. Come out to celebrate a legacy of jazz, community and food and drink vendors.
Harvest Nights
Where: Newfields, 4000 N. Michigan Road
When: 7:30-10 p.m. (recurring until Oct. 30)
Cost: $13-$45 (member and non-member prices vary); Children 5 and under free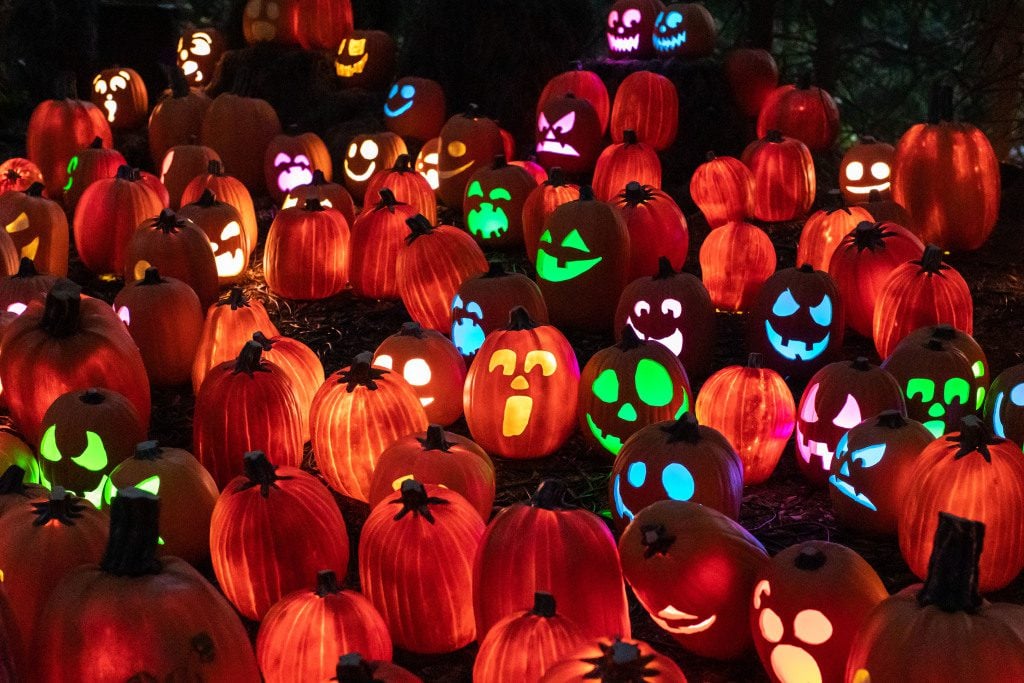 Newfields is getting spooky, not scary this fall! Join the museum for its after-dark event featuring something for the whole family. Wander through foggy and pumpkin-filled forests while sipping on hot cocoa or enjoying caramel corn, cinnamon Bavarian Creme Churros.
discovernewfields.org/harvest-nights
Midtown Midday Mindful Movement and Meditation (MMMMM) Practice
Where: Tarkington Park, 45 W. 40th St.
When: 11 a.m. to noon. (recurring every Friday until Oct 28)
Cost: Free
Join the community on Friday mornings for beginner friendly, feel-good movement and breathing as well as simply guided meditation practice. Everyone is welcome, regardless of experience, and those unable to join in person are encouraged to attend via Zoom at indycommunityyoga.org.
Jane Austen's "Sense and Sensibility"
Where: Indiana Repertory Theatre[TF2] , 140 W Washington St.
When: 7:30 p.m. (recurring until Oct. 9)
Cost: $22-$84
Adapted by Jessica Swale, Indiana Repertory Theatre's production of "Sense and Sensibility" follows the story of Jane Austen's 1811 novel about three sisters and their widowed mother who lose their family home and must create new lives for themselves in a tiny seaside cottage. Approximate runtime for the play is 2 hours and 45 minutes with an intermission.
Saturday, Oct. 1
Blackout Majorette Competition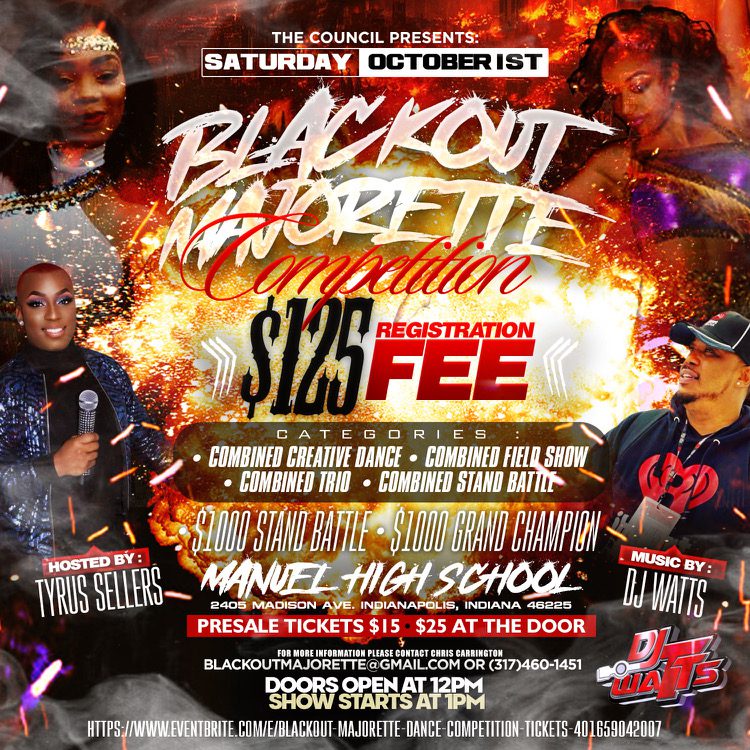 Where: Emmerich Manual High School, 2405 Madison Ave.
When: 1-5 p.m.
Cost: $15-$35
Hosted by The Council, Chris Carrington said the dance competition aims to be a way to showcase majorette to the community in a friendly and positive competition. MC'd by Tyrus Sellers, the competition is open to all ages and features four categories groups can register to compete in for a $1,000 prize in Stand Battle and a $1,000 Grand Champion prize.
St. Michael PumpkinFest
Where: St. Michael the Archangel Catholic Church, 3354 W. 30th St.
When: 3-10 p.m.
Cost: Free, Great Pumpkin Race Entry Fee: $10
Featuring food, a beer and wine garden, live music by Cover Your Tracks, the St. Michael PumpkinFest has something for the whole family. Notable activities for the kiddos and family members include a pie eating contest, face painting, a photobooth, drum circle and more.
The Gospel Music Soiree of 2022
Where: Grace Apostolic Church, 643 E. 22nd St.
When: 5-9 p.m.
Cost: $20-$35
Join Grace Apostolic Church for its annual black tie/formal concept event celebrating the best in music and comedy. Presented by Outreach Ministries Community Development Corporation [TF3] in conjunction with Greg and Wanda Owens, the soiree will feature Pastor Darius Brooks and the Tommies, Sister Trina Jeffries, Psalmist Lenasia Tyson and Fetima, in addition to local church choirs and gospel groups.
Flicks at Victory Field – "Encanto"
Where: Victory Field, 501 W. Maryland St.
When: 7 p.m.
Cost: $10-$15, first come, first served
For the third year in a row, the "Flicks at Victory Field" has returned with family-friendly movie viewing experiences right on Victory Field. Blankets and lawn chairs will be permitted for on-lawn guests and concessions will be open.
Sunday, Oct. 2
Indiana Performing Arts Presents: "Bodyguard The Musical"
Where: The Athenaeum Theatre, 401 E. Michigan St.
When: 4 p.m.
Cost: $25-$40
Based on the 1992 film, the made-for-stage musical follows the story of former Secret Service agent Frank Farmer as he becomes the bodyguard of international superstar Rachel Marron, who is being stalked. Featuring Whitney Houston classics, come out to join the Indiana Performing Arts for their matinee performance of "The Bodyguard."
First Sundays with A.R.R.A.Y.
Where: Peppy Grill, 910 W. 10th St.
When: 6-9 p.m.
Cost: $10
Every first Sunday of the month, come out to Peppy Grill for food and drink and performances by A.R.R.A.Y. and special guests. Featuring "Family Feud" Music Trivia and The Drunken Knights Podcasts.
Music at Butler: Butler University Wind Ensemble
Where: Schrott Center for the Performing Arts, Butler University Campus, 610 W. 46th St.
When: 3 p.m.
Cost: Free, tickets not required
The Butler University Symphonic Wind Ensemble presents its first student production concert of their 2022-23 season. Entitled "We Sing," the concert will highlight the wind ensemble's flexibility through various pieces. The program is set to include Roshanne Etezady's "Parhelion," Andre Waignein's "Rhapsody for Alto Sax," Aaron Perrine's "And Sings the Tune Without the Words" as well as Carl Orff's "Carmina Burana." Those unable to attend in person can join the livestream here.
Sunday Family Skate
Where: Skateland Roller Skating, 3902 N. Glen Arm Road
When: 6:30-9 p.m. (recurring every Sunday)
Cost: $8 admission $5 for skate rental, $3 for non-skating chaperones
End the weekend with family fun by bringing the whole crew out to Skateland for a good ol' fashioned family skate. Everyone is welcome to tie on some skates and get out on the rink, featuring family-style hip-hop and R&B music as well as a full-service cafe for food and beverages.
Please note: Admission and ticket prices listed are general and before taxes/fees.
Contact staff writer Chloe McGowan at 317-924-5143 or chloegm@indyrecorder.com. Follow her on Twitter @chloe_mcgowanxx.