Wearing his khaki shorts and white polo shirt, 14-year-old Jayden Young, along with his classmates, attended a recent weekly Mass at Bishop Chatard High School.
Though he said it was early in the morning and the grass was "freezing cold," he and the other students who chose to participate got to their knees and prayed on the school's football field.
Many Black Catholic school students are Protestant Christian, and with different religious beliefs than the school they attend, many wonder the impact attending a Catholic school could have on these students.
Young grew up as a Baptist, but he said he prefers Catholic school.
"I think it's a better environment," he said.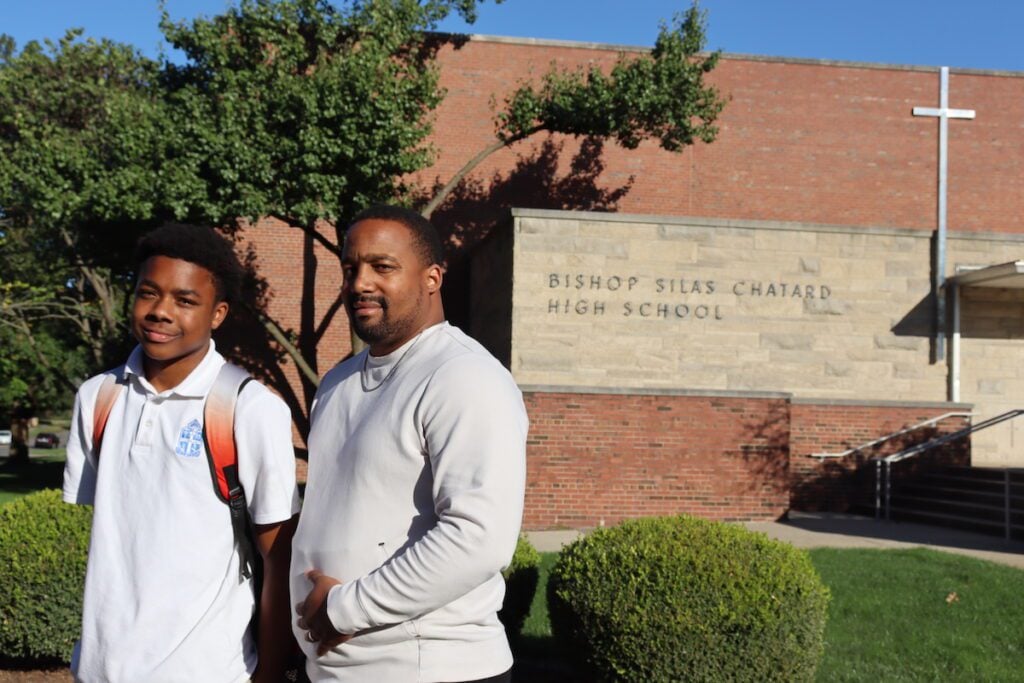 Before attending Bishop Chatard, Young went to Saint Matthew Catholic School. With smaller class sizes and a more intimate school setting, Young believes Catholic schools are more focused on students' educational success than traditional public schools, and his father, Brandon Moore, agrees.
Moore said he went to public school in Louisville, but when he started coaching basketball for a private Catholic school, he saw a difference in the environment on the first day.
"I could immediately tell the difference between public school and private school," he said. "As he gets older, he will definitely see the benefits of going here."
The president of Bishop Chatard, Bill Sahm, said the school "offers the highest quality education experience" for its students, but Bishop Chatard also accepts a wide range of learners and works with them to make sure they succeed at the school.
"They can trust us to know them, value them and love them through sometimes the most challenging four years of a child's formation," Sahm said.
The Catholic school makes sure to explain what it's going to be like for the non-Catholic students. From the daily prayers before each class to the weekly Mass on Thursdays, the administration makes sure to explain every detail of the school day to parents and students.
Mass attendance is mandatory, but participation is optional, Sahm explained.
"Our ultimate goal is to help them come to a deeper understanding of who they are and what's God's plan for them," he said. "We hope that we are helping them develop a deeper relationship with him."
One aspect students — both past and current — mentioned was the mandatory theology class.
Former Catholic school student Michael Dixon Jr., 23, spent his freshman year at Bishop Chatard. He would later transfer to Warren Central High School for his sophomore year and finish his last two years of high school at Scecina Memorial High School — a Catholic school on Indianapolis' east side.
"In Catholic school, they take religion seriously," he said. "It confused me but intrigued me in a way. It will definitely enhance how you view things."
Dixon, a non-denominational Christian, said his theology class broadened his worldview and changed his outlook on religion.
Tristen Morris, a junior at Bishop Chatard, experienced some hesitancy during her theology class.
"As a non-Catholic student attending a Catholic school, I can definitely say it has its ups and downs," she said. "Sometimes I do feel pressured in class when we're talking about whether or not we believe in God or if heaven and hell are actually real. I never know how to respond."
Sahm said the mandatory class is just "for people to understand who Jesus Christ is."
Morris' mother, Telisha Morris, said religion had nothing to do with why she sent her daughter to Bishop Chatard, and everything to do with the opportunities and resources her daughter could gain.
Morris is hoping her daughter gets scouted by college volleyball recruiters in the future.
"The experience can either elevate you or lower you down," Dixon said after recalling a time when a Scecina former classmate was expelled for not shaving his facial hair. "It can make you question your beliefs. You have to stand strong in your beliefs."
Parents like Moore are willing to pay the tuition because they see it as an investment in their child's future. He advises other parents to think about this option.
"Every school has its flaws, whether it's public or private," Moore said. "I do think that parents should give private schools a try."
Contact religion reporter Abriana Herron at 317-924-5243. Follow her on Twitter @Abri_onyai. Herron is a Report for America corps member and writes about the role of Black churches in the community.