Dozens of young Black scholars donned tailored suits and dresses and waited alongside family to hear their names called in the Crispus Attucks High School auditorium. Flurries of applause ignited as each student took the stage. The occasion was special: it was the Center for Leadership Development's (CLD) Scholar Signing Day.
A cornerstone of CLD's mission is to foster the advancement of minority youth in Central Indiana as future professional, business and community leaders. This was displayed during Scholar Signing Day late last month when students signed college scholarship papers.
One father could not contain his excitement as his son, Stuart (Zach) Stovall, signed the deal for a full-ride scholarship to Cornerstone University in Grand Rapids. This scholarship is worth upwards of $140,000.
"This takes a lot of (financial) pressure off of us," said Damon Stovall, Stuart's father.
In addition, Stovall talked about the character building the Center for Leadership Development provided his son with.
"I have seen his grades and confidence go up since entering the program," Damon said.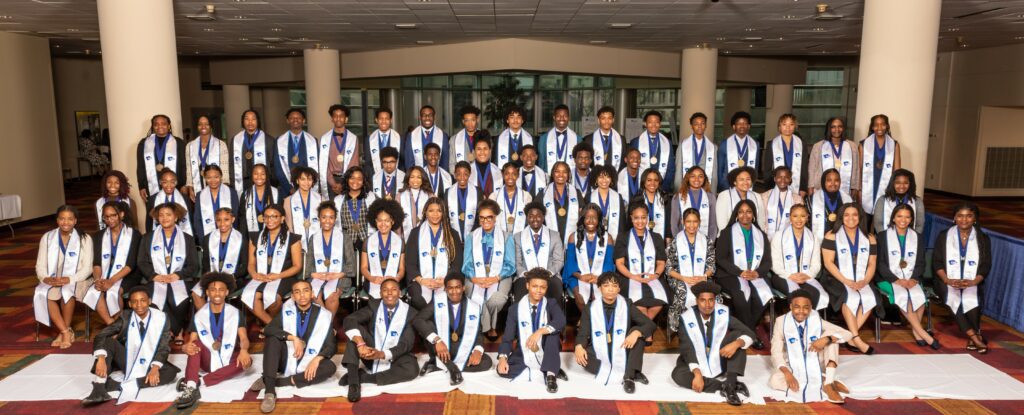 "Pushing greatness"
"Some people are big pushers, CLD is a big pusher of success," said Dennis Bland, the president of the Center for Leadership Development. "CLD is pushing greatness."
Further, Bland mentioned how important it is to have parents or parental figures in one's life.
"Without my father, I would have been toasted," Bland expressed.
Former CLD participant Trevon Thomas, who received a full-ride scholarship to Rose-Hulman University attended the event.
Joe Zachary, the director of college prep, talked about the importance of staying connected with the young Black scholars after they graduate high school.
"Academic advisory is crucial to graduating (college) on time," Zachary said.
Bland concluded the event with a powerful message to the young scholars: "Finish what you started."
Contact multi-media staff writer Noral Parham at 317-762-7846 or email at NoralP@IndyRecorder.com. Follow him on Twitter @NoralParham.