A recent Sunday marked the first time the Indianapolis Urban League's "I Need You to Listen, Hear and Understand Me" (INYLHUM) program was presented in a morning worship service. It was presented at the First Freewill Baptist Church.
Under the visionary leadership of Pastor Charles Sheppard, First Freewill allowed the Sunday morning worship service to be the platform to present the nationally acknowledged "I Need You to Listen, Hear and Understand Me" youth empowerment tour about HIV/AIDS.
The tour is an "edutainment" model (fusing education and entertainment) funded by the Indiana State Department of Health, the Marion County Health Department, the Indianapolis Urban League and the Indiana AIDS fund. Collaborations with other community partners aid in resources and referrals to youth ages 13 to 20.
The tour is virtually free to all schools, and faith-based and community-based organizations. Every effort is made to bring quality programming to students in Marion, and surrounding counties, with little or no cost to school budgets. Currently the program has been presented to more than 2,500 students in Marion County. The goal of the program is empowerment through education and dispelling myths so youth can make healthy decisions about sexual choices. Abstinence is the only 100 percent way to prevent contracting the disease if you were not born with it, however the tour was designed to reach youth and aid them in assessing their risk.
One of the most impactful elements of the tour is youth speakers that tell their individual stories and dispel myths about contracting the virus and HIV having a certain "look" in the individuals affected.
Pastor Sheppard was saluted for bringing vital information to his entire congregation about a serious public health epidemic. Currently, 1 in every 128 Blacks living in Marion County is infected with HIV/AIDS. Marion County accounts for about 43 percent of the HIV cases in Indiana, according to the Marion County Public Health Department's Epidemiology Department.
One of the unexpected outcomes of the tour was the need to educate parents and grandparents, especially since many grandparents are currently the primary caregivers of the teens.
For more information on the program, contact Deidra Coleman, health and wellness coordinator at the Indianapolis Urban League at (317) 693-7644.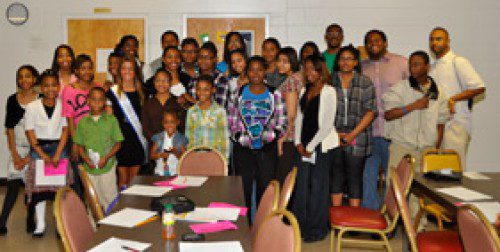 Youth participants join each other during the event, which featured speakers that gave youth advice on making good choices to prevent HIV/AIDS.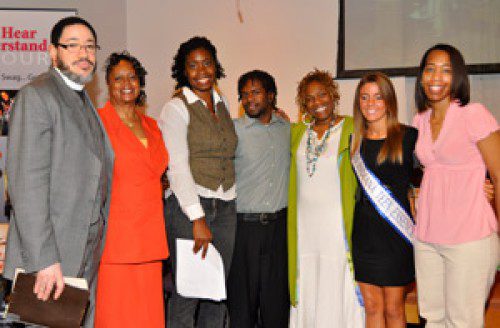 First Freewill Pastor Charles Sheppard, his wife Michelle and Deidra Coleman of the Indianapolis Urban League join participants.