It is no secret that Indianapolis has a bustling and rapidly growing art scene. Less known may be that this scene is fostering diversity, equity and opportunities for artists of color, as shown from BUTTER to the Bicentennial Legends murals and the art installations at the newly unveiled Bicentennial Unity Plaza.
As Hispanic Heritage Month approaches, the Recorder sat down with a few artists to talk about heritage, inspiration and vibrancy of Latin-American and Afro-Latin American art and artists in the city.
"There's nothing that's impossible as long as the patrons of the arts and the people that bring the opportunity to the table have the common vision and have the ability to recognize value and the importance of the arts," Latin-American artist Herman Mejia said. "In the last five years of my life, I would say I really found my stride in terms of being able to tell the stories that matter, that connect communities, that are … like becoming a liaison between patrons and the public."
Mejia, who specializes in unique and architectural sculptures, was born in Honduras and moved around a lot — from Costa Rica to Tampa, Florida, and Cambridge, Massachusetts, before settling in what he now calls his home base in Toronto, Canada. He said his travels inspire his work just as much as the little things in life, allowing viewers a glimpse at his heritage while placing an emphasis on legacy and celebrating the present.
"Being a Latin American, being that introduced me to a world full of color, and passion, and expression, you know, we dance culturally, we hug, we kiss, we celebrate life in such a vivid way that I think that translates to passionate, devoted and engaged citizens, and also artists," Mejia said. "Anytime I travel back I see towns, and I recognize how beautiful and simple they are and how resourceful they can be because there isn't that abundance, so we become kind of resourceful and forward thinkers in terms of reusing and reinterpreting spaces."
READ MORE: Bicentennial Unity Plaza opens in Downtown Indianapolis
Mejia designed the art installations "Sphere" and "Together" at the Bicentennial Unity Plaza, — unveiled Aug. 24 — and said the pieces were designed with the heart of Indianapolis in mind. Like all of his projects, Mejia said he creates a sculpture based off of where it will reside, and the commission for the bicentennial Unity Plaza was no different.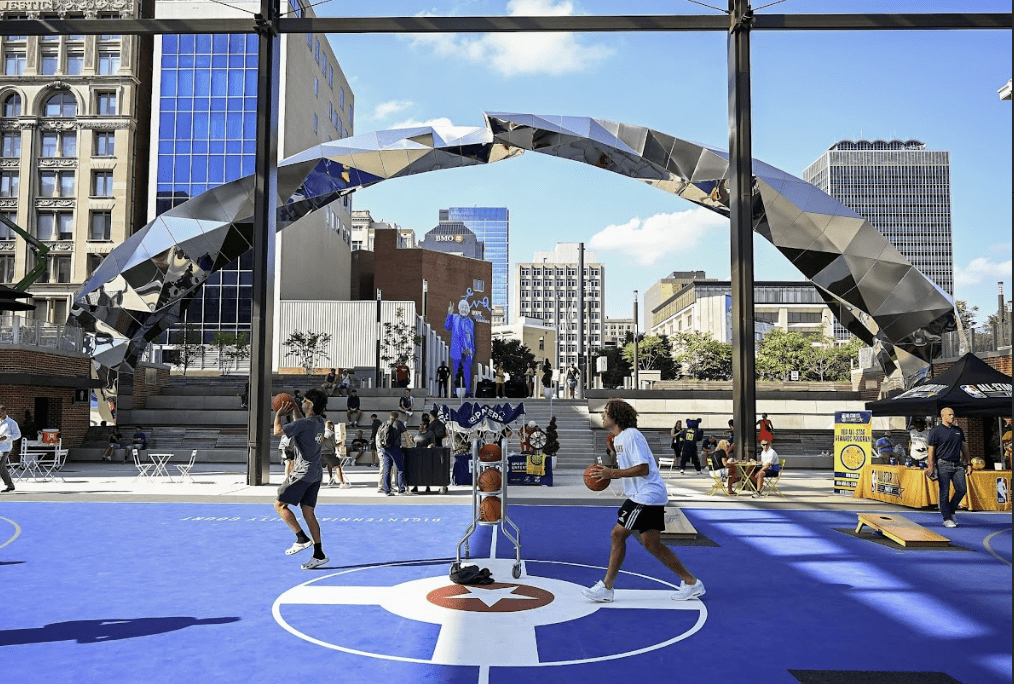 "I learned about the history, the heritage, the connection of Kennedy and King to the town, and how it all became such an important monumental part of the narrative in Indiana today," Mejia said. "So, you connect to the place, and then you sort of let it get a shape just to become what it needs to be."
Mejia said "Sphere" is a homage to the heritage and love for the game of basketball in Indianapolis but also a reflection of the self and a blank canvas to tell stories that matter, while "Together" is inspired by Robert F. Kennedy and Dr. Martin Luther King Jr.'s historical connections to the city.
"Two overarching geometries that almost meet to be interpreted as the continuous effort to bring unity and harmony," Mejia said.
Things like art, culture, politics and science all play along, Mejia said. The more they complement one another, the more spaces and opportunities such as the Bicentennial Plaza can exist and allow people to engage with one another on higher levels.
Local Afro-Latina artist and gallerist D. Del Reverda-Jennings was born and raised in Alaska and attended school in Chicago before landing in Indianapolis. As a self-taught, interdisciplinary artist, Del Reverda-Jennings said she often worked with a "DIY Budget" to design abstract murals and create her own "versions of luxury and artful creations."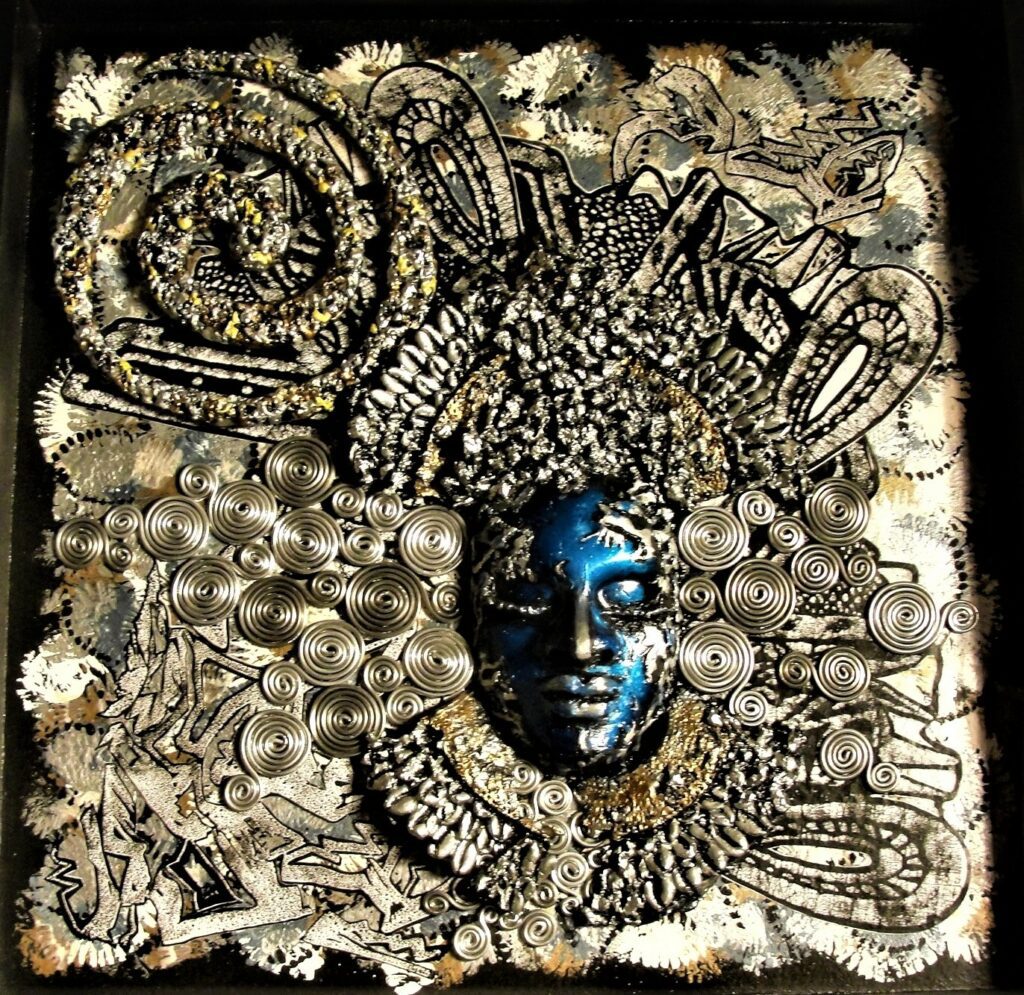 "I create work in a number of genres and basically much of what I apply in my visual practice(s) have been learned and refined through first-person experience, figuring things out, trial and error, creating, combining or retracting processes, and my innate inclination to master this knowledge and then move on to the next," Del Reverda-Jennings said in an email to the Recorder. "I am a constant student, perpetually inquisitive, exploring and experimenting in order to enhance my craft."
Each of her pieces under her "Goddess" iteration are heavily influenced by elements such as identity, women's issues, colorism, Négritude, social commentary, Indigenous wisdom's folklore and ritual. These themes manifest as material in the construct of her art alongside traditional and original personal symbolism, aesthetic reference and imagery pervasive of African and Caribbean Latine/o Diasporic cultures that depict allegorical females in a state of self-discovery, insight, mystery and empowerment.
"I embrace being of African descent and know that there are others similar to me that resemble me and have comparable experiences and backgrounds," Del Reverda-Jennings said. "The works that I create reflect and convey my concept and interpretation of the immensely diverse beauty of women of color, the sacred spiritual and physical reminders of female perseverance, identity, empowerment, self-love, liberation and ascension."
Beyond her own art, Del Reverda-Jennings is well known as the creator of FLAVA FRESH ! — the annual national, multi-exhibition juried contemporary art show, which she started when there were only two other venues in Indiana that focused on Black artists. The professional artist development concept stemmed from her passion for the visual arts and her "committed desire to change the unwelcoming, exclusionary environment that surrounds the field."
Black Latinos in America have a unique history with deep roots in African, Caribbean and Latin cultures which transcend racialized labels American society imposed upon them, Del Reverda-Jennings said.
She said Hoosiers have always seemed to love the "graceful sensuality" of Latin Dance, enjoyed the color and spirituality of Día de los Muertos and danced to the cross-cultural Latin sound of Wes Montgomery's guitar as he performed music by Latin-American composers with Latino percussionist legends.
Contact staff writer Chloe McGowan at 317-762-7848 or chloegm@indyrecorder.com. Follow her on Twitter @chloe_mcgowanxx.