When Mali and Alan Bacon created BUTTER, they had no idea it would blow up in just three years.
The Black fine arts fair was created in 2021 to uplift Indy's Black visual artists and introduce a new blueprint for equity in the arts. The unique model of BUTTER ensures artists do not pay a fee to showcase their work and 100% of the profits go directly to the artists, said Mali Bacon, co-curator and creative director of BUTTER and executive director of GANGGANG.
"BUTTER is our tactic; it's our approach to see if we can have any type of equitable impact here," Alan Bacon, co-curator of BUTTER and president of GANGGANG, said. "This specific event/program/tactic really allows us to test and challenge the dichotomy between this value and worth as it relates to Black visual artists and also allows us to challenge directly the monolithic, stereotypical, maybe approach to what art is and who creates Black art."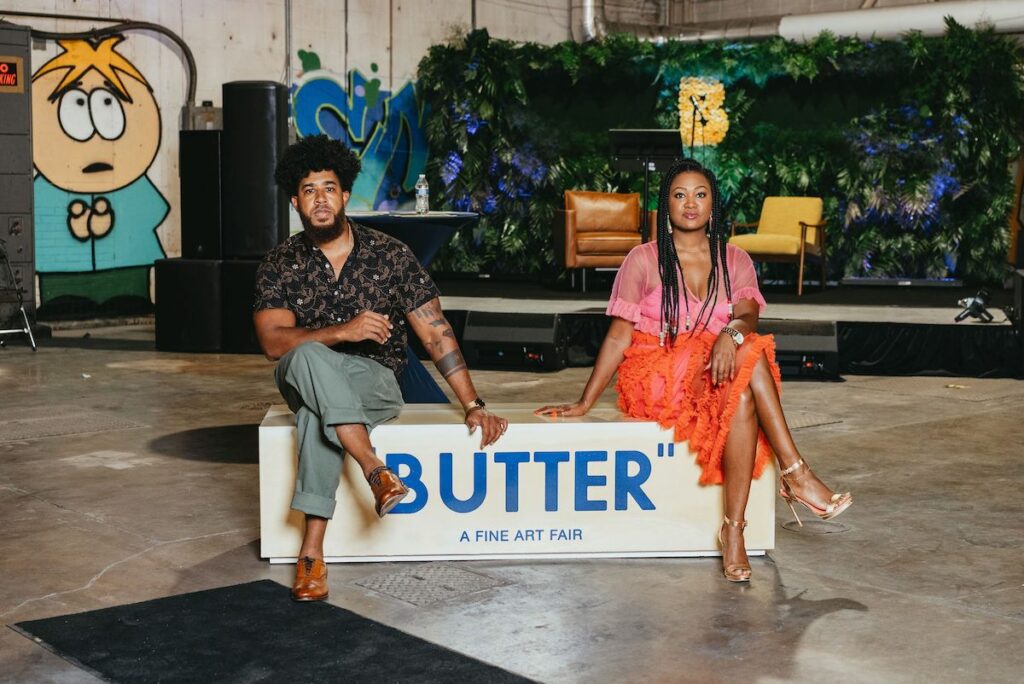 The making of BUTTER
Mali and Alan Bacon, the married couple and unstoppable force behind BUTTER and cultural development firm GANGGANG, said they first had the idea for the fine arts fair in early 2021 and posted a "soft announcement" on social media for their inaugural show over Labor Day weekend that September. They worked quickly to book a meaningful venue, find sponsors and get the word out to local artists.
Together, GANGGANG, — which is a team of 11 people — approximately 50 artists and makers, and about 100 creative entrepreneurs helped build the first BUTTER. As for the name of the show, "BUTTER" was all Alan Bacon's idea.
"I kind of described how I want people to feel at the fair, and the vibe that it can create, and just how we can get people to connect with it because at the end of the day, it's an art fair, and that has an exclusive kind of tone that comes with it right off the bat," Mali Bacon said. "He was like, 'You should be cool like butter, you know, smooth like butter, make you feel high like butter.' And so, we went with that because it's something that is familiar to people."
Alan Bacon said they knew BUTTER would be "something big" but could not predict how quickly people would rally around it in just three years.
"This is only year three, and people kind of discuss BUTTER as if it's been a mainstay in Indianapolis for much longer than it has," Mali Bacon said. "We work really hard to provide a context worthy of the art that we're showing. Our equitable model is the unique thing. It's nationally known to be a new blueprint for equity in the arts."
Beyond BUTTER
Beyond BUTTER, Mali Bacon said she and her husband live very full lives, from working with GANGGANG to raising a family. She said they have been working together since the very beginning, and their partnership allows them to work better and faster — encouraging and fueling one another. Part of that partnership includes fostering healthy relationships with their five children.
"It's a really important time — four of them are in high school, and we have a freshman in college — and so just as important as our careers are right now and the work that we are doing to service society, just as important is our presence in our children's lives as we prepare them to be servants of society," Mali Bacon said. "We have to do a great deal of integration and a great deal of communication with our teenagers about why this work is so important and why it has to happen now."
The couple's carefully constructed balancing act is a welcome one, and all that they do is tied together with a common thread.
Social and economic impact of BUTTER
Alan Bacon said they expected only about 1,000 people to show up the first year. However, BUTTER exceeded their initial expectations in an incredible way, bringing in 4,000 guests and selling $65,000 worth of art.
READ MORE: BUTTER 2 upped sales, attendance in 2nd fine arts fair
The next year, they moved the art fair to The Stutz to accommodate their growth, which ended up attracting some 8,000 patrons and selling more than $250,000 of art and $210,000 in post-sales in a single weekend.
"The economic impact and the gross sales and commissions after BUTTER that continue to have the economic momentum from just showing at BUTTER, that has translated to just a greater story as it relates to how this is hopefully increasing appreciation and validation of Black visual art and Black visual artists," Alan Bacon said.
Not only did BUTTER grow exponentially, but the art fair gained national attention, attracting The New York Times, who covered the fair in 2022.
BUTTER is now easily a half a million-dollar art fair, and Mali Bacon said it is made possible through generous funding from local sponsors in the public, private and philanthropy sectors — including AES Indiana, JP Morgan Chase, Newfields and the Indiana Convention Center.
The impact of BUTTER has begun to reshape the narrative of Indianapolis by giving the city a new talking point for those discovering Indy and what it has to offer residents and visitors.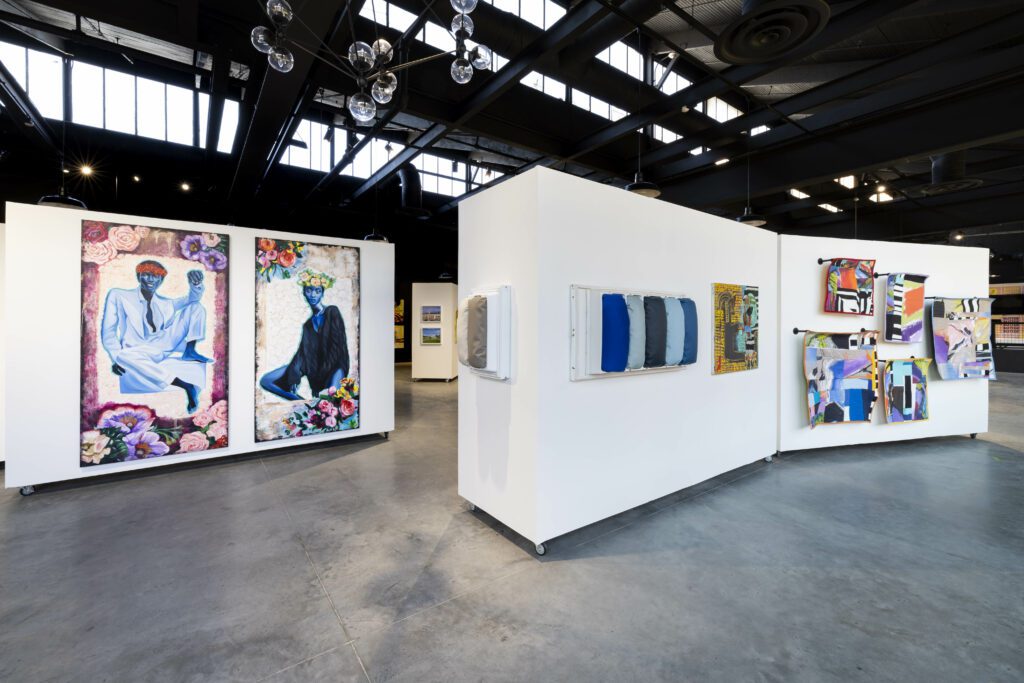 "It's not just the Indy 500; suddenly, only after three years, now we're talking about this new art fair, the nation's most popular new art fair," Mali Bacon said. "We're talking about how to make Indianapolis an equitable city and how we're leveraging the arts to do that here. And so, that's the bigger conversation that we're going to want people to notice."
For its third year, BUTTER will take place in the newly renovated Stutz factory building in the Indiana Avenue Cultural District of Indianapolis, 1060 N. Capitol Ave., Aug. 31-Sept. 3. The show will feature 49 exhibiting visual artists from across Indiana as well as some from New Orleans, Detroit, New York City and Ghana, Africa.
READ MORE: BUTTER returns to Indianapolis this September
Since there are not as many returning artists, this year's BUTTER will look a little different; however, Mali Bacon said they are still excited to show the world "what the nation's most emerging Black visual artists have to say right now."
In addition to uplifting Black visual artists, BUTTER highlights other genres of art, including live performers, DJs, speakers and panelists, that will make the art fair a multi-dimensional and multi-sensory celebration, Mali Bacon said.
"I think at the core of all of it, the through line between what we do at GANGGANG, and who we are as a couple, as a romantic partnership, and who we are as parents — the through line there is love," Mali Bacon said. "That is the center of it all. That is what we push for in it all. That is what everybody feels at BUTTER. That is our purpose."
Tickets range from $20-$175 and are available to purchase at butterartfair.com.
Contact staff writer Chloe McGowan at 317-762-7848 or chloegm@indyrecorder.com. Follow her on Twitter @chloe_mcgowanxx.