---
Disparities in healthcare can be made worse by cultural insensitivity.
There are over 20,000 Haitians living in the state according to the Haitian Association of Indiana. A growing population means more awareness of Haitian culture is needed to understand how they approach healthcare.
"In Haiti there isn't easy access to healthcare in the first place. So, naturally people focus on herbal medicines and natural care," said Alex Dugé, the chair of the board of directors for the association.
"For example, Haitian households are big on pure Haitian castor oil. If you have a bruise or a headache you use castor oil. It's believed to soothe ailments away," said Dugé.
RELATED: 15th annual Haitian Flag Day Festival brings pride to Indy
Black patients and white coats: cultural differences
The oil has been used in Haiti for centuries for medicinal purposes. The elders use a traditional hand processing method that includes roasting, grinding and cooking castor oil seeds.
Haitian Black castor oil is high in Vitamin E, minerals, proteins and Omega 6 and 9 beneficial fatty acids. No other oil has 80-90% ricinoleic acid which is the key to its ability to heal according to longtime-Haitian activist, Yve-Car Momperousse who created a business selling the oil.
Dugé said for Haitians coming to America, the biggest hurdle in healthcare is the language barrier.
Gelina Mascoe was born in Haiti, but has been in living in Evansville, Indiana for the last 22 years.
During COVID, she was getting calls from local hospitals in Evansville to help translate for Haitian patients.
This prompted her to create the Haitian Center of Evansville, the first official resource center for the state.
They officially opened last month.
A part of their resources to help Haitian Hoosiers is healthcare and pregnancy assistance.
Anne Dugé, who also works with the association, is a registered nurse and said she has had to be an interpreter using Haitian Creole to communicate with Haitian patients before.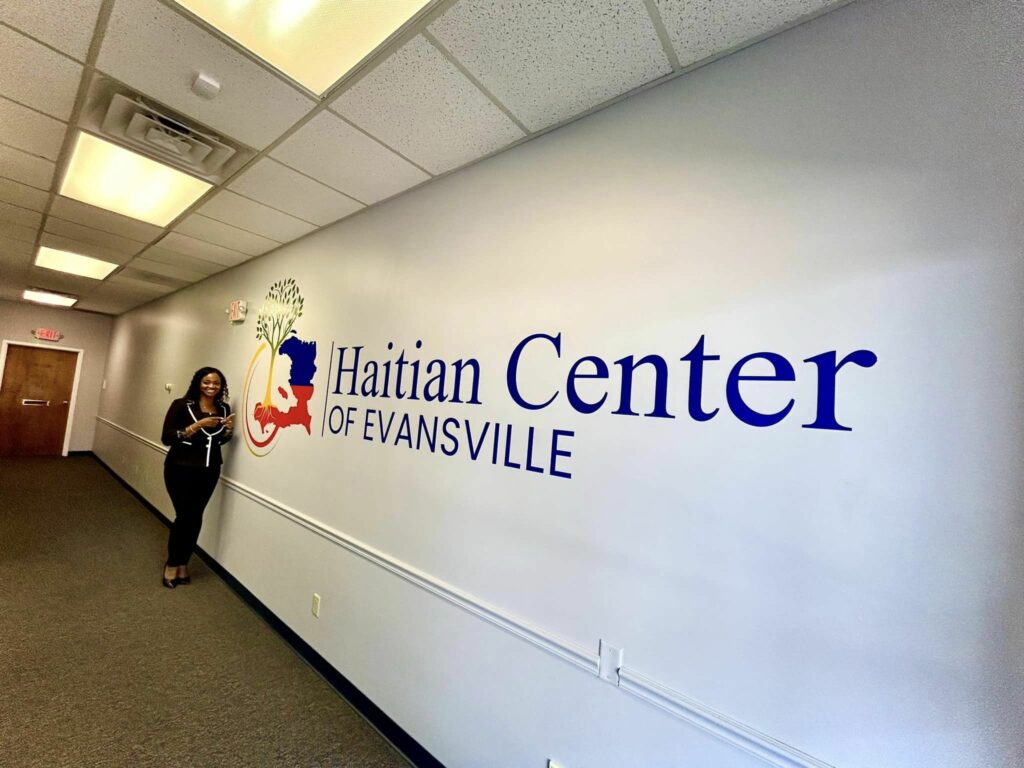 The Haitian Center of Evansville
Dugé said she is seeing that more professional representation matters in the hospitals.
"I was at St. Francis on the southside which didn't have a lot of Haitian patients, but it was good that I got to help out a Haitian family that came in. We understand each other and it makes them feel more at ease," said Dugé.
She said a lot of Haitians culturally use different tea leaves as a part of their routine care.
"They bathe with some of the leaves. Especially with women and children to help with illness and to relax their muscles," said Dugé.
Dugé is a post-partum maternity nurse but has worked in the ICU for years.
She said she has had to explain to some of her colleagues about some of the nuances that come along with Haitian women giving birth so that there is no confusion in care.
"One woman wanted some warm water and no AC or ibuprofen after giving birth. Women don't want to expose themselves to the cold in Haiti. They'd rather be warm. They go months without leaving their home to heal," said Dugé.
"So, their first steps aren't going to be taking ibuprofen. They would rather use their teas first and it may seem like they're rude about it, but they're not. It's just culture."
Contact staff writer Jade Jackson at 317-607-5792 or by email JadeJ@IndyRecorder.com. Follow her on Twitter @IAMJADEJACKSON