Dads are pretty good people to have around.
They can make you laugh and make you behave. They teach you fun things and help you when you need it. Moms appreciate Dads and you should, too. So, why not look for these great books to share with your Papa, Dad, Pa, Father or Daddy…
For the brand-new Dad who wants to start his child off right, "This is The First Book I Will Read to You" by Francesco Sedita, illustrated by Magenta Fox, (Viking, $18.99) is a great gift. Meant for the youngest kid, it's a gentle tale full of amazement and love for a newborn baby, and it may be one of the sweetest books you'll read this week.
If Dad has a little helper around, "Papá's Magical Water-Jug Clock" by Jesús Trejo, pictures by Eliza Kinkz,(Minerva, $18.99) is a great summertime read. Little Jesús is going to help Papa today and right away, Papa puts Jesús in charge of a water jug that's also a magic clock. It's a big responsibility. Can Jesús handle it without getting fired from his job? Wrapped into this fun and lively story, there's a lesson here that's appealing to kids ages three to six.
For the Dad who does it all, "Daddy Dressed Me" by Michael & Ava Gardner, illustrated by Nadia Fisher (Simon & Schuster Kids, $18.99), is a biographical tale of a little girl who needed a special dress for a special day. Where would she ever get something like that?  Kids ages four to eight will be charmed to find out…
For the four- to nine-year-old whose Dad is deployed, "When Your Daddy's a Soldier" by Gretchen Brandenburg McLellan, illustrated by EG Keller, (Viking, $17.99) is the absolute perfect book to have around. It's a tale of saying goodbye too often, missing a parent so much it hurts and how a child can support (and find support!) until Dad comes home again. For sure, this is one of those books that makes a great gift.
And finally, for the slightly older kid who appreciates an afternoon of baseball with Dad, "Contenders: Two Native Baseball Players, One World Series" by Traci Sorell, illustrated by Arigon Starr, (Kokila / Penguin, $18.99) is the right book for both. It was 1911, Shibe Park, Philadelphia, when pitcher Charles Bender of the White Earth Reservation went head-to-head with catcher John Meyers of the Cahuilla Reservation. Opposite teams. Two men who were pro baseball players. Both had faced a lot of discrimination to get to where they were. Who would win? Your eight- to twelve-year-old and your grown-up baseball fan will want to know…
If these great books for Dad don't quite fit him or your child, head to your favorite bookstore or library and ask for help. Your librarian and bookseller have access to millions of books, and they'll know how to find the exact thing you need for a happy read-aloud session or for sharing. Dads are pretty handy people to have around. A dad with a book is even better.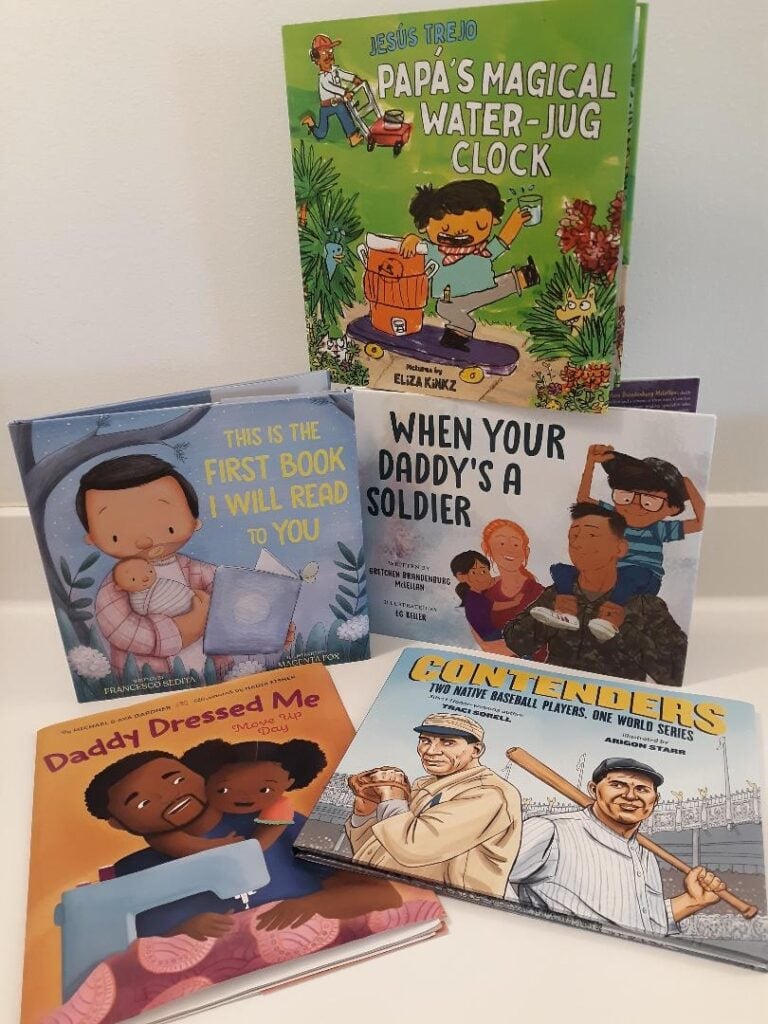 ---
This list of books for Father's Day was compiled for the Indianapolis Recorder. For more news (or books for Father's Day) courtesy of the Indianapolis Recorder, click here.