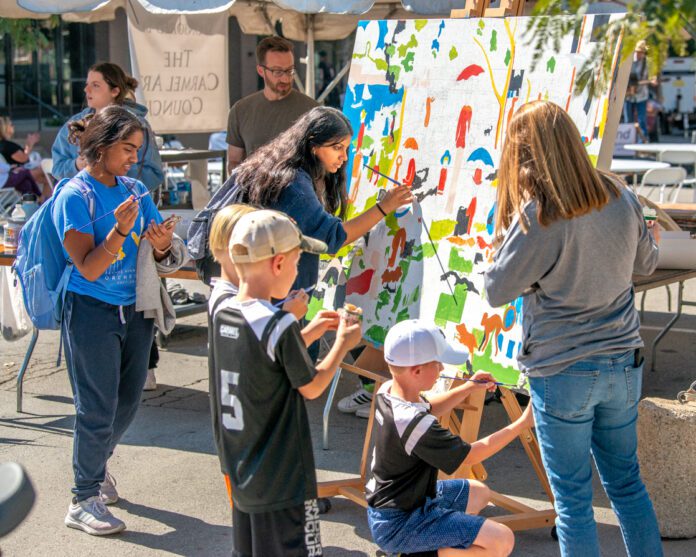 The Carmel International Arts Festival returns this weekend to the Carmel Arts and Design District.
Taking place Sept. 23-24, the festival aims to celebrate and uplift local and international art and music through showcasing the works of more than 120 artists, multiple entertainment stages at ART ROCKS, a Student Art Show and more.
"We are excited to welcome artists from all over the world this year!" Jill Gilmer, president of the festival, said in an email to the Recorder. "There is something for everyone at Carmel International Arts Festival. We hope the young patrons enjoy the interactive 'young at art' section and the adults enjoy the art, wine garden, music, and food!"
Live music will include the Hippie Dream, Tim Brickley and the Bleeding Hearts, Tim Wright and the Indianapolis Jazz Orchestra. Local food and drink vendors, such as Papageorge Greek Gyros, 1947 Eatery and Lounge, Aunt Jeans' Kettle Korn, Sun King, and Sip and Share Winery will be available for guests to shop from.
That evening, beginning at 7:30 p.m., will include ART ROCKS, a family-friendly event co-hosted by the Carmel International Arts Festival and Current Publishing. ART ROCKS will feature more than a dozen food and beverage vendors and live music from Bluewater Kings Band.
The festival will also feature a Japanese Exhibit, with works from several of Carmel's Sister Cities, including Kawachinagano and Osaka, Japan, and Jelgava, Latvia, from esteemed artists Kristina Landaua Junkere and Raitis Junkers.
The Carmel International Art Fair Student Art Show will take place both Sept. 23 and 24 in the Indiana Artesian Gallery, 22 N. Rangeline Road. The gallery, which supports Indiana artisans creating high-quality art, craft and food items, will host more than 80 entries from Carmel and University High School students ranging in oil paintings, ceramics, charcoal drawings, watercolor, photography, jewelry and fashion designs, weaning and more.
"We are delighted to once again participate in this wonderful festival. This marks our 3rd year as hosts." Rosalyn Demaree, executive director of Indiana Artisan, said in a statement. "Providing a professional venue for the Student Art Show coincides with our organization's mission to support local emerging artists." 
The Student Art Show has always been an important aspect of the festival and has even awarded $13,000 in scholarships to outstanding students. This year, the Student Art Show intends to award $16,000 in scholarships.
A youth area for kids ages 2-12 will also be available with activities and games.
The Carmel International Arts Festival takes place Sept. 23-24 from 11 a.m. to 5 p.m. on Main Street and Rangeline Road in Carmel. The festival is free to attend. For more information, visit carmelartsfestival.org.
Contact staff writer Chloe McGowan at 317-762-7848 or chloegm@indyrecorder.com. Follow her on Twitter @chloe_mcgowanxx.