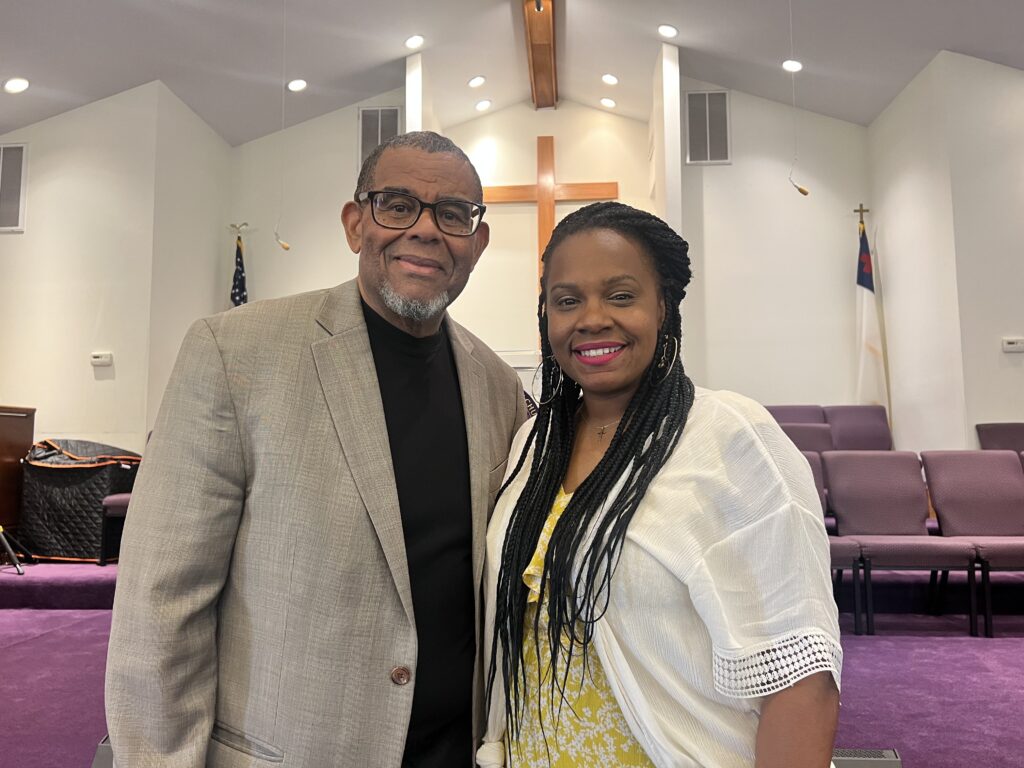 Adrienne Overton, the senior pastor of Eden Missionary Baptist Church, knows that shepherding a congregation means the health of members is more than just spiritual. It is both physical and mental.
Although mental health has traditionally been a taboo topic in many churches, Overton seeks to remove this stigma.
Despite never shying away from the realities of how mental health can affect church members, she recently addressed this issue more directly.
"As your pastor, I want to tell you that everything is going to be all right. I wish I could just snap my finger and everything will be just fine, but sometimes you can be on the battlefield for the Lord and still be in the battlefield of your mind," said Overton to her congregation Sunday.
RELATED: Black woman named senior pastor of Indy Baptist church; the 'beautiful and burdensome' road that lies ahead
Among those sitting in the pews was her father, Pastor Emeritus Bennie Shobe Jr., who guided the flock at Eden Missionary Baptist for 32 years before retiring.
There is a clear difference in how the two generations have approached mental health in the church.
"The narrative has changed where there's a lot more help. We didn't have the resources that we have today. All we had was Central State and mental hospitals. The need for help is very important," said Shobe, who became senior pastor of Eden in 1991.
Overton was around 10 years old then.
Carrying a congregation: "Christians didn't get depressed"
Growing up, she thought that having mental health issues was something Christians did not experience.
"Christians didn't get depressed. That meant that you needed to get right with God, and your relationship with God isn't where it needs to be," said Overton.
"I don't remember hearing a lot of that jargon growing up. It was just, 'you pray about it.' We have come a long way to now being able to identify our feelings and being empowered enough to name what it is and seek help," Overton continued.
While many preachers have a set standard on how they present the Gospel, some of Overton's unorthodox ways of preaching call for her congregation to get interactive.
RELATED: It runs in the family: Eden Missionary has a new pastor
Last Sunday, she passed out cards throughout the pews with words that read emotions, such as "happiness," "anxiety" and "annoyance." She asked each person holding the cards to act out that emotion.
Although the church laughed at the display, Overton aimed to get the congregation to understand the emotions of Biblical figures she was referring to in her sermon.
Overton's approach did not start when she became senior pastor. It goes as far back as when she attended college. In a psychology class, Overton learned that there can be an "and" and not a "but" when it comes to Christians dealing with poor mental health.
They can have a relationship with God and still be depressed or anxious.
In divinity school, she took classes on marriage and family, so that she could have a better understanding of mental health and relationships.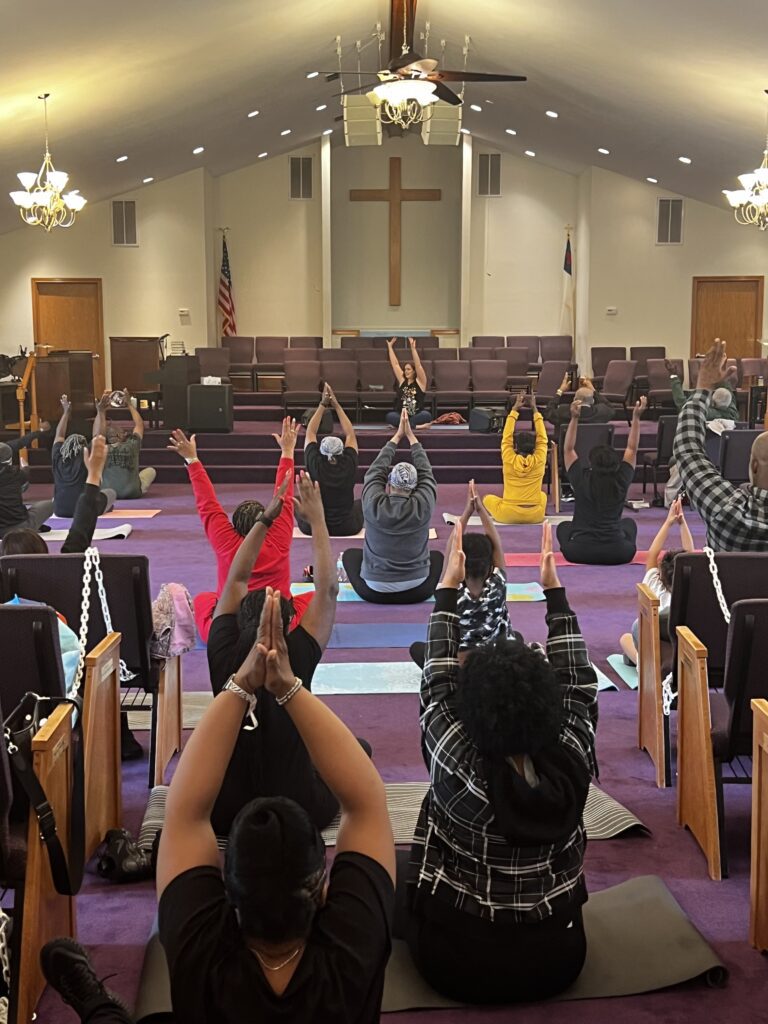 Carrying a congregation: pastors need time to rest
The courses required her to have a therapist, which was the very first time she had counseling.
"That was enjoyable and empowering for me. I've maintained a therapist for myself since. What's helped me abundantly was being able to have someone who is checking in on my mental health and my spiritual health," said Overton.
She had to cope with the death of her sister last year, miscarrying twins, having parents who have dealt with various medical issues while being a first time parent to her daughter who is deaf.
This year she was nominated for the Lilly Endowment Clergy Renewal Program for Indiana Congregations by someone who noticed her challenges and resilience to still lead.
It gave her the opportunity to go on a sabbatical and giving her time for respite.
"Pastors don't usually get this opportunity unless they have been pastoring for a long while. Even in my cohort, there's pastors who have been pastoring for 20, 30 or 50 years and here I was for one year," said Overton.
The program fully funded a trip for her and her husband to travel to St. Lucia.
She said she was able to go to the beach and it was just her, God and a journal.
"I never had a sabbatical. Pastor Adrienne is always talking about self-care. Older preachers, we didn't have any of that. At least, I didn't know anything about it," Shobe said.
"Now, it's a different time. All we knew was just put your feet to the ground and grind and be thankful to God that you have a church."
He wishes he could have taken a sabbatical during his tenure as pastor. He playfully admits that he is a little jealous but doesn't regret his 32 years in the pulpit.
Carrying a congregation: The old school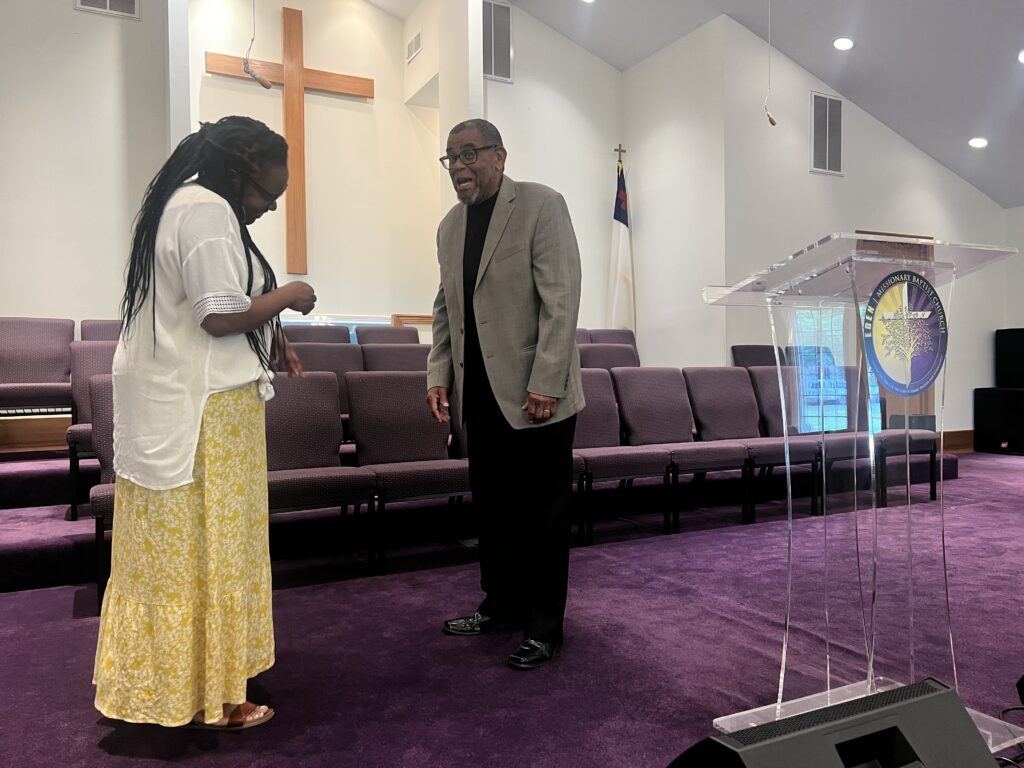 Eden Missionary Baptist Church was founded by the late Rev. George Wilkins, and Shobe remembers receiving frequent invitations to come preach there before he became the senior pastor. Before that he was an assistant pastor there.
The church was small, with only eight members, but Shobe said the Lord led him to stay there, and he had a vision that it would grow.
He grew it close to 60 at the previous location of the church on Warman Ave.
"I just kept preaching and reaching out. I walked the streets inviting people to come. After a while, Rev. Wilkens decided that he was going to retire because he was right at 90 years old," said Shobe.
Most African American pastors do not retire, according to Shobe.
They preach until they die.
But Shobe, 67, always knew he was going to retire. However, he did not know it would be his daughter who would take over his role.
"It was a part of my ministry, and I enjoy doing it. Whether it was marrying people or going to hospital visits, that was a part of the duties of a pastor. A lot of times, it twinkles down to your family, your wife and your children," said Shobe.
Carrying a congregation: The new school
When people would come to him with a lot of problems, he would turn it over to the Lord. He did not let it become a problem to the point where it would burden him. Shobe would pray, but he did not try to be everyone's savior.
He wanted to make sure he did what was necessary to help his congregation, but he also knew he did not want to pass away in the pulpit. He always wanted to retire so that he could rest.
"I had two cancers. I had prostate cancer, and then I lost my left kidney. Three years ago, I developed Crohn's disease. So, I retired. Adrienne was my assistant pastor at the time, and I recommended her to the church to succeed me," said Shobe.
"Now, (my) daughter has the heavy load of the church on her shoulders."
Shobe said now he gets to rest and enjoys that.
"I work out, I go walking and I get to have that time to myself. I'll still preach here and there though" said Shobe.
During Overton's sabbatical, even the congregation practiced relaxation.
They held an event at the church with a professional yoga instructor to practice breathing exercises.
Contact staff writer Jade Jackson at 317-607-5792 or by email JadeJ@IndyRecorder.com. Follow her on Twitter @IAMJADEJACKSON