Jackson Moon has been visiting the Children's Museum of Indianapolis regularly since 2019 with their three children. They always eat from the cafeteria, Moon said. On a recent visit, Moon said they noticed a watermelon salad and wanted to try it but decided to wait until next time. When they returned June 3, they said they were shocked to see a "Juneteenth Watermelon Salad" and immediately posted a picture to social media.
"It hit me really hard because not everyone knows the history or the significance that watermelon or red food had for Black people without that additional information or history, which would have been suitable for me had I seen it," Moon said.
The Children's Museum of Indianapolis has since apologized for the salad after Moon's photo sparked criticism on social media over the weekend.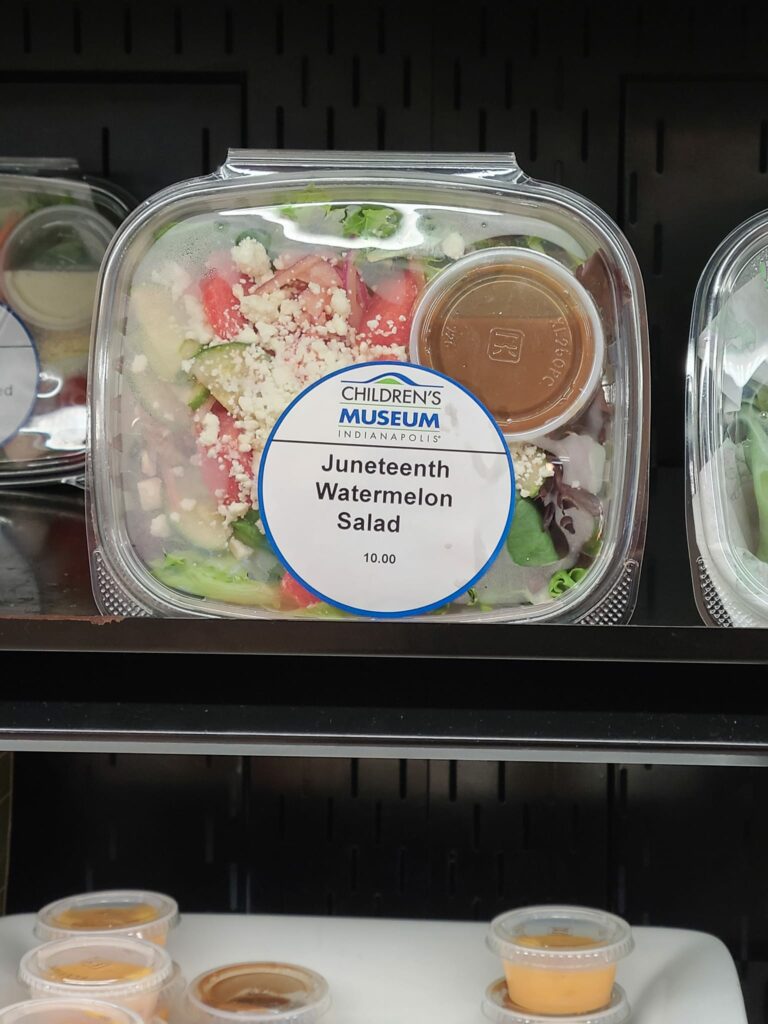 A spokesperson for the museum said the salad has been permanently removed from its menu.
"We deeply regret the hurt and the pain that the food offering in our food court has caused, and we apologize," a statement from the museum says. "It is unacceptable that this took place in our museum."
An earlier statement said the museum's food service provider "uses the food and beverage menu to commemorate and raise awareness of holidays like Juneteenth."
"The team that made this selection included their staff members who based this choice of food on their own family traditions," the statement says.
The food service provider is Levy Restaurants. A spokesperson for Levy Restaurants said a "diverse committee, inclusive of Black leadership," created the menu through research and from personal celebrations.
"As soon as we recognized the triggering nature of the product and label, we were horrified. We strive to be culturally sensitive and include diverse perspectives through the power of food to bring people together," the spokesperson said. "In this case, we fell far short of those goals, and we apologize for all the hurt and pain this has caused."
Contact staff writer Jayden Kennett at 317-762-7847 or email at jaydenk@indyrecorder.com. Follow her on Twitter @JournoJay.