The story of a Black man's 1845 lynching in Downtown is now commemorated along the cultural trial. A public dedication unveiling the historical marker was held Sept. 30, 2023.
The lynching of John Tucker was one of at least 19 racial terror lynchings that occurred in Indiana as recently as 1930, according to the Indiana Historical Bureau.
"Uncovering and documented uncomfortable history is an obligation that we all must share," Eunice Trotter director of the Black Heritage Preservation Program at Indiana Landmarks said. "Many of these stories are not easy to share. Yet this history we remember today reflects a time when such incidents are not uncommon."
RELATED: Historical marker will commemorate lynching of John Tucker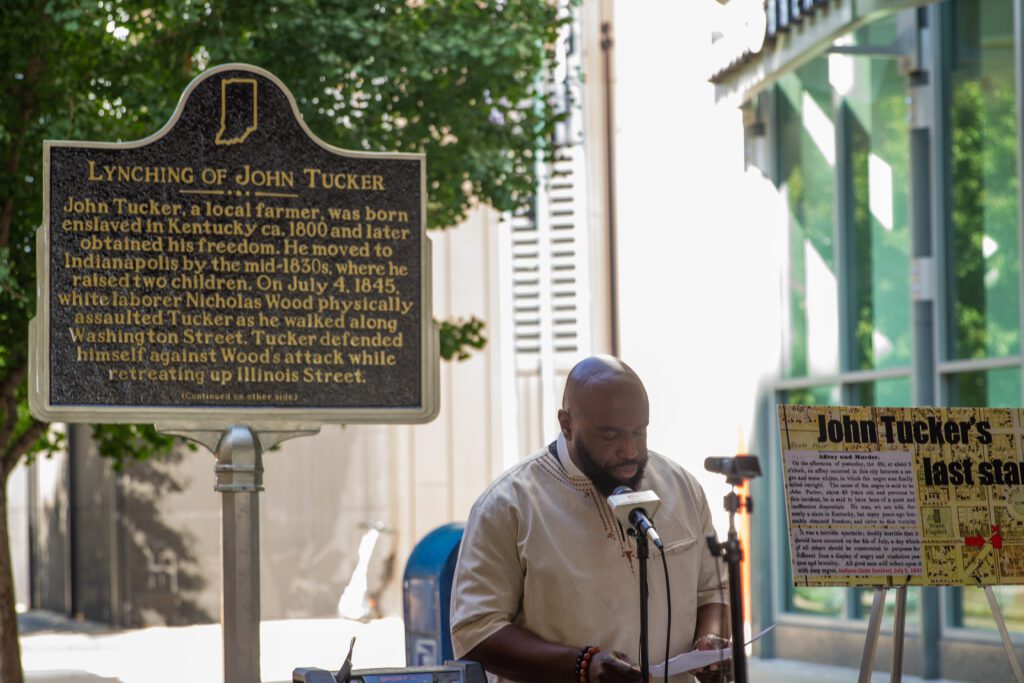 The dedication is a reminder that lynching's occurred throughout the state and forces Hoosiers to confront its racial history.
John Tucker was a free person of color, farmer, father of two and husband. He lived with his family in a house near the intersection of St. Clair and Delaware Streets. 
The marker, dedicated Downtown near the northwest corner of Washington Street and Illinois Street, is marked in the same location where Tucker was lynched while a crowd stood by and watched.
Tucker was making his way home from a city celebration at what is now Military Park when he encountered three white men who eventually bludgeoned him to death. Nearly 40 witnesses testified at the trial for his murder. 
Witness reports vary on what, if anything, happened before the dispute, but it is widely agreed through the courts that the physical confrontation began when one of the men hit Tucker, causing his nose to bleed.
Two of the three men were arrested, while the third was never apprehended. The lynching of John Tucker is significant because it was one of the rare times a white man was tried and convicted for the lynching of a Black man.
"We the people must remember the lynching of John Tucker, quiet, mild mannered, hardworking, father of a girl, 13, and a boy, 10, here in Indianapolis after he was freed from slavery in Kentucky, murdered on the 4th of July 1845 as a crowd watched and participated. Here in Indiana, we the people are saying 'Oh this really matters,'" Trotter said.
Contact staff writer Jayden Kennett at 317-762-7847 or by email JaydenK@indyrecorder.com. Follow her on Twitter @JournoJay.