Fifty organizations will receive more than $8.6 million in grants to address root causes of violent crime by investing in mental health resources and youth empowerment programs, city officials announced Oct. 6.
The second round of funding from the Elevation Grant Program, previously known as the Violent Crime Reduction Grant Program, will award grants to local grassroots organizations led by community members, Mayor Joe Hogsett said at a press conference with Indianapolis Foundation, an affiliate of Central Indiana Community Foundation.
"These grants are a demonstration of the city's belief that nobody knows a neighborhood better than the neighbors themselves," Hogsett said.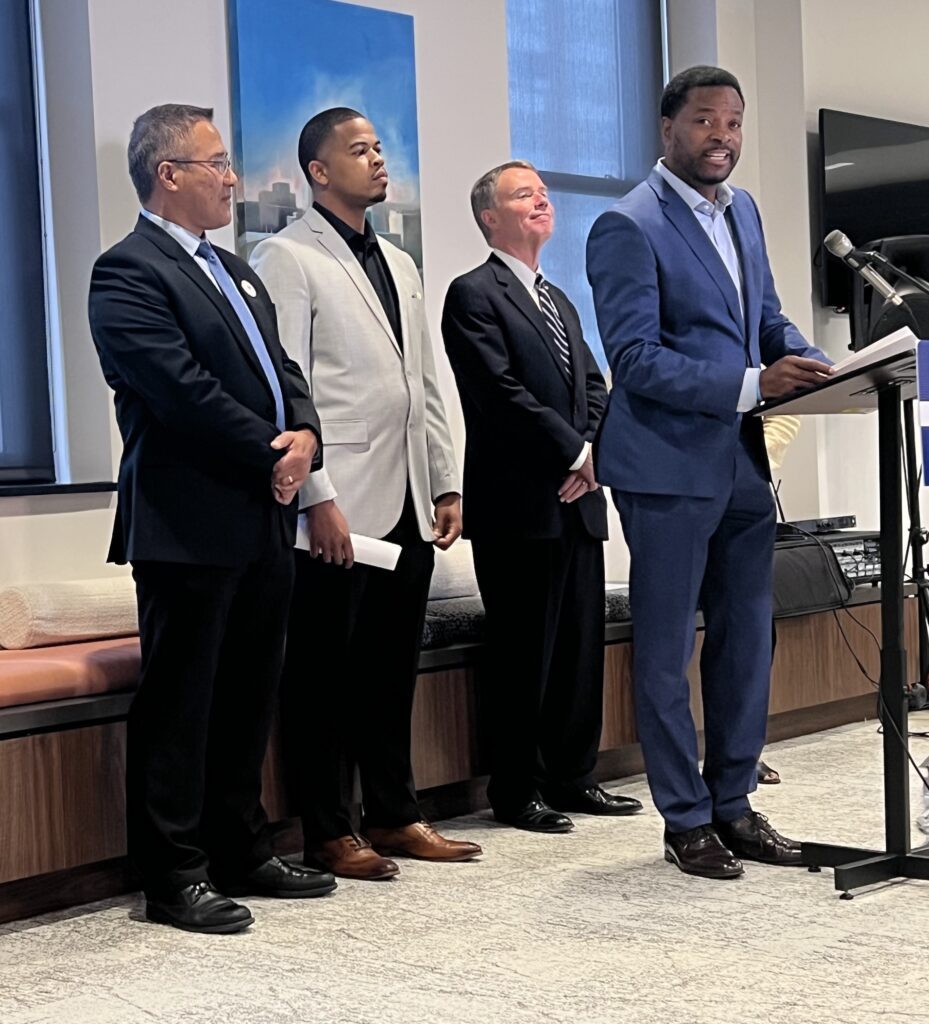 The city will invest $45 million over the next three years to continue to address violent crime through the grant program, Hogsett said.
The grant program is a part of Hogsett's Violence Reduction Plan and will invest $150 million from the American Rescue Plan in policing technology, additional professional and civilian positions with Indianapolis Metropolitan Police Department, IMPD positions, mental health resources and addressing root causes of violence through grassroot organizations.
Howard Stevenson III said poverty is one root cause of violence that his project, Project Free University, works to address. Project Free University, part of Community Alliance of the Far Eastside, focuses on providing education in financial literacy and entrepreneurship to close the wealth gap and reduce the stress that people in poverty face. The project offers courses including budgeting and planning, understanding credit and paying for higher education. With more than $230,000 from the grant, Stevenson said the project will be able to better educate mentors and expand the program.
City-county Councilor Keith Graves said it is important to invest in organizations involved directly with community members, especially ones such as Project Free University that work to "break the cycle of poverty and reduce financial insecurity."
"We must look to free ourselves not only from the signs and symptoms of violence but from its human costs," Graves said. "And my hope is that these agencies and these grants help us further our collective effort to ensure that Indianapolis is a safe, welcoming, inclusive and equitable city."
Organizations that received grants include:
Martindale-Brightwood Community Development Corporation—$248,106 for "The Build 2.0"
Servants of Christ Lutheran Church — $50,000 for "Laundry & More"
SOUL Food Project — $121, 890 for "Building Social Capital in Indianapolis' Northeast Corridor and Eastside Neighborhoods Through Social and Educational Community Events"
Community Alliance of the Far Eastside — $191,623 for "Crown Mentoring Enhanced (Phase Two: Middle and High School Students)"
Lutheran Child and Family Services — $99,492 for "TEAM-UP (Trauma-informed Education and Mentoring for Underserved Populations) Against Violence"
Fathers and Families Resource/Research Center — $249,504 for "Crime Prevention through Father Engagement, Education, and Employment"
Flanner House of Indianapolis — $141, 275 for "Books and Bars Over Bullets"
SHE Event Indy — $144,293 for "SHE. Event Indy 'Seeds for Growth'"
Greater Indianapolis Progress Committee (fiscal for Marion County Re-entry Coalition) — $242,205 for "Marion County Reentry Coalition"
SILENT NO MORE— $140,624 for "Breaking the Silence on Domestic Violence"
To view a full list of grant recipients, click here.
Contact staff writer Jayden Kennett at 317-762-7847 or by email jaydenk@indyrecorder.com. Follow her on Twitter @JournoJay.