Newly released body camera footage shows city police only took seven seconds before they fired 30 rounds into Anthony Maclin's window as he slept in a rental car in his grandmother's driveway last December.
Though seriously wounded, Maclin survived.
Stephen Wagner, Maclin's attorney, demanded the release of the footage earlier this month to clear up the "incorrect narrative" from Indianapolis Metropolitan Police Department on the Dec. 31 shooting.
"We are here today to set the record straight. The family has seen the body cam footage from the officers and it is not inconclusive," Wagner said at a news conference last week, the day before city police released an edited, 14-minute body camera video.
Maclin was hospitalized for 17 days, including 10 days in the Intensive Care Unit, and endured six surgeries from the three bullet wounds he sustained. Though recovering, it will take time for him to fully recover from his wounds.
Conflicting accounts
At around 4 a.m. on Dec. 31, officers were dispatched to the 3600 block of North Oxford Street on the city's northeast side on a "report of a suspicious vehicle in the driveway," police said originally in a statement.
Maclin's grandmother, Vicki Driver, had made the call to police, saying "she did not know who it was," according to police.
Driver said she couldn't see anyone in the car from her vantage point on the porch and didn't feel it was safe to check the car alone. However, according to Driver, she told the 911 dispatcher that it could be one of her grandkids.
Once they arrived at the scene, officers ran the Florida plates on the vehicle and then confirmed with Driver that she did not have family from the Sunshine State.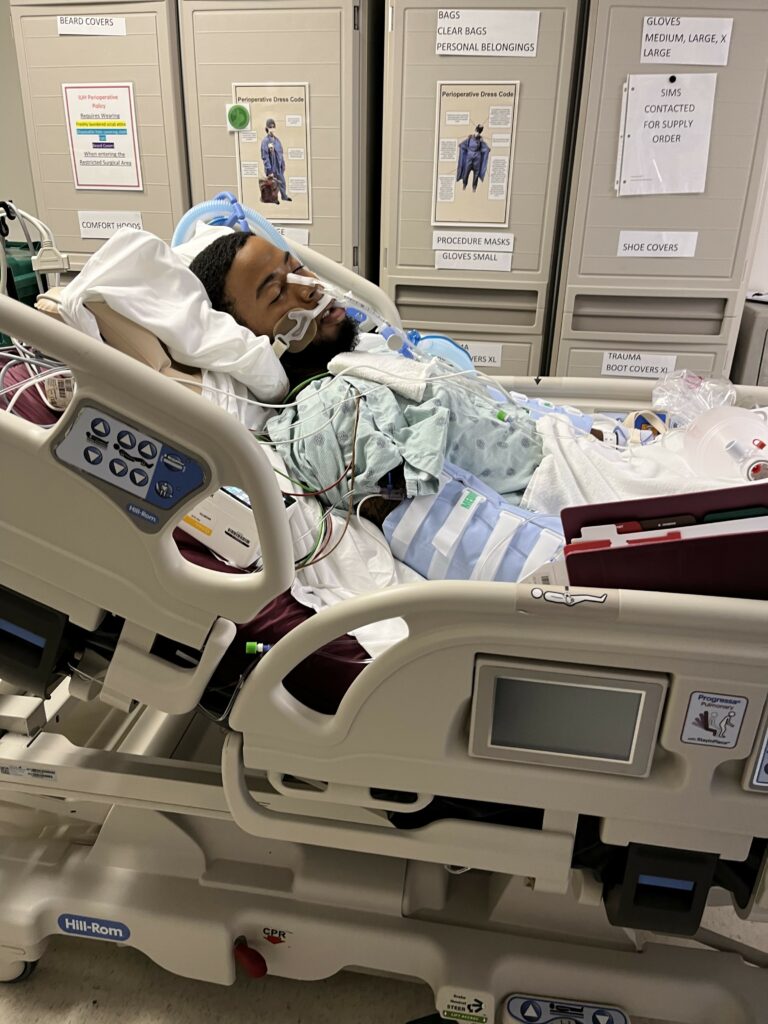 Three minutes after police arrived, an officer knocked on the window and announced, "Police. Hands up," according to the body camera footage. They attempted to open the doors, which were locked.
Officers observed "an adult male who appeared to be sleeping in the driver's seat of the running vehicle and was armed with a gun," police originally said in a press release.
It took only seven seconds between the time police announced their presence and when the three officers opened fire.
In the original press release, police said Maclin "moved his arms towards the officers." However, at the beginning of January, a police spokesman told the Recorder that detectives had reviewed the footage but could not conclusively confirm if the gun was in Maclin's hands.
In addressing the department's contradictory accounts, Maclin's attorneys tell a different story.
They said the body camera footage clearly shows Maclin never had a gun in his hand and never pointed a weapon at officers.
"The family has seen the body cam (footage) and . . . it shows what Anthony remembers," Wagner said. "He never grabbed the handgun."
Officers fired more than 30 rounds at Maclin inside of the car, hitting him three times — once in the right shoulder, in his lower rib and through his left bicep.
"The only thing worse than their training was their aim," Wagner said. "Thank God."
Appearing with his family at the press conference, Maclin was visibly shaken and at times at a loss for words.
"As soon as I heard anything, I immediately wake up, just looked to my right and left and was immediately getting shot at," Maclin said, speaking from a wheelchair.
Maclin's attorney alleged the three officers "realized almost immediately what a horrible mistake they had made and verbalized that on the video."
After the shooting, police ordered Maclin to get out of the car with his hands up. Maclin got out, was handcuffed and placed on the ground.
Officers began administering first aid once they noticed his wounds, Driver said.
Maclin repeatedly asked officers to remove the handcuffs while he was on the ground and at one point can be heard on the video saying, "I don't know if I'm going to die or not."
Maclin was taken to IU Methodist Hospital in stable condition, though his attorneys said his injuries were "life threatening" because he was immediately placed in the ICU.
A grandmother's shaken faith in the IMPD
Driver's voice trembled at the press conference as she recounted the incident. She said the barrage of gunfire happened so quickly. When the car door opened and her wounded grandson emerged, Driver was in disbelief.
"When that door opened and I seen Anthony and I said, 'Anthony, I'm so sorry,'" she said.
Driver said Maclin drifted in and out of consciousness and she begged him not to close his eyes. Maclin responded, "Grandma, I got this. Grandma, I'm going to be OK."
Driver, who serves on the police department's Critical Incident Review Board, said the incident has shaken her faith in the IMPD. She said it is too painful to watch videos knowing other families could be going through the same thing.
"I believe that other measures could have happened. Now, I don't think I want to serve on that board anymore," Driver said.
Maclin said he's still "in a lot of pain." Simple things like sleeping, eating and breathing are hard, he said. One bullet lingers in his ribcage, causing him pain with every breath. "I'm pretty banged up."
Maclin said he thinks he may be able to walk again if he "keeps working at it," but he's not sure how he will be impacted moving forward.
"Hopefully, I'll recover and have a good recovery, but I'm not sure how things will be," Maclin said.
Maclin's attorneys filed a tort claim with the Office of Corporation Counsel seeking financial compensation against Mayor Joe Hogsett, IMPD Chief Randal Taylor and the three officers – Carl Chandler, Lucas Riley and Alexander Gregory — alleging the officers violated Maclin's civil rights in the use of excessive force. The claim also alleges Maclin's grandmother suffered emotional distress "for having to witness the horrific shooting of her grandson in her own driveway."
The city now has 90 days to either approve or deny the claim. If denied, Maclin and Driver can sue the city and IMPD in court.
When reached for comment, the mayor's office referred the Recorder to the Office of Corporation Counsel, saying "out of respect for the judicial process, the City of Indianapolis does not comment on potential litigation."
Maclin and his attorneys said they want the unedited body camera footage released to the public and for the three officers to be fired and criminally prosecuted.
Why didn't Driver recognize the car?
Maclin, who now lives in Ohio, drove a rental car to Indianapolis that December night with plans to surprise his grandmother with breakfast and pick up his own car that morning from a repair shop. Earlier that night, he hung out with friends and arrived at the house around 3 a.m., Wagner said.
Not wanting to wake his grandma, Maclin opted to sleep in the driveway.
Driver said she noticed the taillights of the unfamiliar car but couldn't see anyone inside after flicking the porch lights on and off.
Scared, Driver called the police.
Contact staff writer Jayden Kennett 317-762-7847 or by email jaydenk@indyrecorder.com. Follow her on Twitter @JournoJay.