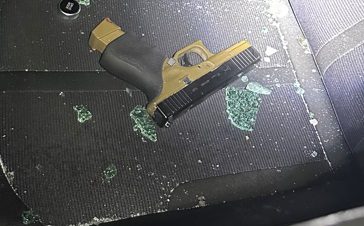 A man is in stable condition after being shot by Indianapolis Metropolitan Police Department officers while sleeping in his car in his grandmother's driveway Dec. 31, 2022, according to police.
Officers were dispatched around 4 a.m. to the 3600 block of North Oxford Street on the city's northeast side on "report of a suspicious vehicle in the driveway," police said.
The caller reported there was an unknown vehicle running in the driveway and "she did not know who it was," according to a press release from IMPD. Upon arrival, "officers observed an adult male who appeared to be sleeping in the driver's seat of the running vehicle and was armed with a gun."
Officers ran the Florida plates on the vehicle and confirmed with the caller that she did not have family from Florida before attempting to open the doors, which were locked, according to police.
Three minutes after arrival, an officer knocked on the window and announced, "Police. Hands up," according to the press release.
It is unclear what exactly happened between the time police announced their presence and when three officers shot the man. Police say the person in the car woke up, was moving around prior to shots being fired and that he "looked towards the officers and moved his arm towards the officers." Lt. Shane Foley said detectives reviewed body cam footage before releasing a statement and found that is not clear if the gun was in his hand. However, there is no indication that he fired any rounds, according to police.
It recently became legal in Indiana to carry a handgun without a permit for most people.
It was later determined that the person in the vehicle was the homeowner's grandson in a rental car. The homeowner did not know that her grandson was driving the vehicle.
The man was transported to Methodist Hospital in stable condition. Detectives located a handgun in the driver's seat of the vehicle, and police said multiple body cameras were on during the shooting. IMPD said it will share footage with the public.
The Indianapolis-Marion County Forensic Services Agency responded to identify and collect potential forensic evidence. The IMPD Critical Incident Response Team and the Marion County Prosecutor's Officer responded to the scene to conduct the criminal investigation.
IMPD Internal Affairs will conduct a separate administrative investigation. The three officers who fired their guns have been placed on administrative leave, which is standard procedure. Other officers involved are expected to make statements to internal affairs investigators within the next week.
The civilian-majority Use of Force Review Board will conduct a mandatory hearing for the incident.
Contact staff writer Jayden Kennett 317-762-7847 or by email jaydenk@indyrecorder.com. Follow her on Twitter @JournoJay.