Standing by herself in the line that wrapped around the Indiana Statehouse on July 25 was 21-year-old Jamia Dinkins. She had a cardboard sign in her hands, her purse on her shoulder and was ready to support what she believes in: the right to have an abortion.
She was among hundreds of people — many of whom were Black women — protesting the Republican-drafted abortion bill, Senate Bill 1, and when the special session began on that day, they, along with other people who support abortion rights, were there to make sure their voices and concerns were heard.
"I fight for people who aren't able to tell their stories," Dinkins said.
Last year, the college student was diagnosed with polycystic ovary syndrome (PCOS), a hormonal disorder that causes irregular menstrual cycles and challenges with getting pregnant.
While she knows it may be hard for her to have children, she said it is important to support other women during this time.
The bill, if passed, will prohibit abortions in the state with exceptions for rape, incest and if the pregnancy will have "substantial permanent impairment" to the mother's life. On July 26, an Indiana Senate committee advanced the bill with amendments that further restrict abortion access and add criminal charges.
More: Why one woman wishes her mother could have had an abortion
The bill would make performing illegal abortions a Level 5 felony for any doctor, require rape victims to sign and provide the physician with an affidavit, and make all abortions viewable on a woman's permanent medical records. The bill heads to the full Senate for consideration.
Professor Fay Barber-Dansby said banning abortion creates more consequences for the Black community in Indiana.
"To put more Black women at risk, Indiana ought to be ashamed of itself," Barber-Dansby said. "We deserve a choice."
According to the World Population Review, Indiana has the third-highest maternal mortality rate in the country. The maternal mortality rate has increased since 2018 for non-Hispanic Black women and was significantly higher than non-Hispanic white women, according to the Centers for Disease Control and Prevention.
Barber-Dansby thinks there will be a decrease in the number of women who plan to pursue higher education at colleges and universities in Indiana. She said abortion laws will be a deciding factor for women when choosing to attend colleges in the state.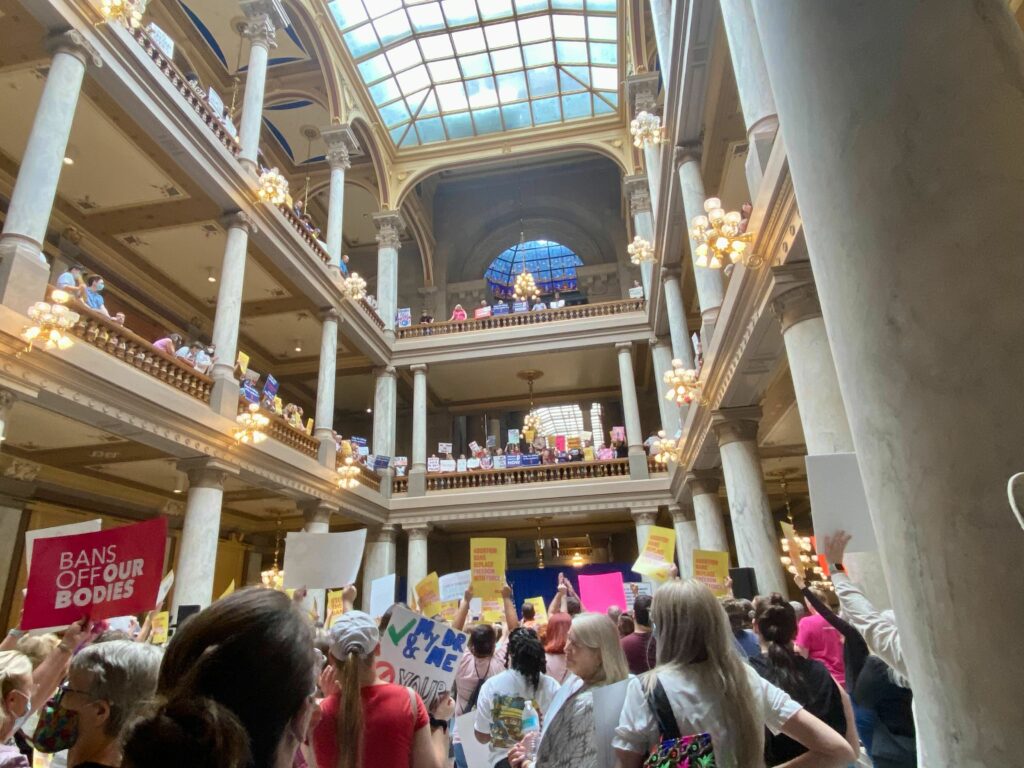 ZeNai Brooks, a Democratic candidate for state auditor, said there will need to be more funding and support for women if the abortion bill is passed.
"If we are saying that we are pro-life, then our budget should reflect that," Brooks said.
Another concern many mentioned was that much of the working class could not attend the rally or public comment sessions because it was from 11 a.m.-5 p.m.
Bishop Jennifer Baskerville-Burrows of The Episcopal Diocese of Indianapolis said she needed to prepare for a trip to Europe, but attending the rally took precedent.
"This is the time to show up for Black women, for all women," Baskerville-Burrows said.
The session is expected to last about two weeks but could take a full 30 days. The session is viewable by the public via livestreaming at iga.in.gov.
Contact religion reporter Abriana Herron at 317-924-5243. Follow her on Twitter @Abri_onyai. Herron is a Report for America corps member and writes about the role of Black churches in the community.