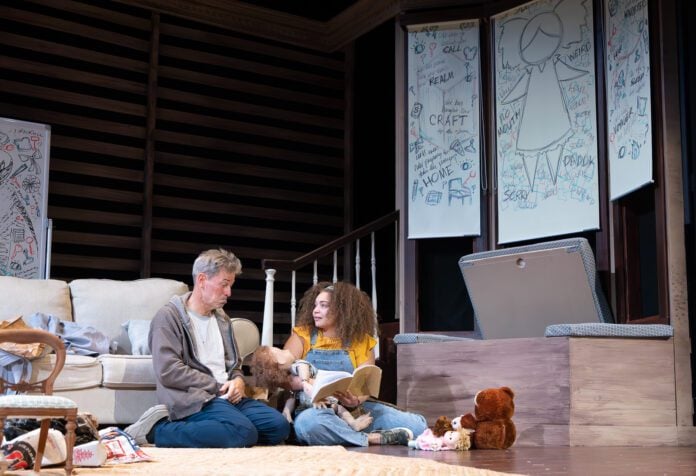 Onstage and offstage Paige Neely is making waves at the Phoenix Theatre Cultural Center.
Neely wears many hats at the Phoenix Theater Cultural Center, both as a classically trained actress onstage and as the associate artistic director behind the scenes. As the first African American woman in the role, Neely's position is funded by an Ignite Campaign career development program that aims to help the cultural center — and subsequently arts in Indy — grow and diversify, giving marginalized communities a voice and stage.
Neely studied theater arts and broadcast journalism at Clark Atlanta University but said her love of theater first blossomed in middle school when she won a speech competition. Her excitement for speaking in front of people and being onstage laid the stepping stones for her joining her high school theater program — where she could explore new ways to express herself on stage. 
"My main goal and passion in acting is being able to tell stories that are not heard and to bring life to that," Neely said. "I really love the self-expression — so being able to be another person and to live in their shoes is really what drives me to do it. I enjoy being different people or telling different stories."
Neely said the best part about doing what she does is being able to tell stories not typically heard through someone else's voice and narrative. Now more than ever, Neely said the arts scene in Indianapolis is flourishing because more people are paying attention.
Phoenix Theatre Cultural Center alone has six resident theater collectives and the Michael O'Brien Art Gallery all under one roof, Neely said. This opens the door up to more actors of color to be seen and heard compared to before the pandemic when Neely said it was difficult for her to even get an audition as a Black woman.
"In the art scene, I would say especially there are just so many avenues and venues that are now being opened," Neely said. "I feel like now, actually since post COVID, it's just more accepting and more inclusive, and I feel like that's the route that Phoenix is wanting to go in and making it inclusive for everybody."
Neely is currently taking the stage in Phoenix Theatre's production and the world premiere of "The Body." The play, written by Indiana-based playwright Steve Moulds, is a psychological thriller about a daughter, her stepfather and a "creepy" doll that gets delivered to their house.
Taking place over the span of a week, Neely said "The Body" explores themes of grief, loss and familiar relationships all while creepy things start happening to the characters. Her character, Abby, is a nine-year-old girl — a new challenge for 30-year-old Neely — who offers her the opportunity to explore the relationship with her own childhood on stage, tapping into her youth and creativity.
"It really just inspires me to embrace my inner child and just to remember where I came from," Neely said. "It just reminded me of my family and really hit home with that; I could share that and explore that relationship with others and be young again."
The Phoenix Theatre Cultural Center aims to be a place where everyone's lived experiences can be seen and heard both on and offstage, said William Powell, interim CEO of the Phoenix Theatre. Part of that development includes fundraising, new play development, IDEA and building community programming to go alongside each show.
For example, the theater partnered with Spirit and Place for workshops about grief and loss — which are heavy themes in "The Body."
"Of course she's learning because that's what the whole career development process is, but it's learning how to put all those pieces together and how to reach out to the community to develop programs that serve the community, but still get quality artistic products onstage," Powell said.
"The Body" is showing at the Phoenix Theatre Cultural Center Nov. 16-19. More information about tickets and a performance schedule is available at phoenixtheatre.org.
Contact staff writer Chloe McGowan at 317-862-7848 or chloegm@indyrecorder.com. Follow her on Twitter @chloe_mcgowanxx.