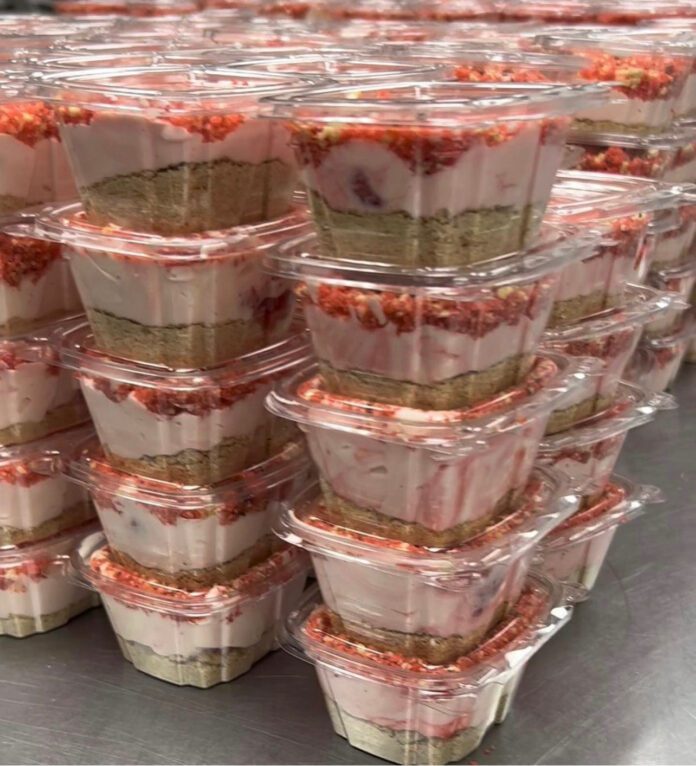 The Cheesecake Lady, or Cassie Smith-Johnson, is now serving Hoosiers a treat out of her very own store.
For the last three years, Smith-Johnson, the woman behind the batter, has been operating her lucrative dessert business out of Indy's Kitchen while also maintaining wholesale items in approximately 25 different locations around the city. As of Nov. 11, 2023, The Cheesecake Lady officially has its first brick-and-mortar, located at 305 W. 42nd St., where customers can find homemade cheesecake cups, full cakes and more.
"I really enjoy the customer interaction that I'm gonna get to have again on a daily basis. I love seeing smiley faces. I love getting feedback from customers," Smith-Johnson said. "So, I'm just looking forward to growing my business; the wholesale side has grown tremendously, so I'm really excited about that part too."
Like many of Indianapolis' entrepreneurs, Smith-Johnson started her business during the pandemic, in December 2020. There was no epiphany or months of planning, Smith-Johnson said she simply saw an opportunity to create a business out of one of her passions and ran with it. 
That opportunity came in the form of a friend's Facebook post where they asked if anyone knew how to make a banana pudding cheesecake. Smith-Johnson responded, having been making her own cheesecakes for friends and family consistently since she was a teenager and learned how to make it with her older sister.
"It's the passion that has become a career that wasn't planned," Smith-Johnon said. "So, it's outside of all of those stressful parts, managing the finances and employees — that's stressful no matter what the field is — but just doing what I love and actually getting paid to do it is insane; it's a dream that I didn't even know I had."
It was not until September 2023 that Smith-Johnson was able to leave her 9-5 job in insurance to pursue The Cheesecake Lady full-time. She said it can be scary to manage everything, especially since she also has a family to take care of, but that she loves the freedom entrepreneurship brings. 
Although she does not have a traditional background in business, management or marketing, Smith-Johnson is driven by her love of baking and desire to give back to the community. In the beginning, Smith-Johnson did everything by hand and by herself — she sold out of her own kitchen before moving into a small suite inside of a spa. 
A few hiccups and challenges along the way would not stop Smith-Johnson from pushing forward and growing her business. By March 2021, she moved The Cheesecake Lady into Indy's Kitchen, a full-service commercial kitchen where she could bake all of her cheesecakes and recruit a team to help her.
"A personal challenge is that I've never really successfully run a business before, so even today, I'm still learning," Smith-Johnson said. "Even though I've been in business for almost three years now, this is the first year where I've actually had a full staff … so that's a challenge or opportunity that I feel like I have a lot of room to improve, but, you know, I'm doing it right now; we're gonna have 12 or 13 employees all together."
Brittney Turner, a team lead for The Cheesecake Lady, said she has been working with Smith-Johnson since she was at Indy's Kitchen — although she has known her since she was younger. When Turner was in need of a job, she said Smith-Johnson offered to show her the ropes of her business.
Not only was Turner able to get work experience before and while attending Indiana State University, but she also said she was able to develop essential baking and business skills while working alongside Smith-Johnson.
"She's [Smith-Johnson] such a hard worker and a busy body; you will never see her sitting down. She just moves, and moves, and moves, and moves," Turner said. "One thing, she is determined; she is always going to get it done."
Turner said The Cheesecake Lady is a great example of how local Black businesses start out small but can grow into community staples with hard work, dedication and local support.
"I definitely think it's good to see her grow from this small Black business to being bigger and having her own retail store," Turner said. "Most people wouldn't be this far in this short amount of time." 
The Cheesecake Lady's new storefront is located at 305 W. 42nd St. Smith-Johnson is still baking out of Indy's Kitchen for the time being and aims to open a second store with a full-service kitchen by January 2024. For more information and a full menu, visit thecheesecakeladyindy.com.
Contact staff writer Chloe McGowan at 317-762-7848 or chloegm@indyrecorder. Follow her on Twitter @chloe_mcgowanxx.