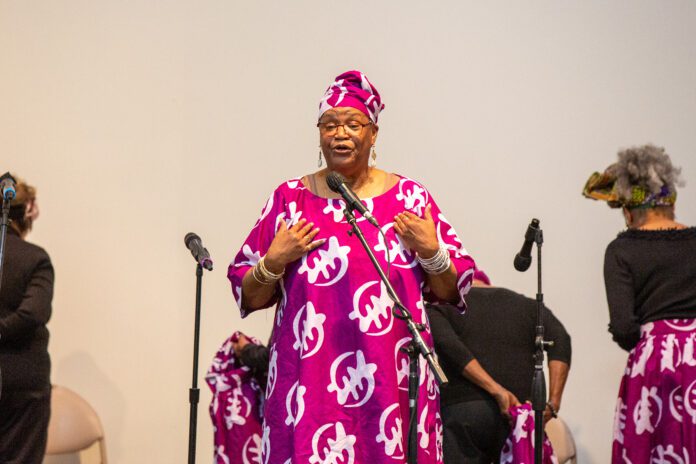 Sandra Gay began tap dancing at the age of six and teaching at the age of 12.
Born and raised in Brooklyn, New York, she said dancing and theater has always been a huge part of her life, even as she pursued a degree in education at her parents' behest of "getting a real job."
Although she relocated to Indianapolis upon a friend's request, Gay founded Actors Ink Theatre Production Company in 1981 after a production of "For Colored Girls Who Considered Suicide / When the Rainbow is Enuf" at the Indianapolis Civic Theatre (now The Palladium). She said the company started off as a community based, contemporary theater group — that rehearsed and performed in whichever building would host them — but rebranded in 2020.
The rebrand came with a simple name change and a new focus: POCAs — or people of a certain age. As a POCA company, Gay said they cater to actors and performers over the age of 65 — her youngest company member is 68 and the oldest is 93 — learning, rehearsing and performing alongside each other the same way any professional company does.
"I am a trained theater professional, so I teach like I would teach anybody," she said. "There are some modifications, like, who wants to kill four or five trees, getting the script to the right size so everybody can read it? But, you know, we do what we do. I suppose everything I have ever done, heard, seen is what I'm teaching now."
READ MORE: 'Come play with us': Seniors' theatre group invites new members
But first and foremost, Gay is a teacher — "plain and simple," she said. She teaches her POCAs company the same way she would a college class, making sure they understand the language of theater, terminology, history, dialect and geography that goes along with any given production.
Although some members of her troupe may have had knee replacements, hip replacements, back pain or breathing problems, Gay said everyone works hard because they care about the art. Of course, there are always workarounds for those who cannot stand for long or have trouble dancing, but Gay said she finds ways for them to not just participate but shine onstage.
"They are open and willing to learn; I try to meet them where they are," she said. "My theory is, if you can get to me, I got something for you to do."
Gay's dedication to teaching and watching the POCAs grow as artists is what keeps her inspired. Seeing them stop to ask questions, knowing the correct theater terms and watching them have those "aha" moments are the best part about what she does. Even after all these years, Gay said her philosophy has not changed in that respect and believes she could teach any subject, including math and language, using theater techniques.
"When I was in undergrad, and I was doing my student teaching, I used the routine, the African boot dance, to teach math," she said. "I've been told I'm a very hands-on teacher because whatever I need to do to help you learn, well let's go do that."
Actors Ink Theatre Company is currently rehearsing for their first "book" show "Grandmothers Incorporated" by Indianapolis-based authors Crystal V. Rhodes and L. Barnett Evans, which will premiere in October of this year. More information about the production and the company can be found on the Actors Ink Theatre Company Facebook page.
This story has been updated
Contact staff writer Chloe McGowan at 317-862-7848 or chloegm@indyrecorder.com. Follow her on Twitter @chloe_mcgowanxx.