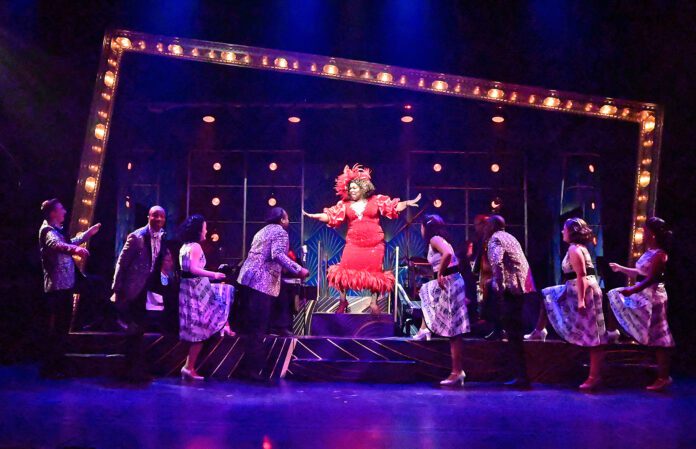 Beef and Boards Dinner Theatre welcomes you to the Cotton Club.
Onstage now through Aug. 20, the musical revue "Sophisticated Ladies" — based on the music and compositions of Duke Ellington — takes audiences back in time to the age of Duke Ellington's Cotton Club residency in Harlem, New York.
"Sophisticated Ladies" first premiered on Broadway in 1981, earning two of its eight Tony Award nominations — including Best Costume Design and Best Performance by a Feature Actor in a Musical. The show includes hit songs such as "It Don't Mean a Thing," "Don't Get Around Much," "A' Train," "I Got It Bad and That Ain't Good" and "Sophisticated Lady."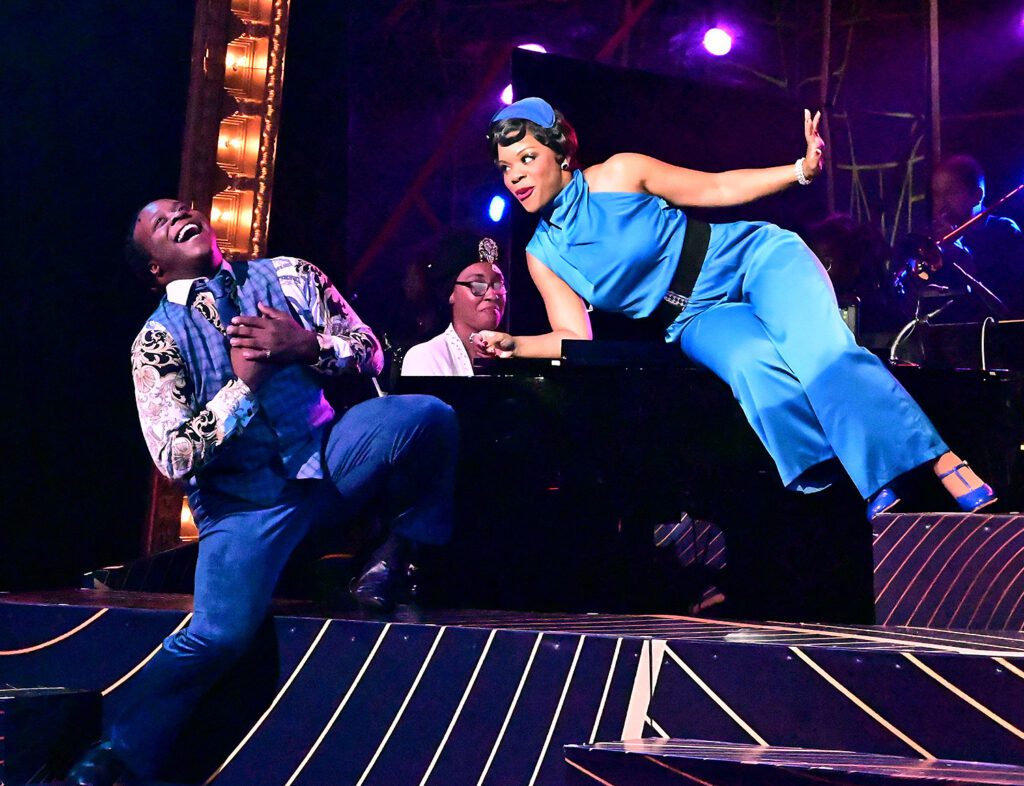 Directed and choreographed by Kenney M. Green-Tilford and sponsored in part by the Indianapolis Recorder, "Sophisticated Ladies" is a bold and brassy, lively and fun retrospective of Ellington's music alongside fast-faced and over-the-top choreography reflective of the times when Ellington built his legacy in Broadway nightclubs. Musical number after musical number takes audiences on a journey from collaborative quartet tap numbers to elegant ensemble pieces and sultry duos.
The show opens with Yvette Monique Clark strutting across the stage, only to meet the conductor and hand her a baton before the curtain rises and Tenéh B.C. Karimu strikes up the band. Unlike most shows, the orchestra remains onstage for the entire performance — sometimes taking an active role in the show.
RELATED: Grammy winner Badu brings eclectic mix of music, art and soulful communion to the stage
A show such as this one features no true lead; however, Tiffany Gilliam, Darrius-Anthony Robinson, Kelliann DeCarlo and Zachary Dyer each delivered exemplary vocal performances alongside Clark, Sean Blake and Joseph Perkins Jr. Each performance utilizes the small, intimate stage of Beef and Boards — which is nestled inside a golden, light-up picture frame — with colorful lights and projected images of the legendary Duke Ellington and the Cotton Club behind them.
The first dance number of the show is a creative and succinct tap quartet to "I've Got to be a Rug Cutter." Featuring Dyer, Perkins, Robinson and Jonny Rouse, the tap number is a thrilling and brilliant way to open the show and prepare audiences for the rest of the evening.
I was truly blown away by the absolute star power of DeCarlo and Gilliam, who is an Indianapolis native, each time these ladies took the stage — but especially during DeCarlo's first solo, "Hit Me with a Hot Note and Watch Me Bounce," and Gilliam's duet with Blake, "Music is a Woman."
When "It Don't Mean a Thing" finally came around in the show, you better believe Clark had the audience in the palm of her hand, hanging off every note. Dressed head-to-toe in the most glamorous, glittering dress you can imagine as the rest of the cast and ensemble danced around her in piano themed costumes and tap shoes.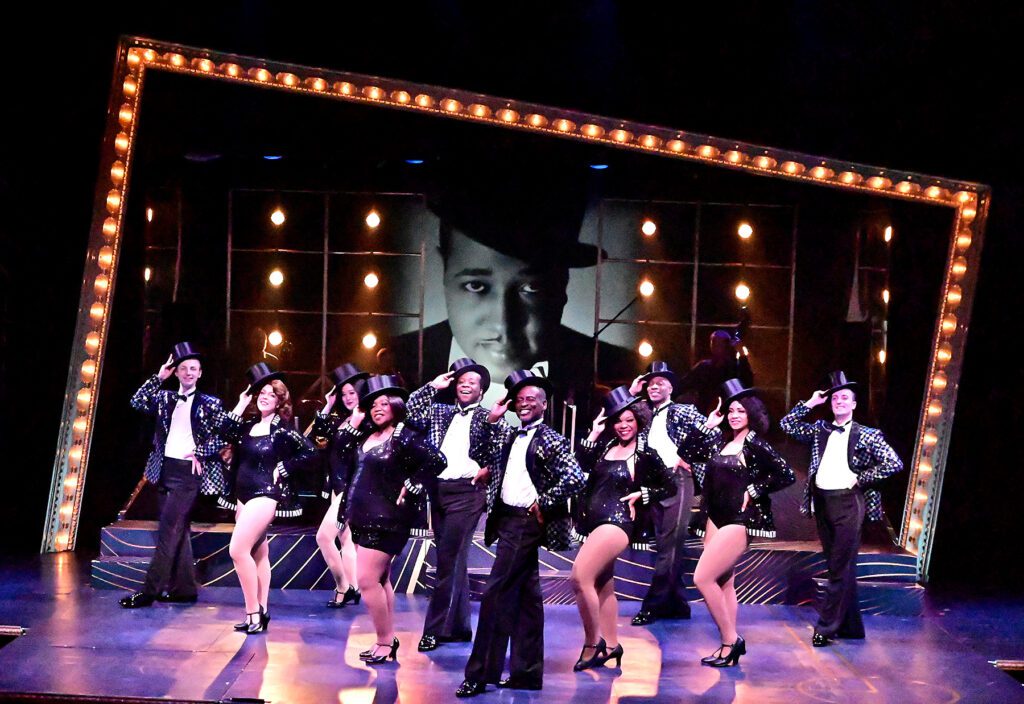 Beef and Boards introduced a new costume designer for "Sophisticated Ladies," and New York-based designer Dustin Cross did not disappoint. I will admit, this show featured the most costume and wig changes I have seen in a local theater production. From the glitz of the roaring 20s nightlife to 1940s glamor to the vibrance and comfort of the 1960s, each costume complemented the jazzy stylings of Ellington — while staying choreography conscious. 
However, you cannot always expect everything to go according to plan, especially in live theater, and the performance of "Sophisticated Ladies" I saw on July 15 can attest to that. Despite a wildly talented cast and crew, the performance still saw a minor costume malfunction at the top of the show (great catch from the captivating ensemble member Gigi Huang) and recurring technical difficulties. 
But the show did in fact go on, and spectacularly at that. Each time I see a show at Beef and Boards, I am consistently impressed by the talent, dedication and devotion of local artists, musicians and musical theater technicians that continue to bring the arts to Indianapolis. 
"Sophisticated Ladies" is showing at Beef & Boards Dinner Theatre, 9301 Michigan Road, for 38 performances through Aug. 20, weekdays and Saturday evenings at 8 p.m., Sunday evenings at 7 p.m., and select matinees at 1 p.m. A dinner buffet and select beverages are available prior to each show. Tickets start at $52.50 and are available to purchase at beefandboards.com.
Contact staff writer Chloe McGowan at 317-762-7848 or chloegm@indyrecorder.com. Follow her on Twitter @chloe_mcgowanxx.