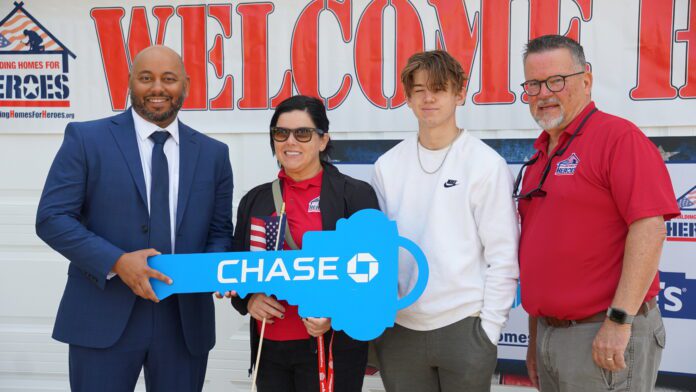 One local veteran is taking one big sigh of relief after receiving a mortgage-free home thanks to an organization dedicated to helping veterans, emergency first responders and their families.
National nonprofit organization Building Homes for Heroes, JPMorgan Chase, Lowes and more gifted the home to retired Army Spc. Jamie Gary and her family on May 17 in McCordsville, Indiana.
When Gary finally sat down in the empty living room of her home, it felt like a breath of relief, she said. Through smiles, tears and hugs, she and her children envisioned how they would decorate and furnish their new home.
"It was relieving … It's like I can enjoy my kids again. I can focus on my mental health," Gary said.
Gary joined the military right out of high school in 2000 and served 14 years, including deployment in Iraq and Afghanistan. As a member of a transportation unit, Gary and her units pulled missions through mountainsides, busy cities and faced combat, including suicide bombers, IEDS, mortars and gunfire.
Through her service, Gary suffered a broken jaw, shoulder, knee and hip injuries, resulting in shoulder repair surgery and double hip and knee replacements. Gary also suffers from an autoimmune disorder and post-traumatic stress disorder from her deployment.
Veterans, especially those deployed, are more likely to develop PTSD than civilians, according to the U.S. Department of Veterans Affairs. At some point in their lives, 7% of veterans will have PTSD. Lack of support networks, poor living conditions and poverty makes veterans 50% more likely to face homelessness than other Americans.
Since 2006, Building Homes for Heroes has worked to combat veteran homelessness by repairing and gifting mortgage-free homes to people like Gary. Since 2011, JPMorgan Chase has donated more than 1,050 mortgage-free homes to veterans and families in collaboration with nonprofits.
"We know having a safe place to call home is a foundational step in the journey for our veterans as they transition to post-military life," said Ed Mullen, JPMorgan Chase client service manager in Indianapolis.
Contact staff writer Jayden Kennett at 317-762-7847 or by email jaydenk@indyrecorder.com. Follow her on Twitter @JournoJay.