Paul I. Miller School 114 said goodbye to the elementary students who graced their doors on the last Thursday of the school year.
One week later, it was announced that a new set of students will be walking through for the upcoming school year.
"Today, far too many adults in our city encounter barriers when seeking to complete a high school diploma. That's especially true for those seeking to re-enter life after incarceration," said Mayor Joe Hogsett.
RELATED: University honors award-winning graduates
"Thankfully, The Excel Centers have been clearing away those barriers for over a decade. I can't think of a better reason to set aside $2 million of federal American Rescue Plan funding." 
Mayor Joe Hogsett, Goodwill of Central and Southern Indiana and Indianapolis Public Schools (IPS) announced a new partnership. They are expanding educational options and opportunities for adults, with specific outreach to justice-involved individuals.
The Excel Center Southeast adult high school, set to open later this year at Paul I. Miller School 114, will expand access for students to earn a high school diploma, college credits, and industry certifications.
Hogsett said that the new adult high school is the latest project in a series of efforts to make higher education more equitable.
Southeast adult high school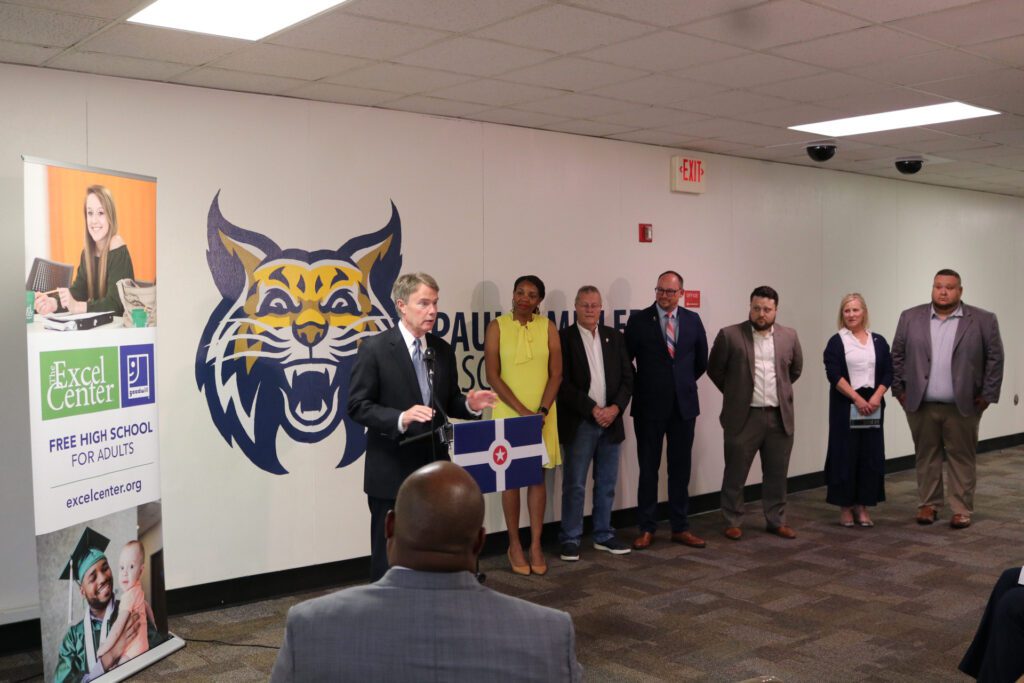 "We are pleased to partner with Mayor Joe Hogsett and IPS to provide increased education and employment opportunities to families in the Southeast Indianapolis region," said Kent Kramer, President and CEO of Goodwill of Central and Southern Indiana.
"The Excel Center is an evidence-based model focused on helping adults earn their high school diploma. It helps increase their independence, and reach their potential while preparing them to strengthen Indiana's workforce."
The Excel Center Southeast received a charter from the Indianapolis Charter School Board in April. It is set to operate for the 2023–24 school year.
The joint venture between IPS and The Excel Center Southeast creates educational pathways and potential employment opportunities for program graduates.
The Excel Center Southeast, which is leasing space inside Paul I. Miller School 114, will share the building with the IPS Facilities Management Department (FMD).
The Excel Center Southwest
"We know that research shows that people who earn a high school diploma or industry certifications are much more likely to be employed. They have high salaries and are positive contributors into their community," said IPS Superintendent Dr. Aleesia Johnson.
"We're so thrilled to be in partnership and to continue to work together to ensure that students no matter their age have the supports they need to be successful."
The Excel Centers in Central and Southern Indiana have graduated more than 7,000 students since the first campus opened in 2010.
A recent study by the Lab for Economic Opportunity at the University of Notre Dame showed that Excel Center graduates earn 39 percent more than their peers five years after graduation.
The Excel Center Southeast will be authorized by the Office of Education Innovation. Their portfolio also includes The Excel Center West, University Heights, Avondale Meadows, Shadeland, Michigan St., and Decatur.
The Excel Centers have graduated over 7,500 students in the region.
The new location is two miles from the new Community Justice Campus. It will be the seventh center in Marion County.
Contact staff writer Jade Jackson at 317-607-5792 or by email JadeJ@IndyRecorder.com. Follow her on Twitter @IAMJADEJACKSON