By Vice-chair of the International Marketplace Coalition
The age-old question asks, "Are leaders born or are they made?" In this case, it's the former.
For Mary Clark, leadership was a choice. From the very young age of 9 years old, Mary could be found leading a neighborhood cleanup club, cleaning yards, a passion that was the spark of things to come, and, having been influenced by the caroling groups she saw on TV, in middle school, she led a caroling group in her neighborhood.
Mary and her brother moved around a lot, and although they lived in Black communities, she attended a predominantly white school where she encountered varying instances of racism. As a child in the '70s she was no stranger to comments like, "Your brain won't be able to handle more than basic math" by her eighth grade math teacher before entering high school, even though she was excelling in advanced math.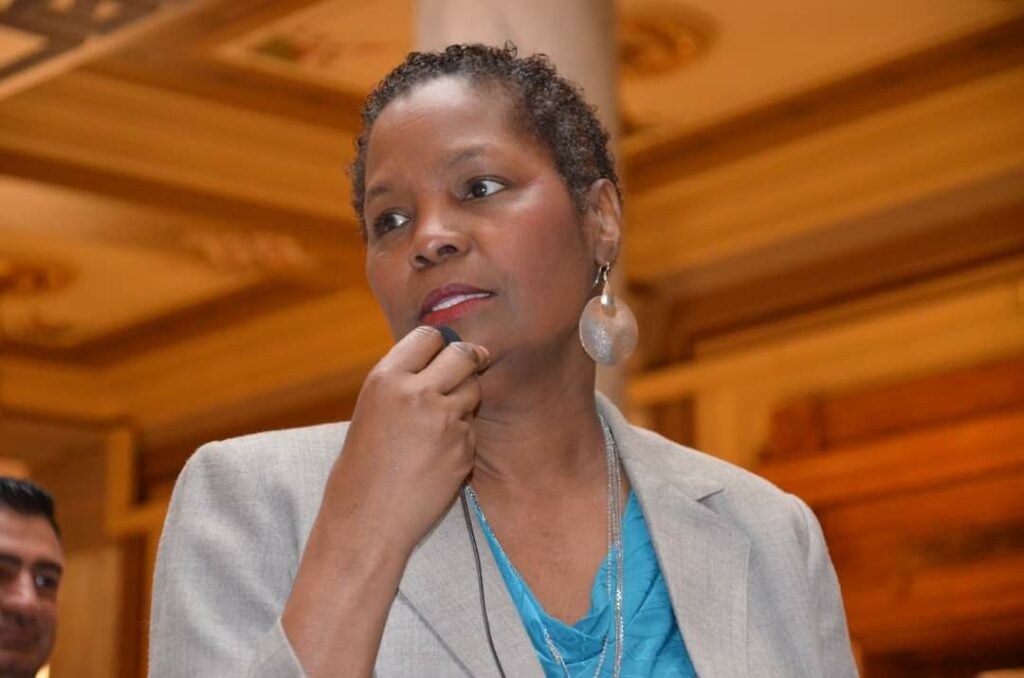 Defying the stereotypes laid out for her, Mary went on to get her first job at L.S. Ayres department store at Lafayette Square Mall, starting off as holiday staff and rising up through the ranks, eventually becoming a senior assistant buyer. Her career took her on to become a store manager at Value City Department Stores to becoming a branch manager at National City Bank, where she took the branch from the worst performing branch to No. 1 in the region. From there, she was promoted to the 38th Street branch of National City Bank and back in thick of the neighborhood where she had found her first job.
As time went by Mary noticed (along with state Rep. Jeb Bardon) businesses leaving the Lafayette Square area between 2003 and 2005. Perplexed but determined to keep some money in what was becoming a blighted area, Mary's unique gumption was what prompted the founding of the Lafayette Square Coalition, an initiative aimed at reviving the Lafayette Square area.
Community is an aspect that Mary has never ignored — she can attest to the power and unmatched momentum that can be achieved with the backing of a group, who understood her intention and want to be a part of something bigger than their present. In conversations with businesses and community leaders, a petition was created to construct a Walmart in the area. They received more than 1,750 letters within two weeks asking Walmart to open in the area, and 2 1/2 years later, Walmart opened a store.
The environment was changing, and as traditional retailers were leaving, more mom-and-pop stores were taking over store fronts and transforming the neighborhood into an international corridor.
Mary crafted a vision of an area that needed to be redeveloped: an area that could become a global tourist destination in the Midwest. This vision has since attracted investment and development in the area, totaling more than $300 million and creating more than 2,500 jobs in the community.
Some of these development projects include: Eskenazi Health, the YMCA, Ivy Tech Automotive school, a new police department, and the redevelopment effort of the Lafayette Square Mall.
None of the success of the area came without its challenges. Mary is the first to tell you that this was only possible through God and extraordinary individuals who have come alongside her to support the vision. She thanks her amazing and diverse staff: Maria Manalang, Daniel Del Real, Korka Diatta and others, who all reflect the true values of the International Marketplace and work tirelessly to keep the dream alive.
The crowning of these efforts was the creation of the Global Village Welcome Center, which is a place where everyone can see themselves and know that they are welcome. The 56,000-square-foot facility is a home to cultural exhibitions, an event center, a gift shop and incoming demonstration kitchen.
The Global Village celebrates cultures from across the globe and ethnic groups represented in Indiana. Several cultural events are held there, such as the Asian Festival, African Unity Fest, Latino Heritage Month and Caribbean Experience concert. The Taste the Difference festival is now in its 15th year, with over 27 ethnic restaurants participating.
In 2004 the state of Indiana designated part of the Lafayette Square area as a Community Revitalization and Enhancement District. This unique designation created opportunities for financial investment and revitalization in the area. The area is also a federally designated Opportunity Zone. This area now houses more than 900 businesses and 130 ethnic restaurants, and it is still growing.
Mary's vision of "shrinking the globe and creating a village" is slowly coming to fruition. The International Marketplace Coalition is open to partners, sponsors and volunteers to join them in the journey of revitalizing the International Marketplace and making it a global destination. A place where if you get out of your cars and go into the businesses, it like leaving Indy and traveling the world!